Tranmere chairman Mark Palios was among those who labelled the system unfair after Sky Bet League One clubs voted to curtail their season, with Coventry promoted as champions and Tranmere relegated.
Rotherham will also go up automatically to the Championship. Bolton and Southend join Tranmere in being relegated to League Two.
The League One play-offs will still go ahead, with points-per-game meaning Wycombe replace Peterborough in the top six along with Oxford, Portsmouth and Fleetwood.
The schedule for matches - all of which will be shown live on Sky Sports - is yet to be confirmed.
League One sides opted to bring an immediate end to the 2019/20 campaign following a crucial vote on Tuesday afternoon, with the final league positions decided on a points-per-game basis.
Their counterparts in League Two took the same decision earlier in the day.
"League One Clubs have voted by an overwhelming majority to formally end the 2019/20 season," the EFL confirmed in a statement.
L1: How it finished
Promoted: Coventry City (champions), Rotherham United
Play-offs: Wycombe Wanderers vs Fleetwood Town, Portsmouth vs Oxford United (dates tbc)
Relegated: Tranmere Rovers, Southend United, Bolton Wanderers
Peterborough: We wanted to play football
Darragh MacAnthony was a guest on The Football Show on Wednesday and the Peterborough chairman said his club, who were still firmly in the running for the play-offs and automatic promotion are "bitter" about the "unjust" decision to curtail the League One season.
"I don't want the cry-me-a-river story of poor Peterborough, but we'd won seven of our previous nine games," he told Sky Sports. "We were the form team in the league with one of the best home records and the leading goalscorers in the football league.
"We'd had tough fixtures early on, but we played seven of the bottom nine in our last nine games. Five out of nine were at home. This points-per-game weighted or unweighted has basically thrown us out of the play-offs. We'd have got automatic promotion, I'm superbly confident on that.
"Where we were as a team, peaking at the right time, it was all set up for that run-in. When the season was called off after we'd beat Portsmouth, the following day we were due to play Bolton. No disrespect to Bolton but they've obviously been beaten quite heavily this season by many teams and if we'd had one more day no doubt, we would have beaten Bolton and we'd probably be sat third or even second. It's just mad, the timing and everything that has gone on.
"We feel bitter, we feel unjust because as I said, we voted to play football. That's what we do and we wanted to do it. It's done now because most of the clubs in League One and league Two don't want to play football."
MacAnthony 'steps down' as Posh chairman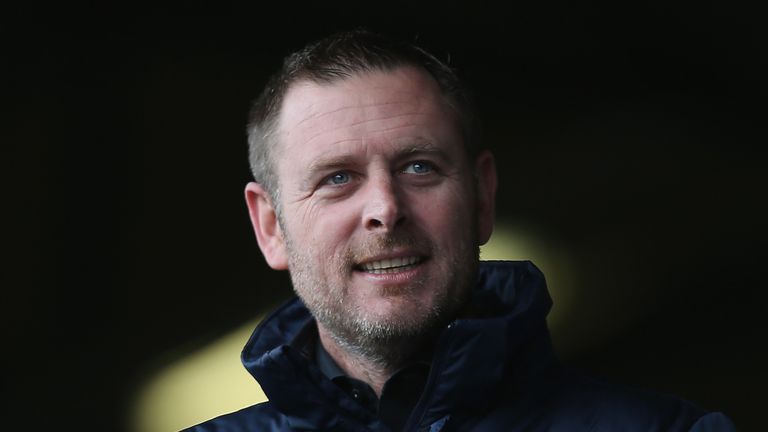 MacAnthony had previously promised to step down as Peterborough chairman if they missed out on the League One play-offs and he was as good as his word once the result of the vote was confirmed.
He changed his Twitter profile to "Ex Chairman/Now El Presidente/Owner of @theposhofficial" and when asked by one supporter if he was still planning to resign, he tweeted: "Check my Profile. Man of my word even when a pandemic plays it's part. All good."
Speaking on Wednesday's edition of The Football Show, he said: "Back in January we went and recruited really well. We'd had a really horrific Christmas where half our squad was injured, and we lost a few games. We lost to Wimbledon and we'd had 20 shots on goal. They had one shot and they scored, winning 1-0.
"I was actually in tears driving away from that game. I was so deflated, and I just felt that we had a really good squad, a great group of lads to come back from injury and we're going to go on a run.
"So, I put out there that I was so confident that we'd make the play-offs that if we didn't, I'd step down as chairman. Obviously points-per-game has thrown us out of the top six and lots of the fans out there are a bit salty about me online and they've commented straight away about stepping down as chairmen.
"I thought fine, no problem. Fifteen years as chairman, it's time for a change, call me El Presidente."
Tranmere 'disappointed, if not surprised'
Tranmere chairman Mark Palios has previously stated his dissatisfaction with deciding which teams would be relegated by determining the League One standings on a points-per-game basis.
He said he is "disappointed if not surprised" with the outcome and considering the "next course of action".
"I have lost count of the number of chairmen who have sympathised at the unfairness of our plight, whilst still voting for it," he said in a statement. "However, sympathy doesn't pay wages or assuage a deep sense of unfairness.
"I have no doubt that we would have survived had we been able to play on."
Palios expects a £1m drop in income on top of lost revenue from gate receipts. He said an "inevitable" reduction in staffing numbers leaves him "sick at heart".
'If the Germans could do it, I'm pretty sure England could have'
Ipswich boss Paul Lambert called the points-per-game system "unfair", and questioned why English football could not replicate Germany, where the top divisions are all continuing.
"A lot of clubs will be self-interested, and that's normal," he told Sky Sports News. "It's never going to change and it's always going to be there.
"Self-interest will prevail and I think that's exactly what happened.
"I think if the Premier League plays and the Championship plays, then League One plays and League Two plays.
"We are one organisation and the testing should have come right down to everybody.
"It's one governing body and it should never be divided.
"If the Germans can do it in the Bundesliga, in the second division and the third division, I'm pretty sure England could certainly have done it."