Hoffenheim - No Ba regrets
Hoffenheim have insisted they made the right decision to let Demba Ba leave in January despite the striker's fine form for Newcastle.
By Thomas Zocher
Last Updated: 25/11/11 7:33pm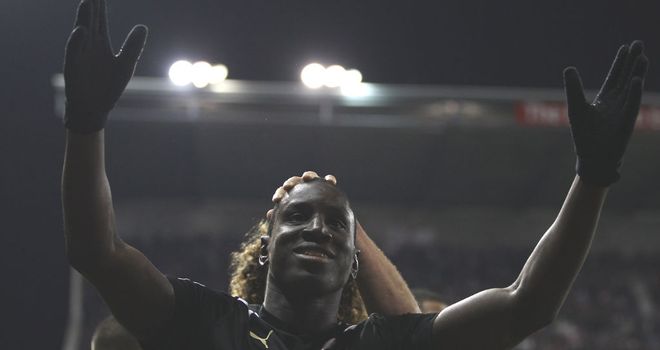 Hoffenheim have insisted they made the right decision to let Demba Ba leave in January despite the striker's fine form for Newcastle.
Ba was a prolific finisher in the Bundesliga with Hoffenheim and has been able to replicate that success in the Premier League since the start of the year.
He performed well for West Ham during the second half of last season before switching to St James' Park, where his goals have helped the Magpies into the top four.
Watching from afar, Hoffenheim could be forgiven for feeling sorry for themselves as they struggle to fill the attacking void left by his departure.
However, general manager Ernst Tanner has no regrets about letting Ba go as he insists the striker went AWOL in an effort to push through a move to England.
Tanner told Bild: "We had no choice in his case back in January.
"Initially we did not want to let him go, of course. Anyway it was him. He refused to continue with us then.
"It was him who flew to England without permission. The atmosphere was kind of like poisoned, you could not expect our team to put up with Demba Ba.
"We received a fee for him and we saved his expenses."
Improve
Another attacker could be set to leave Hoffenheim in the New Year, with Nigeria international Chinedu Obasi admitting that he will have to consider his options after falling down the pecking order.
Obasi is not sure what will happen at this stage but he would be interested in following Ba to England.
"I would need to accept if I am not good enough for the first team," he said. "I may have to move on. It is a fact
"I have actually no reason to be happy about my standard of performance. I have to improve.
"I have always said moving to England would be a dream of mine. Such a move could help me out, anyway this could also fail in the end. I don't know.
"Actually I am not the player I have been in the past."
Quiet January
Hoffenheim currently occupy a mid-table berth in the Bundesliga and owner Dietmar Hopp says he is not planning to bring in reinforcements when the transfer window reopens.
"Signing new players in the winter would increase the problems," Hopp told the Rhein-Neckar-Zeitung newspaper.
"We already have a squad with many players and signing even more would mean more of them not playing regular first-team football. There would be a big chance of them ending up frustrated."
Hopp added: "Manager Holger Stanislawski has my full support, I am trusting him in full.
"You should not be too sure about staying up, we have an advantage of five points towards the drop zone and in the past years clubs that never imagined relegation then ended up relegated in the end.
"Should this ever happen to us, we would attempt to bounce straight back."