Premier League: New Stoke boss Mark Hughes fired up by QPR mistakes and criticism
New Stoke boss Mark Hughes says errors made at QPR and criticism will help inspire him to bring success to the Potters.
Last Updated: 30/05/13 7:09pm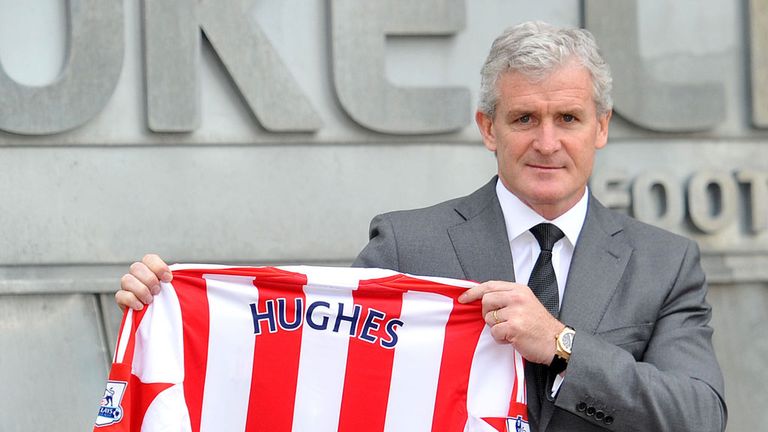 The 49-year-old former Manchester City boss has been out of work since leaving QPR last November, 12 games into the Premier League season, and has been brought in to replace Tony Pulis.
In his unveiling on Thursday morning, Hughes insisted the unhappy end to his tenure at Loftus Road had fired him up to restore his reputation.
"It was a very difficult time at QPR and mistakes were made," said the Welshman who has signed a three-year deal.
"I made mistakes which I have learned from. I had the task of keeping them up in the Premier League and I did that but 12 games later I lost my job.
"That was understandable and was a regret. If I had been given more time I think I would have turned it around.
"We tried to run before we could walk and I hold my hands up but this is about the here and now and moving Stoke forward and getting the success we all want.
"I've had around 270 games managing at Premier League level and in recent months people have wanted to define my managerial career based on 12 games at the start of last season.
"I've kept my counsel for six months but now is not the time to speak about it. Maybe this gives me more motivation to prove people wrong.
"I've listened to what people have said about me and I can assure everybody I will use that as motivation to do well at Stoke."
The ex-Manchester United player began his club managerial career at Blackburn in 2004, guiding them to three successive top-10 finishes, before an 18-month spell at Manchester City. He had one season with Fulham and then headed across London for 11 months at QPR last year where he won eight of 34 games in charge.
Hughes added: "I'm absolutely delighted to get the opportunity and I'm pleased they looked beyond my last position and considered my career as a manager as a whole.
Passion
"I felt I did a very good job for my other clubs and there are similarities with those clubs in terms of solidity of ownership and management and that reassures me. You need that to give yourself an opportunity to be successful on the field.
"With the passion in the area, they are a local club close to the community and I understand that greatly. Whenever I've come here as opposition manager I've been aware of the passion of the crowd. I can't wait to get started and put a team on the pitch everyone will be proud of.
"I'm looking to get the club into the top 10 and do that consistently. I've always worked with expectation and I think fans want to hear you wanting to raise expectations.
"Sometimes that has meant they have come crashing down on you but my intention is to take this club forward and make sure we're successful and that's my motivation."
Stoke City chairman Peter Coates was delighted with their new man having said goodbye to Pulis last week after seven successive years in charge.
"We've given it a great deal of thought and it was important going forward," Coates said. "We were satisfied his CV was very impressive and he's the right fit for us.
"We've analysed everything he's done and we think he's got an outstanding record as a football manager. We believe he'll be just what we are looking for. He saved QPR from relegation and we looked at that.
"We want - like every other club - to get better and we very much think Mark is the right person to do that."