Sky Sports News looks at the impact of St George's Park over its first year
England's national football centre St George's Park celebrates its first anniversary this week.
Last Updated: 09/10/13 1:12pm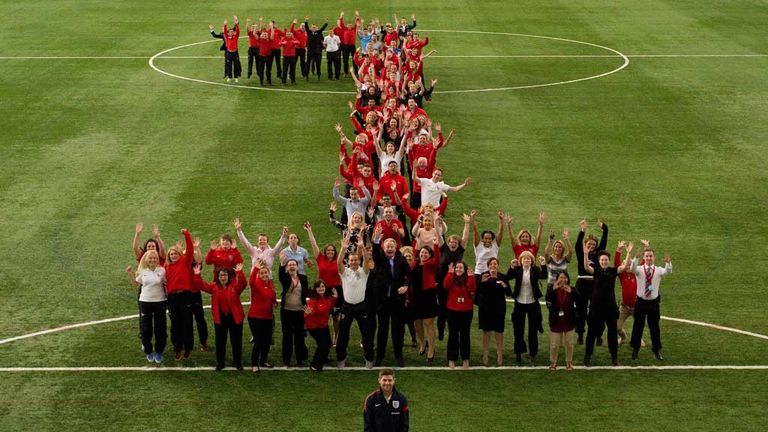 The project suffered numerous delays before opening on October 9 last year, but the centre has had a huge impact on the game from local to national level.
Over 50 professional clubs have used the £120m Staffordshire base over the last 12 months as well as 231 community and grass-roots teams and 28 schools.
The England rugby union team have also made use of the facilities along with the Great Britain hockey team and Leicestershire Cricket Club.
But the centre has been used in the main for football, and 57 courses have been held at St George's Park encompassing Football Association-certified coaching, refereeing, medicine, sports science and sports psychology.
The League Managers' Association have been based at the centre since it opened, and boss Richard Bevan is delighted with the positive impact on the national game.
"For us it's been an extraordinary year," Bevan told Sky Sports News. "It's been uplifting and motivating, just the volume of people, not only from football clubs in this country but all over Europe. So the meeting of people is very important, but to us it's mainly a university.
"I'm sure that by the time 2018 arrives and over 200,000 students have gone through various coaching courses it will be a very key time looking back. From our perspective, our focus on the educational aspect is definitely on leadership and management training.
"We lost 139 managers and coaches last season and over 30% were down to relationships, not results. So venues like St George's Park and the activity and the communication will enable managers and coaches to manage sideways, downwards and particularly upwards and hopefully we can improve the relationships when our members are in and outside of work.
"I'd like to see more Football League clubs coming as well, that's a target of St George's Park. Whether it's a Barclays Premier League team or a Sky Bet League 1 team I see more clubs coming and experiencing St George's Park and using the facilities."
FA director of football development Sir Trevor Brooking believes the centre will be crucial in helping young talent progress.
Brooking said: "Everyone loves the facility. We're now getting the structure of staff in place to bring the centre to life.
"It's great during an international week that you get the interaction between different age groups, the coaches and all the courses going on."
Cardiff are one of the Premier League teams who have made use of the centre, and manager Malky Mackay paid tribute to the "fantastic" facilities.
"We stayed here when we played Derby last season," said the Scot. "We used the pitches and stayed at the hotel and I've been here before to present a Pro Licence.
"I think it's a fantastic facility and it's beginning to grow as well. Everything here is beginning to look settled."