Zoopla to end West Brom sponsorship over Nicolas Anelka's quenelle gesture
Zoopla will end their sponsorship of West Brom at the end of the season due to Nicolas Anelka's 'quenelle' gesture.
Last Updated: 21/01/14 9:44am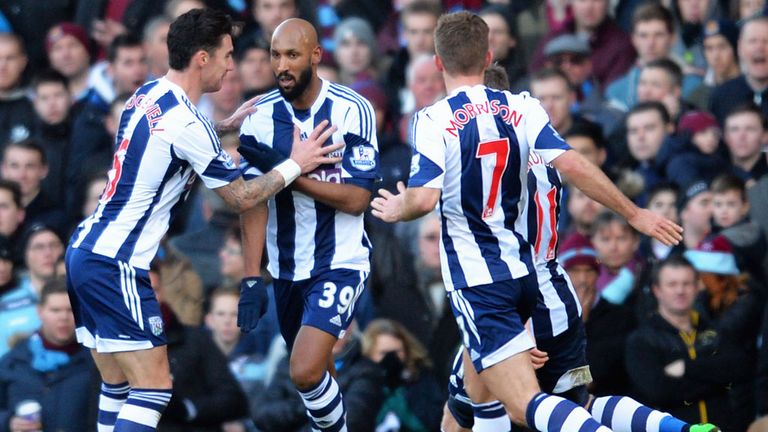 The gesture - which Anelka performed after scoring against West Ham last month - has anti-Semitic connotations in France.
Anelka started West Brom's 1-1 draw with Everton at The Hawthorns on Monday night.
It has been described as an inverted Nazi salute, and Anelka's gesture drew widespread condemnation from anti-racism campaigners in the UK and France.
Anelka insists the gesture - made widely known in France by the striker's controversial comedian friend Dieudonne - is anti-establishment, not anti-Semitic.
Dieudonne has six convictions for hate speech against Jews.
Zoopla, which is owned by Jewish businessman Alex Chesterman, is believed to have been unhappy that the Baggies continued to pick Anelka despite the incident. And just a couple of hours after Zoopla's announcement, Sky sources said Anelka would play on Monday night.
Their sponsorship deal with West Brom was the biggest in the club's history, although it was due to expire this summer, and the company has now confirmed it will not renew the deal.
In a statement Zoopla said it had been "reviewing its position over the past few weeks in light of the actions of striker, Nicolas Anelka, during the match against West Ham over the Christmas period and has decided to focus its attention on other marketing activities after this season".
The FA has been investigating the issue, and is expected to deliver its verdict on Monday or Tuesday, with Anelka facing the possibility of a lengthy ban.
The Anelka incident remains a huge story in France. After the West Ham match France's Sports Minister Valerie Fourneyron tweeted: "Anelka's gesture is a shocking provocation, sickening. There's no place for anti-Semitism and incitement to hatred on the football field."
West Brom released a short statement following Zoopla's announcement, confirming the club had received written confirmation of the sponsor's intentions.
The statement on West Brom's website said: "West Bromwich Albion has been fully aware since the sponsorship agreement came into force in June 2012 that its partnership with Zoopla could expire this summer and therefore has been planning accordingly.
"Zoopla has today informed the club in writing that it does not wish to extend its sponsorship deal. The club will now actively seek a new official sponsor for next season."