Newcastle legend Alan Shearer says Alan Pardew could be sacked over David Meyler headbutt
Newcastle United legend Alan Shearer feels it will be very difficult for manager Alan Pardew to keep his job.
Last Updated: 02/03/14 6:04pm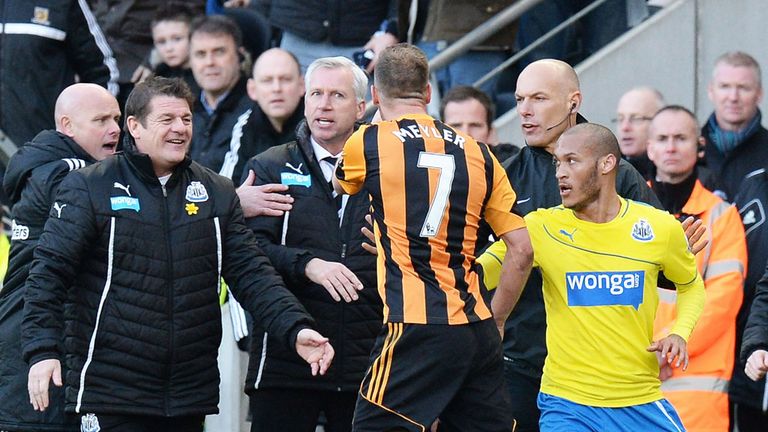 The Newcastle boss was sent to the stands after appearing to headbutt midfielder David Meyler during the 4-1 win for his side at the KC Stadium on Saturday.
Pardew has since been fined £100,000 and issued with a formal warning by the club but Shearer feels there may be further action taken at St James' Park.
"What on earth can Alan Pardew say to his players when they misbehave?" Shearer said. "I have never seen anything like that before, ever.
"Frankly I wouldn't be surprised, and I don't think anybody will be surprised at all, if Alan Pardew were to resign over this.
"Even if he doesn't want to resign, the club might be saying to him, "We might be doing you a favour - you resign rather than us sack you", because that will have to be in his thinking also.
"It will be very difficult for him to keep his job now."
Another former Newcastle manager, Graeme Souness, also feels there could be further repercussions for Pardew.
Souness, a Sky Sports pundit, said: "That is a sackable offence. I've been frustrated and upset by a number of things, but I've never gone down that road."
Newcastle were quick to take action against their manager and a statement on the club's official website, posted on Saturday evening, read: "Newcastle United are disappointed with the actions of its manager Alan Pardew this afternoon.
"His behaviour was unacceptable and is not the behaviour we expect from the manager of Newcastle United.
"It is most disappointing that this incident has taken the focus away from what was a fantastic performance by the team and an excellent result away from home which leaves the club in eighth place in the Barclays Premier League.
"Sadly, the headlines tomorrow will not be focused on the result or the efforts of the players, but instead on the actions of our manager.
"Alan unreservedly apologised immediately following the game to the player, to Hull City Football Club and its fans, and to the fans of Newcastle United.
"We have held discussions this evening with Alan who has offered his sincere apologies to the club and it is clear he deeply regrets his actions.
"Alan has accepted a formal warning from the club in relation to his behaviour today and also a club fine of £100,000.
"The club is now drawing a line under this matter and will be making no further comment."
Football Association chairman Greg Dyke confirming to Sky Sports News that the governing body will look into the unprecedented clash.
Dyke told Sky Sports: "Clearly it looks serious and we will investigate it, but I can't really say anything else at this stage."
Pardew was recently reminded of his responsibilities by the FA following a foul-mouthed tirade towards Manchester City boss Manuel Pellegrini at St James' Park.
And it appears the latest incident will see him facing further disciplinary action from the authorities, although he attempted to quell the furore with an immediate apology and explanation.
Pardew told Sky Sports after the match: "It was just a heat of the moment thing. Obviously I massively regret it.
"I didn't mean to do anything aggressive, but I did move my head forward and that's enough.
"He was right on top of me and I wanted to just ease him away from me but obviously I put my head in a forward motion.
"I want to apologise to him, everyone at Hull and obviously my own fans as well.
"I don't think it was a headbutt. It wasn't a motion that was quick.
"Of course, I'm not stupid enough to accept there's going to be no punishment. I'll have to accept whatever comes my way.
"I believe my behaviour over the years has not resulted in too many fines and sitting in the stands, but this one probably will."