Michael Olaitan in 'good condition' after collapsing during Olympiakos v Panathinaikos
Olympiakos striker Michael Olaitan is in a "very good condition" in hospital after collapsing in Sunday's Athens derby.
Last Updated: 03/03/14 1:46pm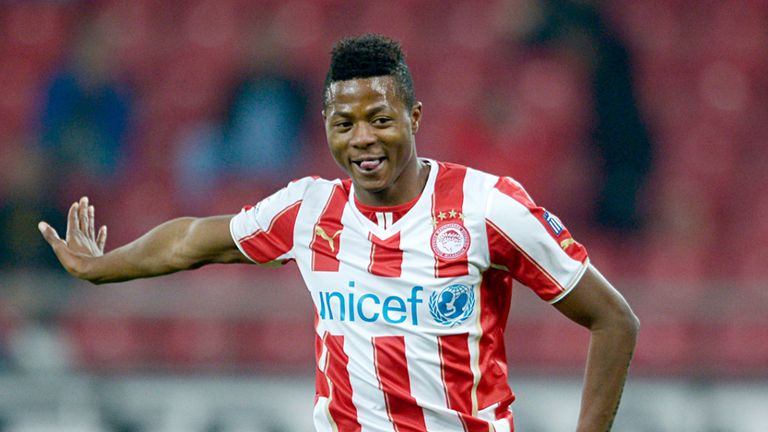 The 21-year-old Nigerian, who recently played against Manchester United in the 2-0 UEFA Champions League victory for the Greek champions, collapsed in the first half of Olympiakos' 3-0 defeat to Panathinaikos.
He regained consciousness before being taken to hospital for tests and club doctor Christos Theos now believes a viral infection was to blame.
He told sport.gr: "Olaitan is in very good condition. His heart function is fine.
"He has been subjected to complete and detailed laboratory tests and imaging tests. We have documented a full pathology.
"Perhaps the main reason was a viral infection that has been plaguing the player."
Earlier in the match, Panathinaikos manager Yannis Anastasiou fell to the ground after being hit by an object thrown from the crowd at the Karaiskakis Stadium.
Olympiakos boss Michel admitted his players and staff were unable to concentrate properly for the remainder of the match due to their concern for Olaitan.
On Sunday he told the club's official website: "At first we were shocked and we were also scared about the incident with Michael.
"It was a very unpleasant situation. It was a critical moment, when we saw him leaving with the stretcher and we had no news from the hospital for some time.
"Right now it seems that the situation has stabilised, but they must do several tests because it was fainting and they need to find the cause."
Several players - including Marc-Vivien Foe of Manchester City, Daniel Jarque of Espanyol and Livorno's Pierpaolo Morosini - have died after collapsing during games in recent years.
In March 2012, England Under-21 midfielder Fabrice Muamba suffered a heart attack during Bolton's FA Cup match at Tottenham.
He made a full recovery but announced his retirement from football five months later.