Edinson Cavani has suggested that unless Paris Saint-Germain change their playing system, he could look to leave the club in the summer.
Cavani is the most expensive player in French football history after PSG paid Napoli over £60million for his signature.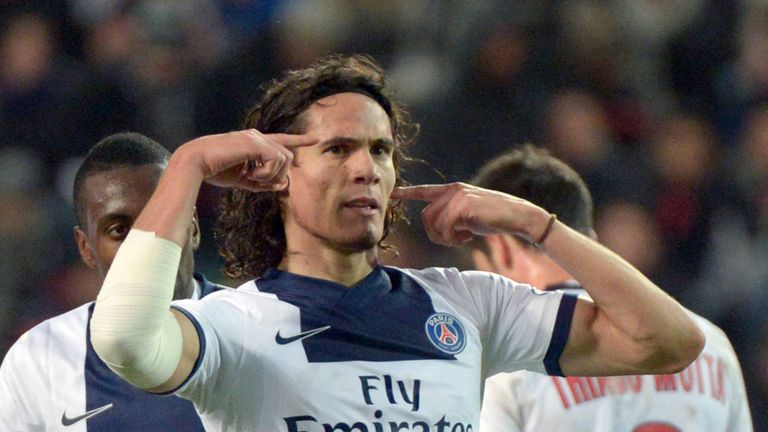 I am fine in Paris, but obviously there are things we have to talk about with the club, things we need to do in a different way
The Uruguayan star has not disappointed in his displays and has 21 goals to his name this season, but with Laurent Blanc using a 4-3-3 system, Cavani has had to do his work from the right wing, with Zlatan Ibrahmovic leading the line.
And Cavani has suggested that he is not happy with the situation, which had led to the likes of Manchester United, Chelsea and Real Madrid being strongly linked with the 27-year-old.
"Will I remain at Paris next term? We will see at the end of the season," he told L'Equipe when asked about his future. 
"I am fine in Paris, but obviously there are things we have to talk about with the club, things we need to do in a different way."
System
Asked about having to play wide because of the system, he said: "Of course it is not easy. Playing besides players like Zlatan, Thiago Silva, Thiago Motta or Lavezzi is great for any player. 
Live UEFA Champions League


"But for a forward used to scoring and which has to do defensive tasks now, it is not easy. 
"I don't want to talk about sacrifices because making efforts has always been part of my game. But now I am more defensive and it is more difficult because when you came, it was with other ideas and other views about your position in the team and the club.
"Playing in 4-4-2 was my vision of the team when I joined Paris. It is one of the arguments that motivated me to sign in that club. Let's terminate Le Championnat and we will see what will happen."
Early this season Chelsea boss Jose Mourinho admitted that luring Cavani away from the Parc des Princes would certainly be an easier proposition to that of landing Ibrahimovic.
Asked about Moruinho's comments, he added: "He probably had good reasons to say that, but I don't know anything. I am not journalist, I am not talking about transfers. 
"Indeed, Chelsea was very attracted to me last summer, but what is really important in their transfers? PSG showed real trust and real determination to include me in their project. When you pay such transfer fee, that is a proof you really want the player."
He was asked about reports that Chelsea and Man United had opened talks with his representatives in February.
"Frankly I don't know," he said. "Nowadays, my family is with me in Paris and if something should happen, my brother will manage it and will sit on a table with any clubs' officials."
No fear
Cavani and PSG will come up against Chelsea on Wednesday when Mourinho and his side arrive in the French capital for the first leg of their Champions League quarter-final clash.
"Do we fear Chelsea or Mourinho? The coach is not playing. Everyone knows he is a very great coach and a great leader of men. But I fear the coach less than the Chelsea players. Most of them are international level with a lot of experience," he said.
"What we already achieved both in Le Championnat and the Champions League has showed we have a great team capable of wining, but facing an English side, in a Champions League quarter-final, it is a big test to us. We will see if we are capable of reaching what will be a new step."
Cavani insists he does not see the match as a chance of revenge for him personally after Chelsea knocked out Napoli in 2012.
"Let's say it brought me experience," he said. "Now I am wearing another shirt and I will play a Champions League quarter-final against a great club like Chelsea.
"To me the most important thing in the first leg is to not concede any goals because I believe in the return leg we will have opportunities to score."