Tim Sherwood to be relieved of managerial duties at Tottenham this summer
Sky sources understand that Tim Sherwood will be replaced as manager of Tottenham Hotspur this summer.
Last Updated: 07/04/14 11:46pm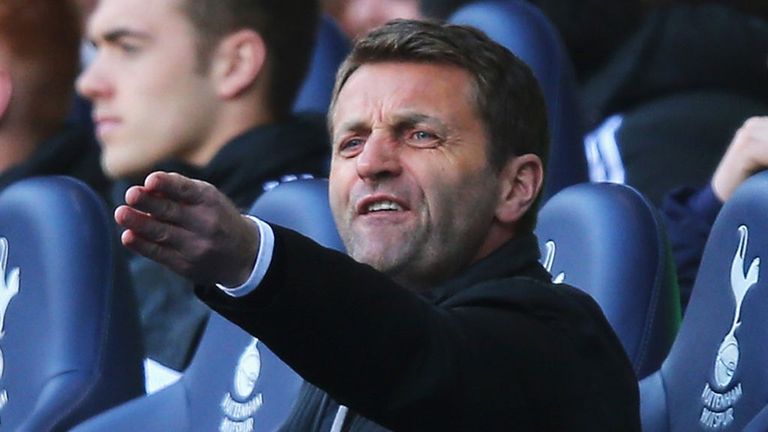 The 45-year-old, who was promoted from his position as U21 coach on December 23 as Andre Villas-Boas' successor on an 18-month contract, has won 10 and lost nine of his 22 games in charge ahead of the Monday Night Football clash with Sunderland on Sky Sports 1 at White Hart Lane.
He made a promising start in his first senior managerial role, winning five of his first six games, but Tottenham crashed out of three cup competitions under his stewardship and heavy league defeats followed against Chelsea and Liverpool, leaving them almost certain to miss out on a top four place.
His decision to watch games from the stands has also caused anger among fans, who chanted 'where is our manager?' during the 4-0 defeat at Anfield last week.
Speaking ahead of the Sunderland match, Sherwood was asked if the speculation had been a distraction.
He said: "Certainly not for me, its business as usual for me. I'm trying to set up this team.
"We've worked all week on how we're going to play and it shouldn't affect the players either. We're all professional and we need to get on with the job.
"We have still got points to fight for here, six cup finals in my eyes and I'm sure the players see it the same way. If we can get some positive results who knows where it might take us?"
Spurs have refused to confirm the decision to end Sherwood's reign in the summer, with a statement reading: "The board will meet with Tim Sherwood at the end of the season to review how things have progressed. Anything else at this stage is speculation."
Reflecting on Sherwood's expected departure, former Charlton manager Alan Curbishley insisted he was right to take the job but has paid the price for the side's recent form.
"There may be managers in work who may now look at the situation and say 'I fancy Spurs'," Curbishley told Sky Sports News.
"If you're offered the situation, then you have got to take it and I think Tim was a bit wary of it. I think he thought there was no point taking the job just until the end of the season - that would have been a no-win situation for him.
"He held out for an 18-month contract, a little bit more security, so it wasn't a short-term situation. These jobs don't come around that often and you do have to take them if you really want to be a Premier League manager.
"If the results had been better and Tottenham were in the top four, then I think Tim Sherwood could still have been the manager going forward."
Curbishley added: "I think only Daniel Levy can tell you the sort of manager they need - over the years he has gone down a couple of different routes.
"There may be managers out there who are in work who fancy the Tottenham job now there is a vacancy and will put their names forward."
Sky Bet make Louis van Gaal, who is set to leave his post as Holland manager after the World Cup, their odds-on favourite to replace Sherwood with Mauricio Pochettino, Frank de Boer and Jurgen Klinsmann also considered at the head of the betting.