Guillem Balague says Barcelona and Real Madrid are undeterred by Luis Suarez ban
Last Updated: 26/06/14 6:24pm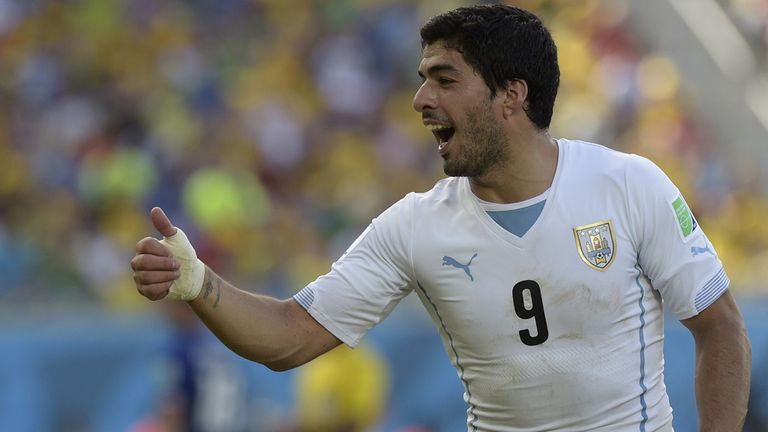 Barcelona and Real Madrid both still want to sign Luis Suarez from Liverpool despite the striker being banned for four months, according to Guillem Balague.
Suarez was found guilty of biting Italy defender Giorgio Chiellini in the crucial World Cup Group D clash on Tuesday.
The 27-year-old will be unable to play club football until October 26 – which will see him miss domestic matches and three Champions League fixtures - as well as being suspended from international football for nine matches.
But Balague insists the Spanish giants will be undeterred in their attempts to snare the Uruguayan forward, with Barca the favourites to sign him in a deal worth 80million euros.
Balague told Sky Sports News: "I was in touch with both Barcelona and Real Madrid. I wanted to see first of all if there was going to be any official reaction – obviously not. And secondly I wanted to know if they would still be interested with the player.  The answer was not very ambiguous - I think they will be, I am certain they will be.
Favourites
"In the case of Barcelona, they think they are favourites for his signature. They think that this may make things much faster. But we will see – that is just speculation. What is for certain is that they would still like to sign the player.
"It is not ideal obviously but it is quite clear it has become a sporting and footballing decision as a priority in both cases. Conversations with Real Madrid have been taking place for quite a while and they thought they had an advantage over Barcelona. But it all changed over the last couple of months when the player let his representatives know that it was Barcelona that he wanted to go to.
"Barcelona are still the favourites to get him as half of his family – his parents in law live near Barcelona – and he goes there very often. His first daughter was born in Barcelona and his wife spends a lot of time in Barcelona. But it doesn't close the door to Real Madrid and prior to this last incident he hadn't closed the door to staying at Liverpool. But that seems difficult now."
Swap
However, Balague believes there is little prospect of either of the Spanish sides securing Suarez on the cheap. And if the Uruguay striker is to move to move to Barcelona, it could depend on the agreement of a swap deal between the clubs and relevant players.
"I very much doubt that Liverpool will say, 'take him out of our hands'," Balague said. "I think there is a buyout clause, two in fact I believe, one for English clubs and one for foreign clubs. The one for foreign clubs is about 80million euros – that is the money Liverpool will want and that is the money that Barcelona and Real Madrid will be counting on spending on him.
"In the case of Barcelona they don't have all the money in cash and they would like to include players. There are talks of Pedro and Alexis Sanchez [moving to Liverpool in exchange] but you have to convince the players of that."