Premier League: Liverpool full-back Jose Enrique fit for the start of the season
Last Updated: 05/11/19 1:50pm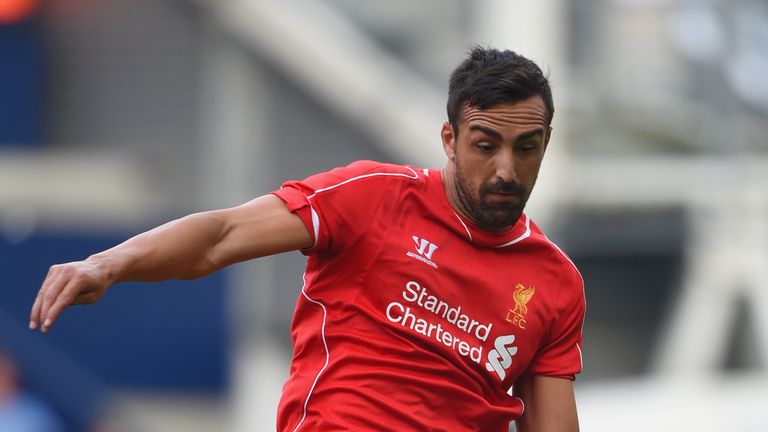 Liverpool defender Jose Enrique says he expects to be available for the opening Premier League game of the season at home to Southampton a week on Sunday.
The 28-year-old Spaniard's 2013-14 season came to a premature end when he had to undergo knee surgery last November.
However, he resumed training in July and was able to join his team-mates on Liverpool's pre-season tour to the US.
A fit Enrique would be a great help to Liverpool boss Brendan Rodgers, who had to cope without a specialist left-back at times last season.
Enrique said: "I'm feeling good.
"I was training on my own and running a lot, and it's not the same when you play with a team, because it's a lot more with the ball and a different type of running.
"I'm still getting my fitness back but I feel really good and confident that I can play soon.
"It's little by little, and not just me, everyone is getting their fitness.
"If the manager wants me to play in the first game of the season, I am ready, of course."
Having finished second in the Premier League last season, Liverpool earned a return to the Champions League for the first time in five seasons.
And Enrique added: "Liverpool has been for a while without Champions League.
"I've never played in the Champions League and I'm so excited to play in this competition, because the best teams in the world are in this competition.
"I think Liverpool are one of the best teams in the world, so Liverpool have to be there as well.
"We'll try to go as far as we can but, of course, not forget about the league and the two cups. We have a big squad and we want to compete for everything.
"Hopefully, like the manager says, we can win a trophy. We won one before with Kenny (Dalglish, the Capital One Cup in 2012).
"I know it wasn't a Champions League or a league title but it was really exciting and, for the fans, it's really good to win trophies."