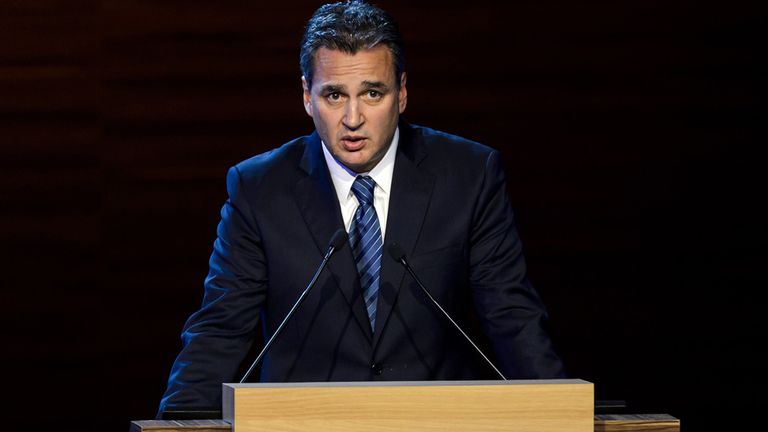 FIFA faced calls for greater transparency when its own ethics investigator complained of a "disconnect" with the public.
Former United States attorney Michael Garcia, head of the ethics committee's investigatory chamber, said too little information was being given on cases such as the probe into the controversial bidding process for the 2018 and 2022 World Cups.
And in a separate row, UEFA vice-president Michel Platini said he would ignore orders from FIFA to return a watch given to delegates at the World Cup this summer. 
Garcia's comments, at the World Summit on Ethics in Sports in Zurich, came after FIFA president Sepp Blatter had described his organisation's ethics set-up as exemplary when he opened the event.
Garcia recently completed a year-long investigation into allegations of corruption which surrounded the bidding process for the 2018 and 2022 World Cups, awarded to Russia and Qatar respectively, in December 2010.
The report has been handed to FIFA's ethics judge Hans-Joachim Eckert, but without being made public.
FIFA's code of ethics rules that the process must stay secret, a stance that has led to criticism for a lack of transparency. The ethics committee's independence has also been questioned.
Garcia, in a rare public appearance, told the event: "(The FIFA ethics code) is a robust code implemented in a fair and thorough way, but the process must lead to something else. The goal has to be instilling confidence in the process.
"Beyond any particular case, the public have to have confidence that the process is working in a fair way."
Garcia added that there was "something of a disconnect" between the public and the ethics committee, which was reformed by FIFA following a series of corruptions scandals in 2010 and 2011.
"When I think back to my days in the United States attorney's district office in Manhattan, generally considered one of the best in the United States, we had a very strong reputation with the public and there was much public confidence in the work that we had done," he said.
"I doubt that we would have enjoyed that confidence if we couldn't have announced who had been charged with what.
"There could be little support from a public that was so little informed. So, I think, what we need at this point is greater transparency in the process, transparency in the charges, in the decisions and the basis of the decisions, while continuing to protect the rights of all persons.
"I hope that this code is studied and applied, and may be revised, so it will be possible to have that type of transparency."
Earlier, Blatter praised FIFA's ethics set-up, created in 2004 and overhauled three years ago.
"Since the reforms, we have had an exemplary organisation in ethics," he said. "We are the only sports organisation which has this independent body for ethics. Nobody else...not even the IOC (International Olympic Committee)."
He also tweeted: "Everyone in the global football community has a responsibility to act ethically. Football fans rightly demand this. FIFA has taken the lead.
"FIFA's reform process gives us a framework for the future that I believe WILL put FIFA at the forefront of governance standards in sport."
Platini meanwhile was angered by FIFA publicly rebuking football officials who accepted gifts at the World Cup, saying he will donate about £16,500 to charity rather than return the Parmigiani watch given to him by the Brazilian federation.
On Thursday, FIFA told officials they had until next month to return the Brazilian football confederation watch or face ethics proceedings for accepting a gift that had more than a "symbolic or trivial value."
Platini, one of Blatter's biggest critics, questioned why the governing body is only now making an issue out of the Parmigiani watches.
"I was very surprised by the FIFA press release. I think that the best thing would have been to call us, to say that the ethics committee has done so-and-so and they're not pleased," Platini said.
"But if the ethics committee was not pleased, they should have told us that four months ago in Brazil, when we received the watches. They were aware that we were receiving these watches because everybody received them.
"We all receive watches. I've received several," Platini said, wearing another watch that had been a gift. "But I was surprised on the one hand to see the value of the watch.
"I'm a well-educated person. I don't return gifts. I'm going to ask for the value of this watch and I'm going to give to a charitable organisation, a foundation, this value."