Chris Kamara has his say on the weekend's Premier League talking points, including the Manchester derby, Tottenham's last-gasp victory over Aston Villa and Liverpool's dip in form...
Ridiculous decisions in the Manchester Derby
At the end of the day it was very tight but when you look at some of the decisions – and the penalty decisions especially – I mean, was the referee watching the same game? It was just ridiculous.
It's getting harder and harder to get a penalty these days; just look at some of the handballs on Saturday and some of the fouls on Sunday.
Let's not take anything away from both teams. From Manchester United's point of view, when Chris Smalling has already got a yellow card and then makes a challenge like that, what chance have you got as a manager? From thinking you might get a result, they're having to dig in, fight and scrap and it did, even then, take a master class finish from Sergio Aguero to beat them. If it had stayed eleven against eleven who knows what would have happened…?
Kane gave Spurs spark but Benteke red card was turning point
Harry Kane certainly gave Tottenham a lift when he came on during Sunday's game, that's certain. He was fortunate with the deflection for his goal but he did give Spurs a lift, which is what they'd been lacking.
But the turning point in the game was Christian Benteke's sending off. Yes, you can't lift your hands but the rule book also says it must be done with violent conduct. You can't tell me Benteke's actions were violent? I don't care what you say. The laws of the game do not say that if you lift your hands up you've got to be sent off. The law says violent conduct is the reason for a red card.
Song's lunge would have been a red card last season
Alex Song's challenge on Mame Diouf in the West Ham v Stoke game was a strange one because it was a long, long way off. Last season that would have been a straight red card, the ref wouldn't have even thought twice about it. We saw people going off for a lot less than that. With this one, Diouf has done well because he's just skipped out the way.
We had differing views when we discussed it on Goals on Sunday. I made the point that last season he would have been sent off, while Gordon Strachan said, because he's jumping in from that far away Diouf couldn't fail to see him jumping in so he wasn't going to get hurt. Once again the precedent has been set and now if we players are jumping in referees have got to take it on merit - it's a tough one to call.
Mourinho has the right to moan at the fans
Teams do need help from the fans and Jose Mourinho said that Chelsea needed more noise from the fans in their game against QPR on Saturday. Queens Park Rangers are one of the clubs at the bottom of the table, they're coming to Stamford Bridge and everyone is expecting them to get turned over. But nobody lies down in the Premier League, no matter who they are. Don't forget, QPR view this game as a massive derby and Harry Redknapp knows what London derbies like this are all about. The players are always going to be up for it and add in the fact that Chelsea are unbeaten in the league and you bring another incentive for the away side to try and win and play beyond themselves – which they did.
Mourinho's words are little dig at his players and also a little pop at the fans because he feels at times the players need the fans' help. There's nothing wrong with what he said, they're in a strong position and the fans are not going to fall out with him. He's in the strongest position a manager can be to have a word with the fans – he's top of the table so why not say it!
Newcastle and Alan Pardew are through the worst of it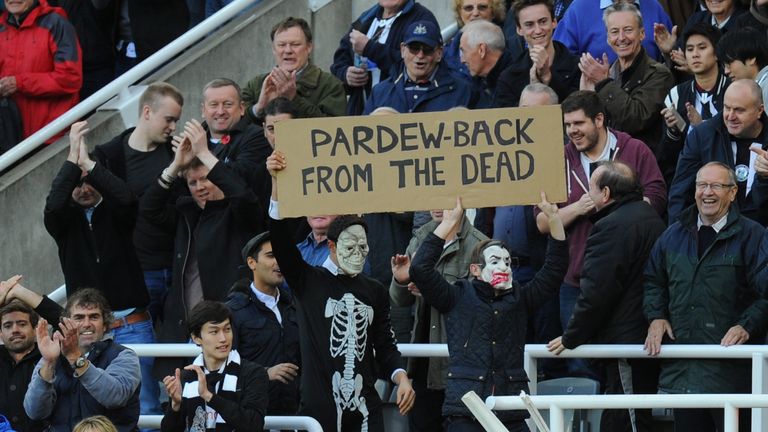 A 1-0 win over Liverpool at the weekend made it four wins on the bounce. Alan Pardew has certainly weathered the storm. The only problem is, Newcastle are going to have another bad patch somewhere along the line and the fans have got to cut him a bit of slack. Newcastle and Pardew have made it through the worst time. People will point out that it has been a poor run of results this calendar year but Mike Ashley has never wavered in his support for Pardew as a manager and that's a clear signal that he's there to stay. Now Newcastle fans need to accept the situation and carry on to see where they end up.
Let's not condemn Liverpool's loss of form just yet
Brendan Rodgers must be scratching his head and thinking what he had last season has just deserted him. One man doesn't make a team, though. I said this on Saturday about the Arsenal game when Alexis Sanchez was by far the best player on view. But one man can inspire a team and Luis Suarez definitely inspired Liverpool and Daniel Sturridge brought in to that and things got even better. To lose both, either through transfer or injury, has changed the dynamic of the club. Mario Balotelli has changed the dynamic of the club also, because it's not his forte to be willing to run and chase and hound to get a sweat on for the 90+ minutes.
But they could come back to form yet - particularly once Sturridge is fit. Let's not forget they lost Suarez for quite a while last season and they coped, so they have lived and performed without him. It could just a loss of form at this moment in time and let's not be too hasty to condemn them.