Guangzhou Evergrande unveil Fabio Cannavaro as Marcello Lippi's replacement
Last Updated: 05/11/14 7:55am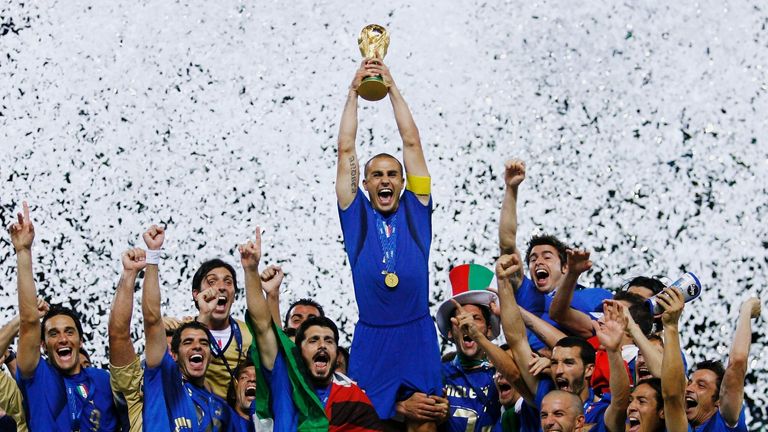 Fabio Cannavaro has been formally unveiled as the new coach of Chinese champions Guangzhou Evergrande.
Italy's World Cup winning captain replaces Marcello Lippi after his former national team manager stepped aside following the the club's fourth consecutive title at the weekend.
Lippi will retain the title of "head coach" while 41-year-old Cannavaro will take over responsiblity for the team's day-to-day affairs as the club's new "executive head coach".
"There might be some misunderstanding about what I said before, that I would give up and ditch the team," said Lippi.
"No, I'm still the chief director and the head coach of the team, I'm just not going to be on the pitch every day."
Lippi said he would "check every few days" on the team's development and would watch the matches from the stands.
The 66-year-old also said he suggested to the club the appointment of an executive head coach so that he could spend more time with his family in Italy.
"I couldn't do anything when my family had issues, I couldn't stand that I had to visit home (only) every six months," Lippi said.
"So I suggested the team should find an executive head coach, which would allow me to visit home every two months."
Cannavaro had a glittering career at Parma, Juventus and Real Madrid and won the world player of the year award in the same year that he led Italy to World Cup victory in Germany in 2006.
Lippi, who managed the Azzurri in their 2006 triumph, led Guangzhou to AFC Champions League glory in 2013 after - winning five Italian Serie A titles and the Champions League in two spells with Juventus.