From the youngsters wearing his No 77 shirt as they emerged from the nearby Campo Grande metro stop to the ultras on the Curva Sul who ended the evening chanting his name, there was a lot of love for Nani at the Estadio Jose Alvalade on Wednesday night.
While Manchester United players and supporters sit out European competition, forced to content themselves with the schadenfreude that comes with following City and Liverpool's travails, Nani's Champions League adventures continued with a 4-2 win over Schalke in Lisbon.
With a goal and an assist, Nani was integral to his team's triumph – as he has been for much of the season on his loan back to the club where his career began. As Sporting coach Marcos Silva says, "he came home" and he's returned to be the man for the Lions. Perhaps that's just how Nani likes it.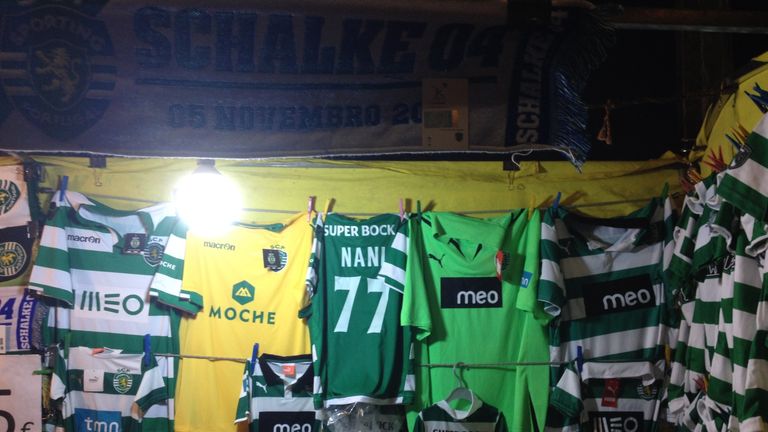 "You can't play well if you're not happy," said the man himself last month in what might be interpreted as a thinly-veiled reference to the latter stages of his United career. Operating high up the field in a wide-forward role at Sporting, Nani looks a different proposition entirely.
A penetrative pass in the first minute to help win a corner set the tone and his confidence was not diminished when Sporting fell a goal behind early on. In fact, Nani was the one visibly attempting to raise his team-mates as they trudged back to the centre. He continued to probe, his neat stepover winning the free-kick that brought the equaliser.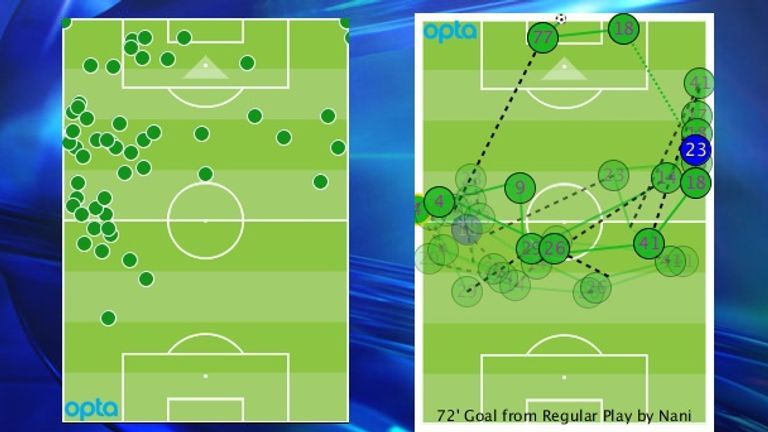 Everything positive that Sporting produced seemed to occur thanks to his prompting. There was the through-ball to Joao Mario, a shot that tested goalkeeper Ralf Fahrmann and the series of one-twos that preceded his measured cross to Carlos Mane on the brink of half-time that his colleague could only head wide.
Fouled twice as many times as anyone else on the pitch in the first half, Schalke continued to target Nani after the break but that proved counter-productive thanks to the outrageous efforts of Sporting left-back Jefferson. Having drawn two defenders near, Nani's simple lay-off was blasted into the net by the Brazilian with Fahrmann helpless.
Nani scored the third goal himself – his own third in this year's competition – when he had the honour of finished a 30-pass move that he'd been involved in twice before in the build-up. If that goal was indicative of the team's confidence, the ball juggling that Nani indulged in before his late substitution was evidence of his own state of mind right now. This is a man enjoying his football.
Nani Stats
| | | |
| --- | --- | --- |
| Nani v Schalke | | |
| Discipline | Number | Rank |
| Shots on Target | 2 | 1st |
| Chances Created | 3 | 1st= |
| Successful Dribbles | 2 | 1st= |
| Passing Acc (Opp Half) | 96.2% | 1st |
| Accurate Through Balls | 1 | 1st= |
The post-match statistics emphasised his influence. Whether it was shooting, creativity, crossing, passing or dribbling, Nani ranked near the top. Little surprise given that O Jogo recently suggested he was in the form of his life, while a Record poll rated him as the best player in Portugal.
The highlights reel is impressive. There was the brilliant strike from distance against Gil Vicente and the dinked finish over the goalkeeper at Penafiel; a long-range left-footed effort at Maribor and the decisive dribble that sparked Sporting's early goal in the big domestic fixture against Porto.
But this is about more than the highlights. There are signs that Nani is harnessing his talent to become a more effective player. Never one to take the easy option, his urge to impress at Manchester United had a tendency to affect his decision-making – a wild shot here, an irresponsible dribble there.
The knowledge that when the substitute board now goes up on the hour mark, his number won't be on it, appears to have brought an improved approach – as shown by that high pass completion rate. He is combining a directness to his play with a responsible use of the ball.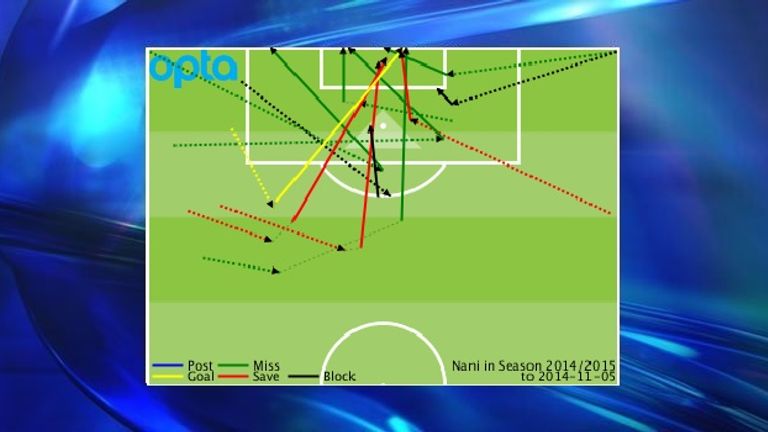 Of the half a dozen players in the Champions League who have created more chances than Nani, only Lionel Messi has completed more dribbles. It's the coming together of a skill-set Sir Alex Ferguson first identified seven years ago.
"What attracted me to Nani was his pace, strength and aerial ability," explained Ferguson in his most recent autobiography. "He had two fine feet. Gymnastic, too. His athletic read-outs were always first-class. So the foundations were there.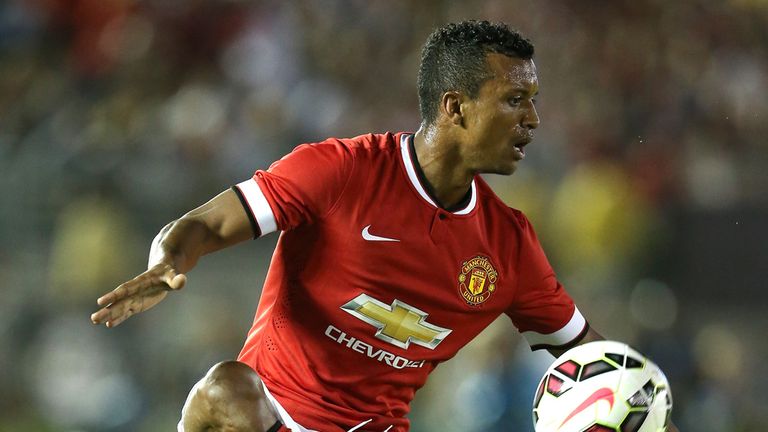 "With Nani we were buying pure raw material. He was immature, inconsistent, but with a wonderful instinct for football. When you buy a player with all those talents, the trick is to put them in order. He was a bit disorganised and needed to be more consistent."
There was a time when it looked like that would happen at Old Trafford. In the 2010/11 season, Nani contributed nine goals and 14 assists to United's title-winning campaign. Only the more celebrated figures of Didier Drogba, Carlos Tevez and Robin van Persie could beat those combined numbers.
He was duly voted United's player of the year by his team-mates. Given that he was also in the Premier League top 10 for shots, chances created, dribbles and crosses, he was also the top-rated player on the stats site WhoScored… And he was benched for that year's Champions League final.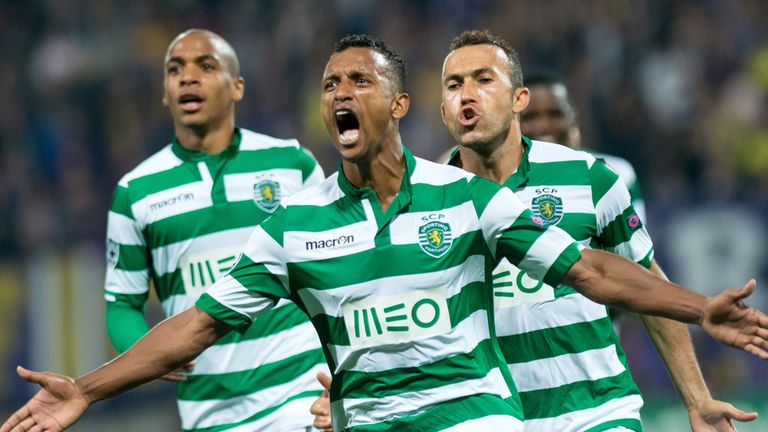 Perhaps that sums up the problem. Despite signing a five-year deal at the club last season under David Moyes, there was a sense in which Nani never truly earned the complete trust of anyone at Old Trafford. There is a mental challenge that comes with being in and out of the team and rotation isn't for everyone – especially a winger expected to play with confidence and panache.
Ironically, at Sporting he has the opposite problem. "When there's a player of his quality," said Silva, quoted in Record. "It is logical that the medical teams take great care in putting a system in place for him to play game after game with high intensity almost every four days. But Nani has also had a very good attitude to his training."
Maybe Nani just needs to feel loved. If so, everything suggests he's in the perfect place for it. "Right now I'm enjoying my time here with people who like me and believe in my abilities," he says. As the standing ovation he received for his man-of-the-match performance against Schalke showed, there are plenty of believers in Lisbon.