Champions League: Jurgen Klopp's Dortmund won't hold back against Arsenal
Last Updated: 26/11/14 7:00am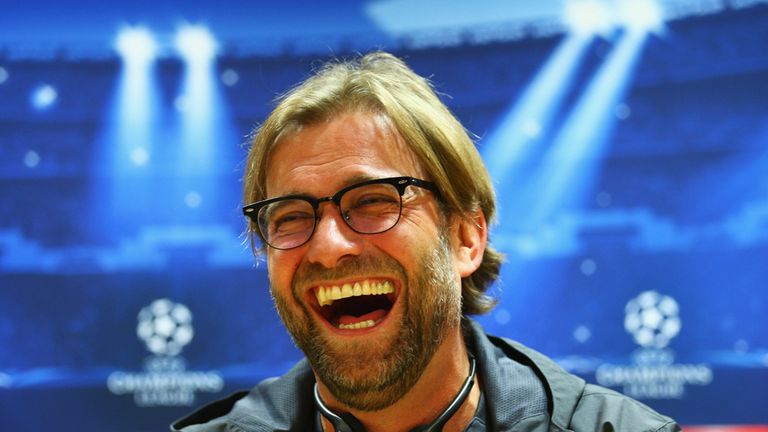 Borussia Dortmund manager Jurgen Klopp is not sure why Arsenal counterpart Arsene Wenger should feel under pressure - but is determined his men will not go easy on the Gunners as they look to kickstart their own season back in Germany.
Dortmund head to the Emirates Stadium with a place in the last 16 of the Champions League already secured after claiming four straight wins in Group D.
That sublime European form is, though, in stark contrast to domestic matters, with Dortmund third bottom of the Bundesliga after suffering seven defeats in 12 games.
Arsenal, meanwhile, have made their worst ever start in the Premier League following a 2-1 home reverse by Manchester United, and would have already been in the last 16 of the Champions League but for blowing a 3-0 advantage against Anderlecht in the previous round of matches.
Klopp, though, believes people have to look at the bigger picture.
"Now this is real pressure? There are different kinds of pressure. I don't know what the people think here, what they want (Arsenal) to be," he said.
"They see Chelsea on the top, Manchester United have some problems, Man City some problems in the Champions League. Maybe people think this is the perfect opportunity for Arsenal to go through, but I don't know.
"They have many injuries. Mesut Ozil, nobody wants him when he plays, everyone needs him when he does not play. (Jack) Wilshere (is out), so there are problems."
Klopp added of his own side's issues: "Maybe (not) in this competition, but in the Bundesliga, we have real pressure.
"But tonight I cannot change the Bundesliga situation, so it is a little bit like a holiday situation for me - it is only the Champions League.
"Tomorrow we have a big target, we want to go through in first position.
"That (taking foot off the gas) is not my plan.
"In our situation we need each game to get more stability, we have to use the game tomorrow for the Bundesliga.
"If we can play very good tomorrow, it will help us for the Bundesliga
"We saw the first half against Man United. Everybody knows Arsenal were much better. When I got home, they had lost 2-1. but this is football sometimes.
"They can be pretty strong if you let them be strong."
Klopp, who must do without Marco Reus for around two months after the midfielder suffered ankle ligament damage in Saturday's 2-2 draw at SC Paderborn, has long been touted as a manager who would be a perfect fit for the English game, his team having impressed with a 2-1 win in London during last season's group stages.
For now, though, the 47-year-old remains very much focussed on getting Dortmund back challenging for the Bundesliga and going one better than when beaten by Bayern Munich in the 2013 Champions League final at Wembley.
"I don't think about my future at this moment," he said.
"The only (other) language I speak is English a little bit and for my type of coaching, I need the language. The funny part I will learn very fast.
"But I don't know, I don't know when. I don't plan things like this.
"They (journalists) asked me 'what do you do after Borussia Dortmund?' I told them it is possible if somebody called me then, then we could talk about it. But that is all. I did not say 'I am here on Monday'.
"Sometimes timing is very important in each part of life."
Klopp added: "This is unfinished business with Dortmund in this moment, for sure.
"It is easy to feel responsible for winning games, it is much more difficult to handle this feeling now.
"I try to do my best, handle the problems we have, and get better results, so this is real hard work at this moment."
Watch Arsenal v Borussia Dortmund live on Sky Sports 1 from 7.30pm on Wednesday.