Weekend Review: Arsenal have turned a corner while Manchester United can only get better, says Kammy
Sky Sports analyst also reflects on more refereeing controversy
Last Updated: 22/12/14 1:05pm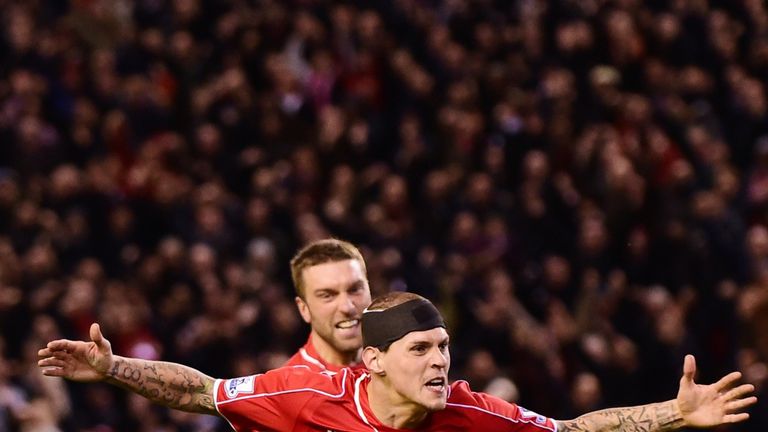 Chris Kamara has his say on the weekend's Premier League action, including Manchester United's win over Liverpool and Arsenal's change in fortunes.
Things are looking up for Arsenal again
It's been a big week for Arsenal. A very good performance at Galatasaray in the Champions League, which included what will probably win the goal of the tournament in Aaron Ramsey's strike. In the space of a week – with the doom and gloom after the Stoke game – everything's changed, and on Saturday everything was better about the performance against Newcastle. It's looking up for them and they've probably got the Champions League draw they would have wanted in Monaco. It's a great draw.
Below-par United continue to get results
It was a convincing result but, as we know, Liverpool had a lot of chances and David De Gea was in good form. It's always the same – when things are going against you like they are for Liverpool, then your chances don't go in. When things are going for you, like with Manchester United, you're winning games. Even Louis van Gaal said himself they were very fortunate to win at Southampton, but the unbeaten run continues and it doesn't matter how you do it. People won't remember at the end of the season that you didn't play well – they'll remember the results and the points. Now they're in a position where they're not playing well and getting results, and it just tells you the best is yet to come. With Fergie you never thought it was as bad as it has been under Van Gaal. I've seen them play badly under him but not as inept as they have done against the likes of Southampton this season. They weren't invincible, but in a season where performances haven't been great, and still aren't great, things have changed. If I was Louis van Gaal I'd very happy for my team to keep playing badly and winning, rather than having a great performance and a defeat.
Referees need a voice to explain decisions
Adam Johnson went down easily for the penalty against West Ham – the referee didn't give it but the assistant did. You get one in 100 of those but it just happened that the assistant gave it. You look at the Chelsea game – Chris Foy made mistakes, it's as simple as that. When he booked Willian for the first simulation where he was anticipating the challenge, but the challenge didn't come through, then he's got to book Gary Cahill for simulation. End of story.
All Steve Bruce is doing is asking 'is there one rule for us and one rule for the others' but he knows if he says that he's going to get fined by the FA for his comments. Chris Foy should have to come out and explain what he thought Gary Cahill did if he wasn't trying to win a penalty. Explain in your head what you thought you saw – but that'll never happen. The Andre Marriner situation from the week before is a perfect example. We analysed it on Goals on Sunday – the penalty was soft and there were two kicks in the head which could have been sendings off – and all the Premier League do is demote him. They don't give an explanation as to why. I just don't understand this lack of communication – just be more open.
I spoke to Chris on Saturday – he said to me that 50 per cent of people thought the sending off of Lukasz Fabianski against West Ham was right, and 50 per cent thought it was wrong. He said 'who'd be a referee' and I couldn't agree with him more.
Rodgers desperate for attacking prowess
We had John Ruddy on Goals on Sunday – he's conceded seven goals against Luis Suarez and we showed them. Every one of them was absolutely magnificent – not one of them could you have said he had a chance of saving. It makes you realise if you lose someone like that, who changes games, you need to replace him. Add to that Sturridge's injury and you're definitely in trouble.
The first thing Brendan Rodgers needs is for Sturridge to get fit because he need a goal threat again. They don't play to Rickie Lambert's strengths so he can't play him, and they're not really playing to Mario Balotelli's strengths. He played Raheem Sterling up front against Manchester United, and probably the only thing he lacks is finishing. That's not his forte – he might get it when he gets more experience and puts more practice in, but not at the moment.
West Ham form helping Downing's cause
He's back in the England squad and I don't think his place will be relinquished. When you're playing for a team in form it's easy for the England manager to put you in the squad. When you're playing for a team that's out of form, like West Ham were last season, you're scrapping for results and not able to shine, and he's not going to give you the time of day.
West Ham are no pushovers any more – even if they go behind they still fancy themselves. The whole team is playing better – there's confidence and belief, and they've got better players than they had last season. It's all onwards and upwards as far as they're concerned and they'll go into the New Year feeling pretty confident they can finish in the top six. But we know, like with Southampton, football has a habit of kicking you in the teeth when you think you've cracked it.
Southampton's woes show importance of fine margins
You look at Southampton – they couldn't do anything wrong four weeks ago, and suddenly they're scratching their heads four weeks later and wondering where the next result's going to come from. They play well against Manchester United and lose, they have a penalty to take the game against Burnley and miss it, then Burnley go on to win it. That's why we love football, because it's so unpredictable. You can never guarantee anything.
You play their last two games again – play like that against Manchester United you'll probably win it, and in the Burnley game you put that penalty away and you probably take the three points. It's just unfortunate because that's how you begin to lose confidence in yourselves because of the downturn in results. Whatever happens, it'll be a good first season for Ronald Koeman – his first venture into the Premier League – and he's won plenty of admirers.