FIFA president Sepp Blatter in talks on whether to publish Garcia report in full
By Bryan Swanson, Chief News Reporter in Marrakesh
Last Updated: 17/12/14 8:18am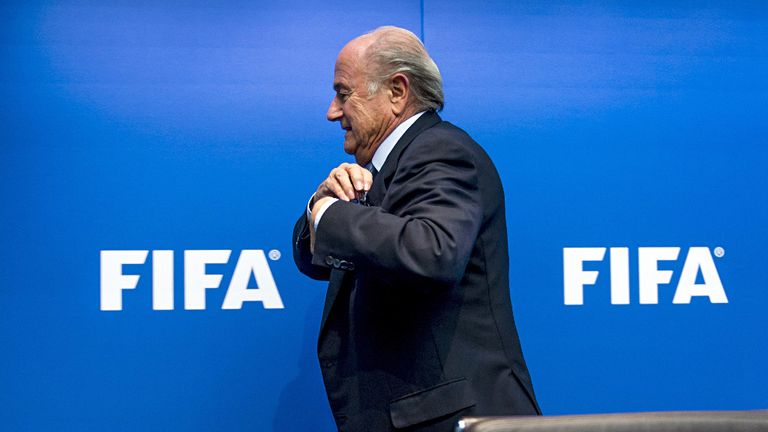 FIFA president Sepp Blatter has held talks with several Executive Committee members over the possibility of a vote on whether Michael Garcia's corruption investigation should be published in full.
Sky Sports News HQ understands that Blatter discussed the issue on Tuesday, in Marrakesh, and will continue to gauge the mood of the game's senior officials before FIFA's main meeting on Thursday and Friday.
Theo Zwanziger, a FIFA Executive Committee member, will officially propose that a vote on publication takes place.
FIFA's top compliance official, Domenico Scala, has yet to confirm whether he will recommend that Garcia's report into the 2018/2022 World Cup bidding process is handed over to FIFA's Executive Committee in full. 
"I will report to whom I have to report." Scala told Sky Sports News HQ on Tuesday night.
Asked whether he had decided how much of the report will be published, Scala replied: "I need to do my homework first!" before declining to answer further questions.
Blatter has been meeting the presidents of all six confederations, including UEFA president Michel Platini, and says he "will be able to give some information" after every meeting.
One FIFA Executive Committee member told Sky Sports News HQ that 'every option is open' concerning discussions over Garcia's report.
The same official raised the possibility of judge Hans Joachim Eckert, who published a disputed summary of Garcia's report, attending a news conference in Marrakesh on Friday.
Blatter is scheduled to start the governing body's two-day Executive Committee meeting at 2pm on Thursday in La Mamounia's ballroom.
FIFA's top committee is scheduled to discuss Scala's report on Friday morning before Blatter holds an eagerly-anticipated news conference in the ballroom of another five-star hotel.
Follow FIFA news from Morocco all week on Sky Sports News HQ and across all digital platforms.