Chelsea's Branislav Ivanovic is one of the top defenders in Europe, according to former Arsenal winger Robert Pires.
Ivanovic's extra-time winner time saw Chelsea beat Liverpool 1-0 in Tuesday night's Capital One Cup semi-final second leg at Stamford Bridge, giving the Blues a 2-1 aggregate win over the Merseysiders.
Pires is surprised the Serb, who has won six major trophies in his six seasons at Stamford Bridge, has not received the acclaim his consistent performances have merited.
"For me, Chelsea's best player is Branislav Ivanovic," Pires told Sky Sports. "He's the best defender in the UK and maybe even in Europe.
"I don't understand why nobody talks about him. It's strange because I think he's complete. He's got everything. He's very strong, he's got a good jump, he's fast and he's got good technique.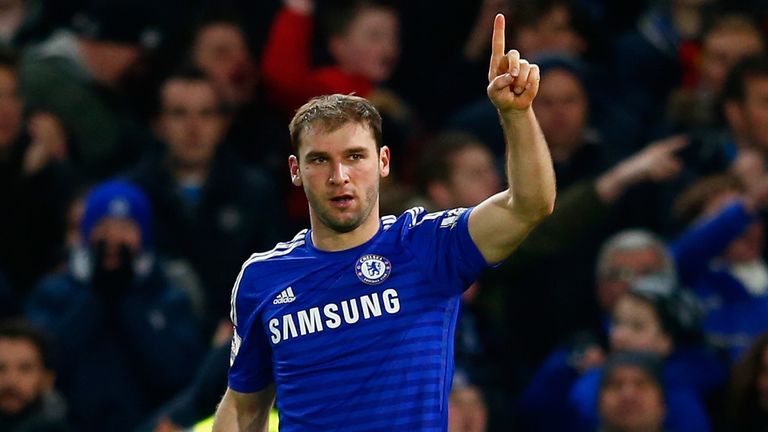 For me, Chelsea's best player is Branislav Ivanovic... I don't understand why nobody talks about him.
"For me, he is perfect for a defender. He's a giant."
Chelsea's immediate focus will return to the Premier League this weekend when they entertain champions Manchester City in a Saturday Night Football clash at Stamford Bridge, live on Sky Sports 1 HD.
Chelsea face an anxious wait over Cesc Fabregas' availability after the midfielder was substituted with a suspected hamstring injury.
Fabregas has contributed 20 assists in all competitions for Chelsea this term, and Pires is not surprised the impact his former team-mate has made since joining the club from Barcelona last summer.
"I remember when I first saw Cesc play I said, 'wow I think he's got a good future', so it hasn't come as a surprise to me because Cesc is a very good player," Pires said.
"He played very well for Arsenal. He continued to learn when he went back to play Spanish football at Barcelona and now of course he has done very well this season at Chelsea.
"He's still young but he's brought lot of experience to Chelsea after playing at Arsenal and with the national side. He's a very good of point of reference for Chelsea and there seems to be a perfect relationship between him and Diego Costa.
"I like his style of football because he keeps it simple. He's very comfortable on the ball. I like the style of players like Fabregas, (Andres) Iniesta or in my time, (Dennis) Bergkamp."