Italian Cup: Mario Gomez double secures Fiorentina a semi-final showdown with Juventus
Last Updated: 04/02/15 10:52am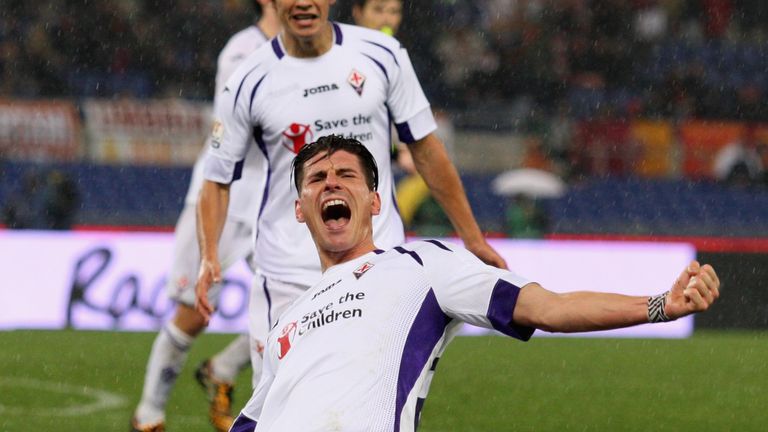 Roma's miserable year continued as they lost 2-0 at home to Fiorentina and were eliminated from the Italian Cup quarter-finals amid the boos of their own fans.
Mario Gomez scored twice for Fiorentina to set-up a semi-final against Juventus and help make up for the disappointment of defeat to Napoli in last year's final at the Stadio Olympico.
Roma were loudly booed at the end of the match and the players trudged despondently down the tunnel after being called over by the team's fans and told in no uncertain terms to give more on the pitch.
After beginning 2015 with a narrow win over Udinese, four successive draws have seen Roma fall seven points behind Serie A leader Juventus and the capital side's title hopes are slipping away.
Gomez, who ended an eight-month scoring drought at the end of November, broke the deadlock in the 65th minute, dinking Manuel Pasqual's cross over Roma goalkeeper Lukasz Skorupski from close range.
The two combined again in the final minute, with Gomez controlling another Pasqual cross before firing under the bar.
The Germany striker, who suffered a serious knee injury last season, has now scored four goals in two Italian Cup matches, as well as once in the two league matches in between those cup games.
"Reaching the semi-final was a very important goal for all of us," Gomez said. "We lost here last year against Napoli and, who knows, maybe we'll be back. 
"It was a very difficult period for me, I was out for a year. But I needed time to return to my best, I needed to play."
Watch Wednesday's Coppia Italia quarter-final between Inter and Napoli live on Sky Sports 5 from 19:40