Real Madrid have been urged to cash in on "goal-obsessed" Cristiano Ronaldo for the good of the team.
The world footballer of the year has scored 36 goals and has 11 assists in 33 competitive matches for Carlo Ancelotti's side this season and is preparing to face Schalke in the Champions League round of 16.
But his performances have come under scrutiny following a goal 'drought' stretching three games - he has not scored since a double against Getafe a month ago - and a recent red card.
The Portuguese has scored a phenomenal 288 goals in his 279 appearances since moving to the Bernabeu in July 2009 for a then world record £80m from Manchester United.
However speaking on Sky Sports' La Liga Weekly podcast, Spanish football expert Terry Gibson believes Ronaldo's "obsession" with individual achievements is getting in the way of the team's performances.
"Controversially, I've looked at the performance of Real Madrid and I think they should sell Ronaldo at the end of the season," Gibson said.
"I think his individual obsession with his own achievements is hindering the performance of the Real Madrid team."
Live UEFA Champions League


Real are just one point ahead of Barcelona in the La Liga title race with city rivals Atletico a further seven points behind and Ronaldo has been backed by Ancelotti to rediscover the form to help keep his side at the summit.
But when asked if he thought Real Madrid were more likely to win La Liga without the Ballon D'Or winner, Gibson said: "Yes. It's the first time I've ever thought it.
"Since day one I've been a big fan of him going to Real Madrid with the pressure that he was under. He had that huge price tag. You have to have a certain belief, a certain confidence, even arrogance in your ability to know you can succeed at the biggest club in the world for the biggest transfer fee in the world.
"He's just brushed it off. It's never been an issue or a problem. His goal record speaks for itself but at the moment that's all he's becoming now a goalscorer.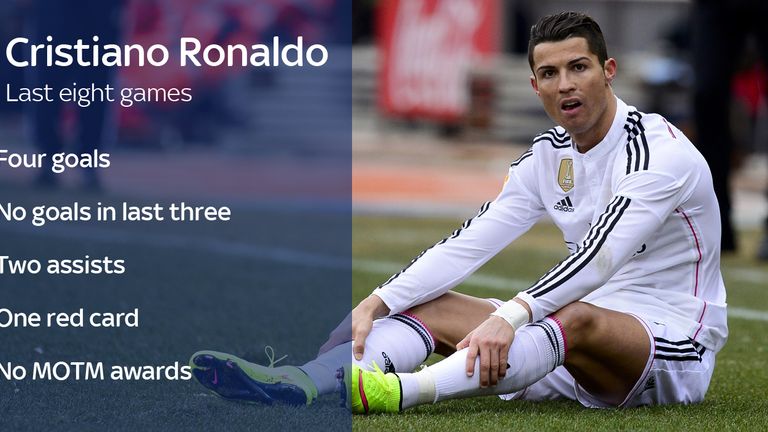 "He has phenomenal stats every year. They get better and better but the all-round performance of Real Madrid is suffering because of his obsession with just scoring goals.
"They can't find the system that suits all the players that they've got. We're talking one star player and just below that we're talking about other world class players such as Toni Kroos, Jamez Rodriguez and Gareth Bale.
"This list goes on but he is above them," he added. "I just think Real would be better off taking the big money they would still get for Ronaldo and re-investing it in other world class players. I think they might be a better team for it."
Ronaldo failed to find the back of the net in three consecutive La Liga matches for the first time since February 2011.
He was visibly annoyed after missing an open goal in the 2-0 win against Deportivo last weekend - and then appeared not to celebrate Isco's goal soon afterwards.
While Gibson believes that attitude is part of what makes Ronaldo the player he is, he believes it could soon prove to be to the detriment of a Real Madrid team packed with world-class stars.
He said: "It rankled with me when he missed an open goal a foot out.
"It went under his foot but the play continues and Isco eventually ends up the move with a 25-yard curler into the far post. Ronaldo doesn't celebrate. He had the hump because he missed the chance.
"I think it's clear the individual obsession with him scoring goals makes him win individual honours, trophies and acclaim but I think it's going to be to the detriment of this Real Madrid team.
"I go back to the fourth goal in the Champions League final and it's something I've noticed frequently with Ronaldo. When Ramos got the equaliser in the last seconds of the game he didn't celebrate," he added.
"When he got the fourth goal from a penalty in the last minute when the game was won he went absolutely berserk. That's the nature, the individual success that's what drives him on.
"But I think with the talent Real Madrid have got we underestimate them. He's a different level and then there's the rest of the team. I think the team would perform better (without Ronaldo)."
Listen to the La Liga Weekly podcast on www.skysports.com