Everton manager Roberto Martinez says Romelu Lukaku showed his love for the club with his brilliant Europa League display against Young Boys.
Lukaku caused a stir recently by saying he would like to "eventually arrive at a top club again" after the defeat to his former employers Chelsea.
But he let his feet do the talking in Switzerland as he scored a hat-trick to help Everton beat Young Boys 4-1 in the first leg of their last-32 tie.
"It's never an issue. Rom was delighted to commit himself to Everton," said Martinez. "He loves playing for Everton, and I think he showed that today."
"A footballer needs to be measured by the way he talks on the pitch. Sometimes a microphone can be put in front of you and people then dissect everything you say and highlight a word or line which is not appropriate.


"There has been a lot written about that - there was a conversation taken a little bit out of context after the Chelsea game.
"It was clearly someone looking for a headline about if Rom wanted to perform in order to come back to Chelsea, and his answer probably didn't reflect what he meant."
The win in Bern put Everton in pole position to qualify for the last 16 and Martinez was full of praise for Lukaku afterwards.
"He's a special footballer who we love seeing developing, and he's just enjoying being an important player for Everton," he said.
"He's the complete striker, but he's only 21 and people forget about that. Our desire and work we put in over the summer was to show we are the perfect place for him to develop.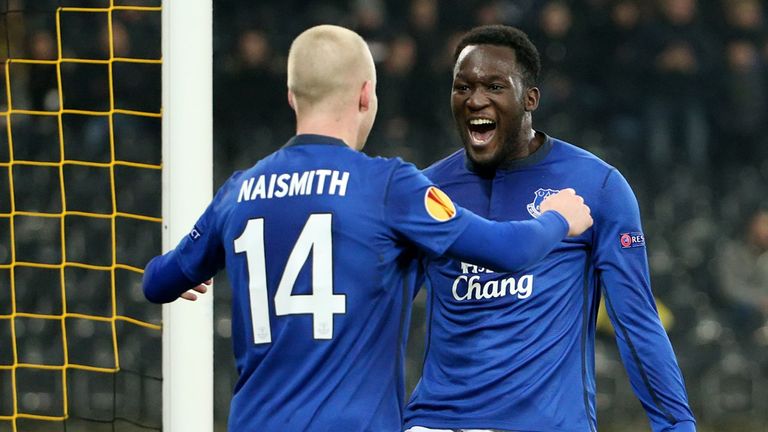 A footballer needs to be measured by the way he talks on the pitch.
"We saw today he really makes a difference in front of goal and he's someone who is going to have a really strong ending to the season."
The only negative for Everton was the dismissal of John Stones after he fouled Guillaume Hoarau in the box.
"John Stones will learn massively from today's moment," said Martinez. "We had to dig deep and defend with 10 men but we still looked like the team with most threat. That says a lot about the tactical awareness the players have developed.
"When you see us play (in Europe this season) it seems we get back to the memories of last season (when Everton finished fifth in the Premier League) - a real enjoyment, bravery and energy in everything we do."
Young Boys head coach Uli Forte said it was a 'tough night' for his side after players appeared to be offside in both Everton's second and third goals.
"We were too passive and then we had the two goals against us which were offside, which made it even harder for us," he commented.
"We tried to come back after the break, but the fourth goal was it for us. It was a very unlucky evening, but we have to accept that - that's football."