Liverpool midfielder Joe Allen says Philippe Coutinho's form is no surprise to anyone at Anfield.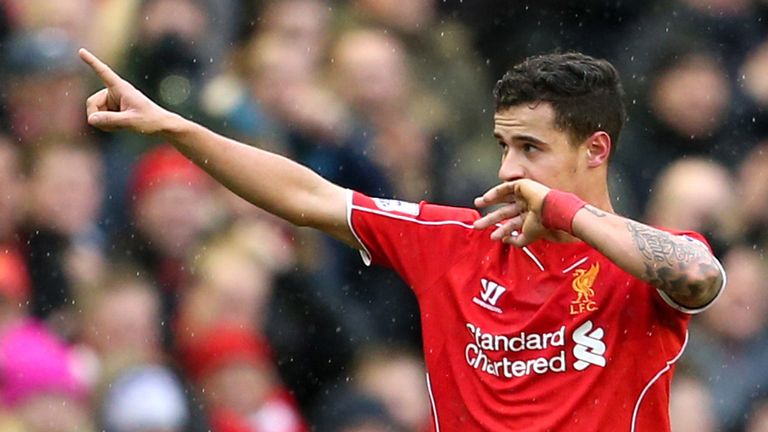 Those of us who work with him on a daily basis always knew he was going to kick on and reach this kind of level.
Coutinho hit Liverpool winner's against Manchester City in the Premier League at Anfield on Sunday for the second season in a row, and Allen reckons his teammate has moved up a level after his third goal in seven matches.
"He's so good. The Brazilian team is obviously full of talent but he has to be really pushing for that," said Allen.
"I think some people forget how young he is at times. He's a young player getting better all the time.
"He's so unpredictable and that's such a good skill to have. He has the ability to turn both ways, he's skilful and a player who comes into that versatile bracket.
"He can play in different positions and teams are struggling to deal with him. He showed with the goals he's scored that he has that as part of his game. He was always on this path.
"Those of us who work with him on a daily basis always knew he was going to kick on and reach this kind of level."
Victory over second-placed Manchester City has moved Liverpool up to fifth place, two points below Manchester United and the final Champions League place.
When Coutinho, now 22, fired last season's winner against Manchester City at Anfield, Liverpool had the destiny of the title in their own hands before dropped points allowed Manuel Pellegrini's side to clinch a second title in three years.
Experience will count
And Allen reckons the experience of disappointment in 2013-14 will help this season as Liverpool aim to secure a top-four position.
"The disappointment of those games against Chelsea (2-0 defeat) and Palace (3-3) during the run-in hurt us but sometimes you forget how good that run was," he said.
"We won 12 of our last 14 games. In the last couple of seasons we've finished really strongly and hopefully we can do something similar again.
"Our target is the top four - there's no secret in that. We didn't look too far ahead and I'm sure it will be more of the same."
Allen also says that not being able to rely on the goals of Luis Suarez and Daniel Sturridge this season has contributed to Liverpool's team development.
"That is the beauty of having a young squad which is always developing, learning new ways of playing, playing different systems," he said.
"We have a squad of versatile players. At this stage of the season that has really helped us."