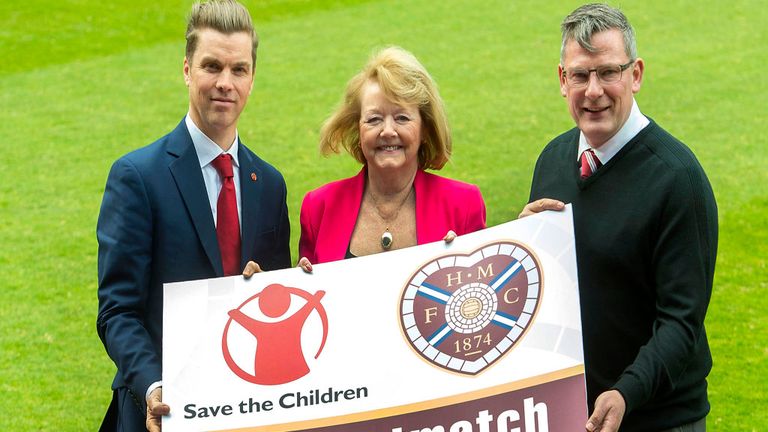 Hearts will become the first club in the UK to carry the name of a charity on their strips after announcing a three-year partnership with Save the Children.
Both club and charity will share in a seven-figure sum which is being funded through philanthropy, with Hearts saying the donation will provide investment equivalent to that enjoyed by the country's top Scottish Premiership clubs.
A separate donation from the benefactors will enable Save the Children to deliver much-needed support to children and families throughout Edinburgh in a manner which complements the activities of the Big Hearts Trust.
Hearts chair and CEO Ann Budge said: "It says what this club is about: It is about family, it's about helping the community, it is about all these good things.
"I am not in any way meaning to be detrimental to commercial sponsors but this just supports the message we have been putting out for a year.
"This is business people who believe in what we're doing, believe the club is going in the right direction and therefore are happy to support us."
And in a statement on the club's website, she added: "The benefactors are wholly supportive of the way in which the club is being rebuilt and of the values that underpin its activities.
"As the team is restored to its rightful place in the SPFL, we can use the magical formula of football to enhance the lives of children and families in the community. It's a perfect match."
Director of football Craig Levein said: "It will be spent wisely, I can assure you. The football department, of course, will benefit to some degree from this money. As will the Academy, as will the infrastructure all around the club.
"With the club recently having come out of administration and being very close to almost disappearing altogether, one of the things at the foremost of the directors' minds is making sure that we never get back into that position."
Hearts will play in the Scottish Premiership next season after securing the Championship title on March 22, having lost just once - at home to Falkirk - during the season.