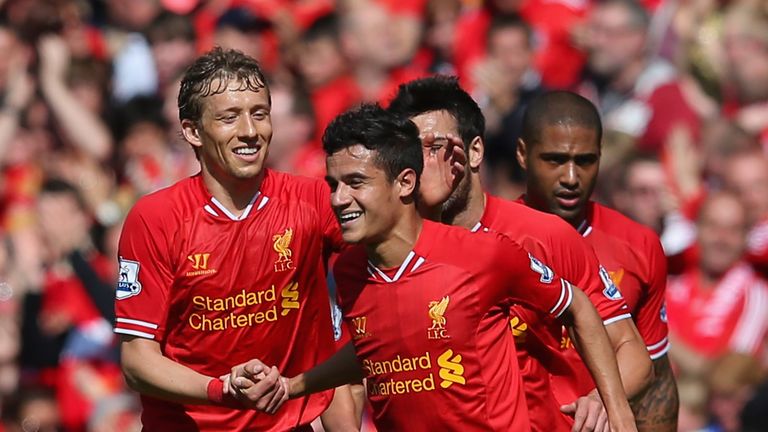 Liverpool midfielder Lucas Leiva believes Raheem Sterling is coping well on the pitch despite the criticism he has faced recently surrounding his contract talks.
Sterling, 20, recently turned down a lucrative new offer from the Reds, and has been linked with a move away from Anfield this summer. But Lucas told Soccer Saturday he thinks his team-mate is doing well, considering the difficult circumstances he has found himself in. 
"It's incredible how much he (Sterling) can achieve," said Lucas. "He's got all the potential and of course there has been a lot of talk about his contract situation but he's dealing with it well on the pitch.
"Off the pitch he is getting advice that he thinks is best for him. My advice for him would be to play football - although it is hard to give advice. He knows what's best for him as do his agent and family."
Lucas was also full of praise for another Liverpool youngster, Philippe Coutinho, who has been in excellent form for the club recently.
Coutinho scored the only goal of the game as the Reds overcame Blackburn in their FA Cup quarter-final replay on Wednesday night.
"He's been scoring important goals for us and that's what makes people talk about him," Lucas said. 
"He knew he had to add goals to his game and he's doing that this season. I think he's got everything. You see the way he plays and how quick he thinks, he could be on the stage of world-class players. He's only young."