Joey Barton believes team spirit will keep QPR in the Premier League, but has dubbed them the "worst team" in the division.
QPR sit second bottom with five games to go, ahead of basement club Burnley only on goal difference.
Chris Ramsey's side have won only two of their last 16 matches and, speaking exclusively to Sky Sports ahead of a crunch encounter with London rivals West Ham, Barton admits he is not surprised his team-mates find themselves in trouble.
"On paper we are the worst team in the league - nothing changes that," Barton said.
"We came up via the play-offs in the Championship, we finished fourth, we stuttered to fourth in that campaign, we rode our luck at times and it was character and the spirit within the group that got us through. Not talent, not skill or an abundance of attacking intent, it was grit and character that got us in the Premier League and it is going to be grit and character that keeps us in the Premier League.
"For me you have to look at it rationally and rationally we are the worst team in the Premier League before a ball is kicked. Leicester finished at least 15 points ahead of us last year, Burnley weren't far off that, then you had Derby in third and us stuttering home in fourth.
"No one expected us to go up, but we found a way to do that.
"People always look at this squad and say there is lots of talent there, Harry Redknapp here, and they expect the club to go on and do well, but the reality of the situation is we had a mountain to climb in August. You have to ask the question: has everything done since then helped or hindered us?
"But to keep ourselves in the Premier League being the worst team before a ball is kicked in August, you have to do everything to the maximum.
"It is our responsibility to keep this club in the league by hook or by crook. We've got 26 points, five games to go, I still feel our destiny is in our own hands. If we win enough games to deserve to stay in the Premier League then we will stay up, if we don't then we will go down. This league doesn't feel sorry for anyone."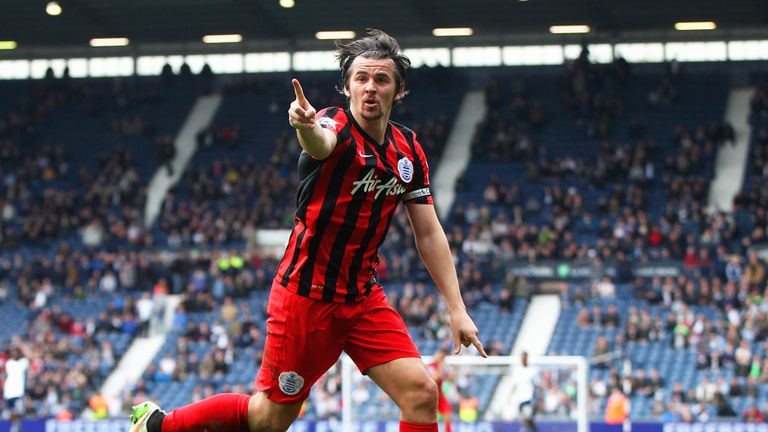 QPR impressed in their previous match against Chelsea, but lost out to their west London neighbours after a late goal from Cesc Fabregas.
"You are disappointed, but there are lots of positives to take out of it," Barton added.
"If you got battered and lost the game you could almost accept it a bit more because you were beaten by a better side on the day. I am not saying we are equals of Chelsea - we're not and that is why they are going to be champions - but on the day we did match them and I think we deserved something from the game. I don't think either side deserved to win it, it wasn't much of a spectacle, it was a proper derby.
"So from that aspect it was very, very disappointing, but we pick ourselves up quickly. At this football club we tend not to feel sorry for ourselves, it has been an up and down journey and this is my fourth year here, third playing, and it has been a full wide range of emotions."
Watch the full interview with Joey Barton on Soccer Saturday from 12pm on Sky Sports News HQ.