PSG players make up the highest paid team in the world, according to new figures
Last Updated: 21/05/15 5:24pm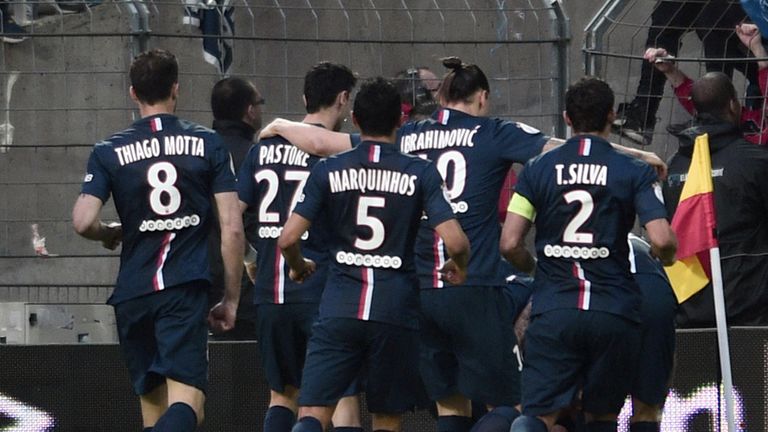 Paris Saint-Germain players make up the highest paid sporting team on the planet according to new figures released by Sportingintelligence's Global Sports Salaries Survey for 2015.
The average first team pay at the French champions has been calculated at more than £100,000 per week, or £5.3m a year.
The Parisians, taken over by Qatar Sports Investments (QSI) in 2011, have replaced Manchester City at the top of the list from last year, who drop to number three behind last year's Champions League winners, Real Madrid, with both sides still paying just over £5m per man a year.
In a list of the top 12 highest paying sporting institutions, there are eight football teams – including the clubs who will make up the top four in the Premier League at this season's end. Just outside of the top payers, Liverpool sit at 14th in the list.
The survey also revealed that the Premier League is the best paying football league in the world, with average annual pay at over £2.2m per player.
Barcelona, who are chasing the second treble in their history after wrapping up the Spanish title last weekend, occupy fourth spot with Major League Baseball franchise the Los Angeles Dodgers just behind them.
Manchester United, who pay nearly £4.7m on average per man, are in sixth place having risen from eighth, paying slightly more than Bayern Munich and Chelsea whose players earn on average nearly £4.5m and £4.4m a year respectively.
The New York Yankees, one of three MLB franchises in the list, fall from second place to ninth, paying on average nearly £4.3m a year. They sit just above the last Premier League side in the top list, Arsenal, paying around £4m a year.
The NBA's only representative in the top 12, the Brooklyn Nets, are in 11th, paying around £3.6m on average while, completing the list, the Detroit Tigers pay fractionally less.