Preston manager Simon Grayson hails Jermaine Beckford after hat-trick in League One play-off final
Last Updated: 24/05/15 8:59pm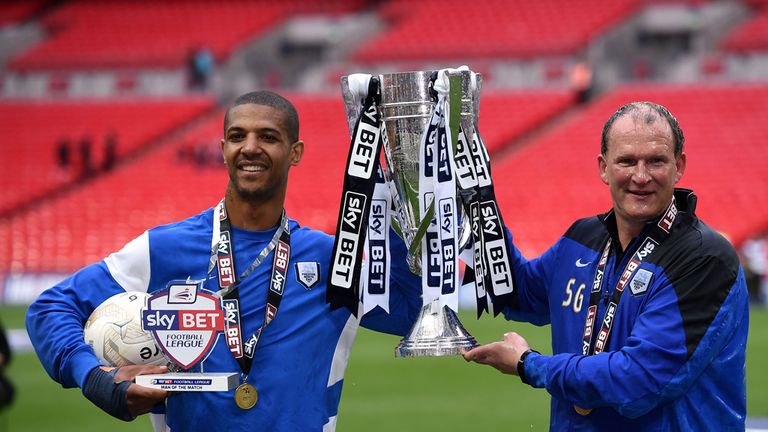 Simon Grayson hailed Jermaine Beckford's man-of-the-match performance against Swindon in the League One play-off final after the striker scored three times to help secure Preston's promotion to the Championship.
Beckford completed his hat-trick in 57 minutes at Wembley in Preston's devastating 4-0 victory, becoming only the third player in play-off history to achieve the feat.
And Grayson, who also managed Beckford during his tenure at Leeds United, said the relationship that the pair have forged is special.
"He knows how I work and I know how he works," said Grayson. "He's a goalscorer and he's enjoying his football. When he enjoys his football that's when you get the best out of him.
"I've got a special relationship with him and, at the moment, he's producing the goods for us."
It is the fourth time Grayson has been promoted out of England's third tier, and the 45-year-old claimed he was not bothered by Preston's dismal record of nine play-off defeats from nine.
"We've worked extremely hard over the last 10 days to try and nullify Swindon and also know what we're going to do so full credit to the players," added Grayson.
"They carried out everything that was asked of them and we've had a tough three weeks because when we lost at Colchester a lot of people wrote us off.
"But we've shown fantastic character and desire and fantastic quality.
"Records are always there to be broken and they've never frightened me going into the payoffs and as you can see we've got rid of the hoodoo and earned promotion to the Championship."