UEFA chief Michel Platini believes Sepp Blatter has made the correct decision to resign as FIFA President.
Platini said: "It was a difficult decision, a brave decision, and the right decision."
He revealed last Wednesday he tried and failed to persuade Sepp Blatter to quit before Friday's FIFA presidential election.
"I asked (Blatter) for a face-to-face meeting, and I said, 'Look Sepp, we started at FIFA in 1998, and for the future of FIFA, I am here to ask you to leave, to resign'. I speak like a friend with him. He said it was too late.
"A big, big, big majority of the European associations will vote for Prince Ali. People have had enough, they don't want this president any more."
Blatter has said he will step down as FIFA president. The 79-year-old Swiss has called an extraordinary congress "as soon as possible", saying "a new president will be elected to follow me".
Prince Ali, who challenged Blatter in last week's election but withdrew after the first round of voting, has hinted he will run again.
He said: "I think this is the right move from Sepp Blatter and I think we have to look to the future.
"I am always there to serve football and I think that's the most important thing and to do so much work to fix this organisation in a proper way.
"I am at the disposal of our national associations. I don't want to be somebody who kicks somebody in the knees. At the end of the day I will do my part to help the national associations."
Prince Ali ran against the 79-year-old Blatter in an election Friday. A first vote saw the 39-year-old prince lose 133-73 and he conceded defeat before a second ballot could be held.
Another former FIFA presidential candidate, Luis Figo also welcomed Blatter's decision to stand down but gave no indication of his future plans in a brief statement.
"A good day for FIFA and for football," he said. "Change is finally coming. I said on Friday that the day would come sooner or later. Here it is! Now we should, responsibly and calmly, find a consensual solution worldwide in order to start new era of dynamism, transparency and democracy in FIFA."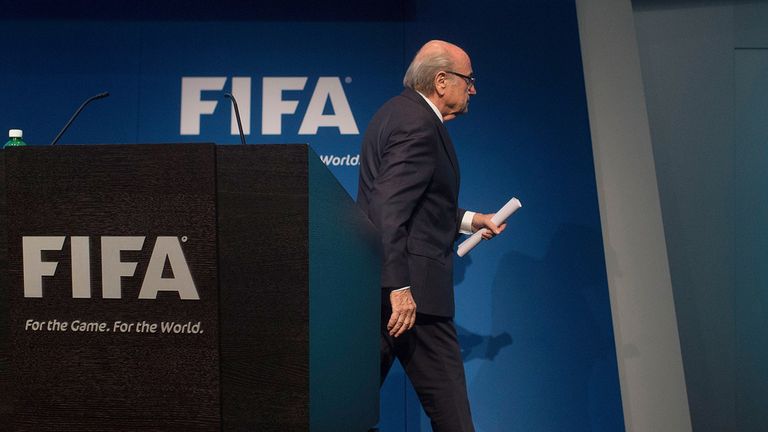 Former Manchester United chief executive David Gill, who had said last week he intended to resign from the FIFA executive committee if Blatter remained, has indicated he will now reconsider after Blatter's departure.
"Naturally, I fully welcome today's news as a major step forward for FIFA on the road to proper reform," he said in a statement released by the Football Association.
"I will speak to my UEFA colleagues as soon as possible about the next steps and make no further comment until then."