Jose Mourinho says Chelsea's Premier League rivals are attempting to buy the title.
Buying success was a charge which used to be levelled at Chelsea during Mourinho's first period in charge, which began soon after wealthy Russian Roman Abramovich purchased the club.
However, having claimed the title for the first time since 2009/10 last season, the Blues have not made any major purchases in the wake of that success, whereas Manchester City, Manchester United and Liverpool have all spent significant money on improving their squads.
And Mourinho said: "In the beginning of Mr Abramovich coming to Chelsea, Chelsea was buying the title.
"Now, they are buying the title. All of them, they are buying the title.
"It is up to us to be strong and to fight them and, obviously, to try and win it again, even without the big investments."
Mourinho was speaking after watching his side beat Paris Saint-Germain on penalties in their International Champions Cup encounter in North Carolina.
The Portuguese manager was impressed by the enthusiasm shown by the spectators and suggested that, if Chelsea ever need to temporarily vacate Stamford Bridge while the ground is expanded, they could play a match or two in the States.
He said: "The people gave us an atmosphere which is not normal because, in the end, this is a friendly match.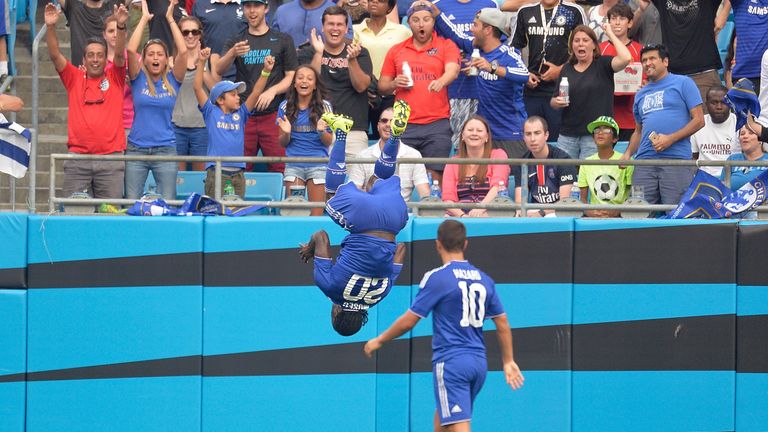 "This is a match where you are not obsessed with the result, we just want to train.
"You make changes to the team not tactically, you make changes because you have a plan to give a certain number of minutes to everyone, but the people made it a big atmosphere. Thanks a lot for that.
"Maybe, when we don't have Stamford Bridge for a couple of years, we can come here and play a couple of matches in the Premier League, because we know the support is fantastic."