The war of words between Jose Mourinho and Arsene Wenger goes on and on.
While the Chelsea boss has generally had the upper hand on the pitch over the years, both managers have had stern words for eachother in the press room. 
Here we recall their rivalry in quotes, dating back to Mourinho's first season in English football…
"I don't see especially that Chelsea play more English players than we do. Who have they produced, homegrown? Just one, John Terry." – Wenger in 2005 when quizzed on Arsenal's all-foreign line-up.
At the beginning of the following season in August 2005, Wenger also expressed concerns over Chelsea's tactics: "I know we live in a world where we have only winners and losers, but once a sport encourages teams who refuse to take the initiative, the sport is in danger."
Mourinho was unimpressed. "Wenger has a real problem with us and I think he is what you call in England a voyeur. He is someone who likes to watch other people. There are some guys who, when they are at home, have a big telescope to see what happens in other families. Wenger must be one of them – it is a sickness. He speaks, speaks, speaks about Chelsea."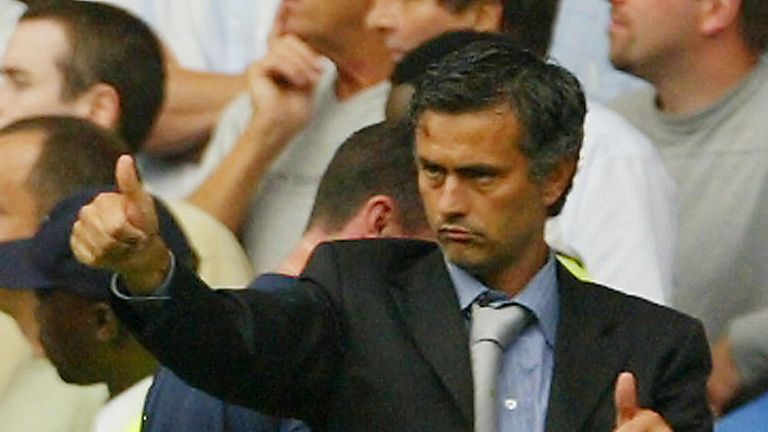 Wenger has a real problem with us and I think he is what you call in England a voyeur. He is someone who likes to watch other people.
Wenger responded with a put-down of his own. "He's out of order, disconnected with reality and disrespectful. When you give success to stupid people, it makes them more stupid sometimes and not more intelligent."
And more from Mourinho… "At Stamford Bridge, we have a file of quotes from Mr Wenger about Chelsea football club in the last 12 months – it is not a file of five pages. It is a file of 120 pages."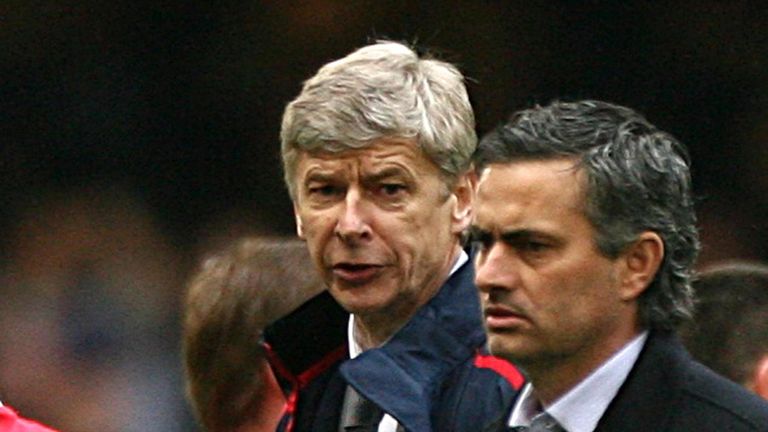 When Mourinho departed Chelsea in September 2007, the rivalry was put on hold but that didn't stop the pair trading criticism of each other from further afield.
"The English like statistics a lot," said Mourinho in 2008. "Do they know that Arsene Wenger has only 50 per cent of wins in the English league?"
When Mourinho was in charge at Real Madrid and Xabi Alonso and Sergio Ramos got booked for tactical reasons against Galatasaray in order to serve suspensions for a comfortable second leg rather than risk missing important games later in the tournament, Wenger had plenty to say.
"When you see how it looks on television it is the best demonstration to think: 'Never do that again'. It looks, frankly, horrible. It's a pity to see that from a big club."
Again, it only succeeded in sparking a fiery response from Mourinho… "Instead of speaking about Real Madrid, Mr Wenger should speak about Arsenal and explain how he lost 2-0 against a team in the Champions League for the first time. The history about the young kids is getting old now. Sagna, Clichy, Walcott, Fabregas, Song, Nasri, Van Persie, Arshavin are not kids. They are all top players."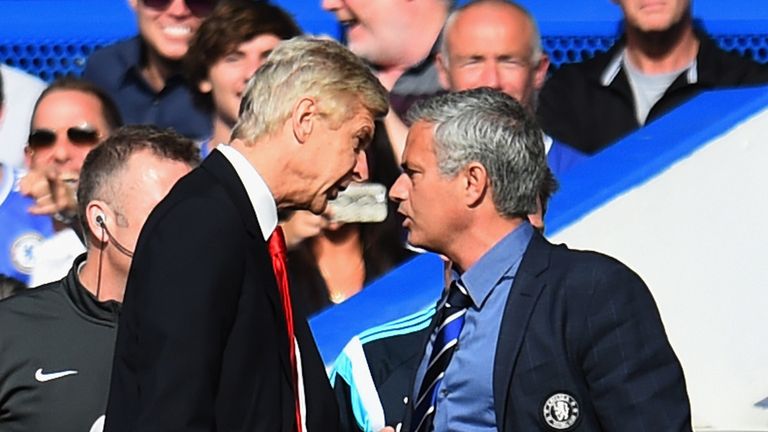 After a cordial start upon Mourinho's return Chelsea, Wenger was unimpressed when Juan Mata was sold to Manchester United – a move that he argued could distort the league table given that the Blues had played their final game against United the previous week while rivals still had to play them.
"Chelsea have already played twice against Man United, they could have sold him last week. I think if you want to respect the fairness for everybody, this should not happen."
And the response… "Wenger complaining is normal because he always does. Normally he should be happy that Chelsea sold a player like Juan Mata, but this is a little bit his nature. I think what is not fair is that his team always has the best days to play."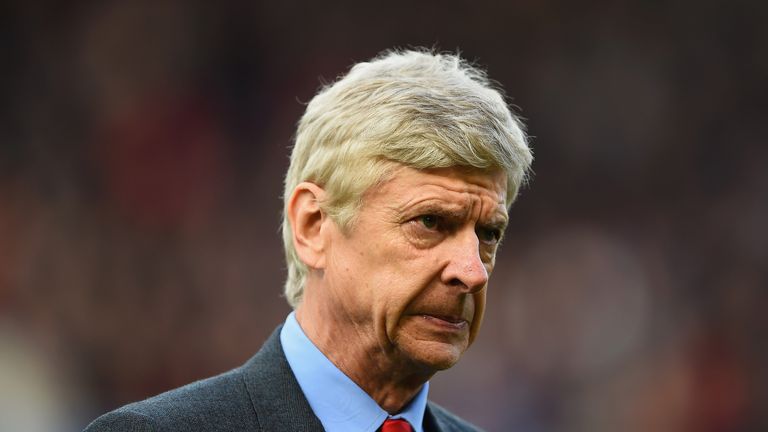 He's out of order, disconnected with reality and disrespectful. When you give success to stupid people, it makes them more stupid sometimes and not more intelligent.
In February 2014, just a few weeks later, Wenger was asked why some of Arsenal's fellow title hopefuls were so keen to downplay their ambitions. "It is fear to fail," he said.
Mourinho delivered a memorable monologue in reply. "Am I afraid of failure? He is a specialist in failure. I'm not. So if one supposes he's right and I'm afraid of failure, it's because I don't fail many times. So maybe he's right. I'm not used to failing. But the reality is he's a specialist because, eight years without a piece of silverware, that's failure."
After a decade of verbal insults, the rivalry finally escalated physically in October 2014 when Wenger shoved Mourinho during an argument on the touchline at Stamford Bridge.
"In hindsight I think I should not have reacted at all," said Wenger. "It's not a way to behave on a football field. Did Mourinho provoke me? That is how I felt. I did not enter Chelsea's technical area."
And when it was suggested to Mourinho that his Arsenal counterpart could be charged… "Charged? If it was me it would have been a stadium ban."
Wenger passed up the opportunity to shake Mourinho's hand after finally getting the better of his rival in the Community Shield in August 2015 - but it was the Portuguese delivering the next public jibes.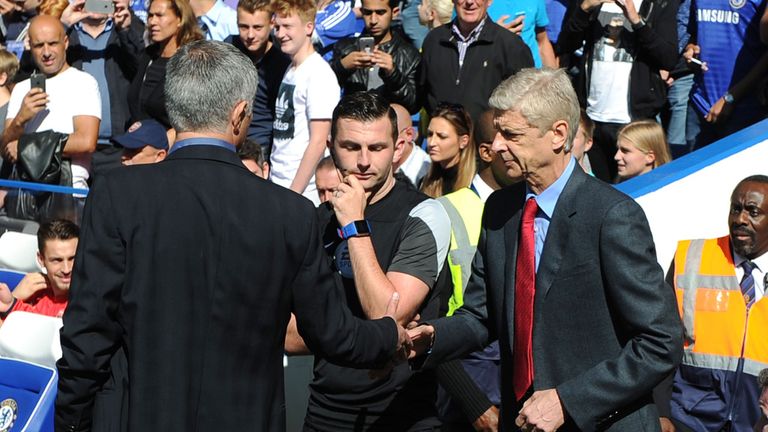 After a fiercely contested contest at Stamford Bridge, which included Gabriel being sent off after a clash with Diego Costa, Wenger criticised referee Mike Dean and went unpunished by the FA, leading to this outpouring from Mourinho: 
"In this country, only one manager is not under pressure. Every other manager is. We cannot be below par. We have to meet the objectives. There is one outside that list, but good for him. You know who.
"The one who can speak about the referees before the game, after the game, can push people in the technical area, can moan, can cry in the morning in the afternoon, nothing happens. He can not achieve, keep his job, still be the king. In the rule book it says some managers can speak about the referees before and after games. Some others cannot. I am in the list of those who are punished if they speak about the referees."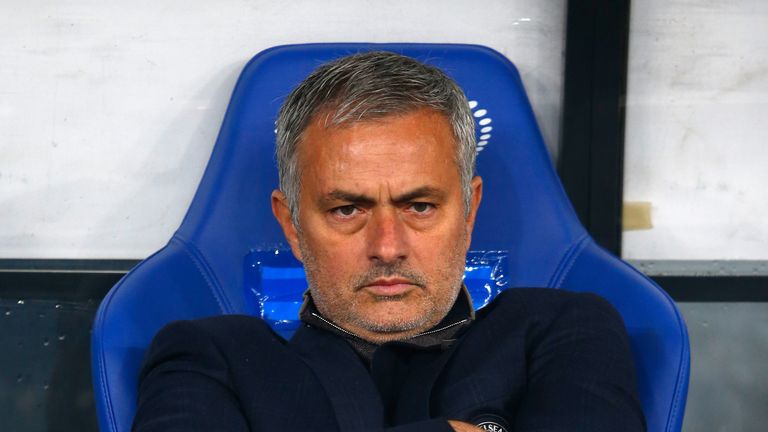 As Chelsea's woeful start to their title defence saw them lose 3-1 at home to Southampton, Mourinho launched into another tirade, this time lasting seven minutes and including: "referees are afraid to give decisions for Chelsea." The comments earned Mourinho a £50,000 fine and suspended one game stadium ban. 
After receiving clarification on why he'd been fined, Mourinho adopted the words Wenger was allowed to use to criticise referee Mike Dean. In his post match assessment of Champions League officials after a goalless draw at Dynamo Kiev he said: "The referee was weak and naive."