How Man Utd's Zlatan Ibrahimovic compares to Europe's top strikers this season
By Martin Laurence, WhoScored.com
Last Updated: 02/03/17 2:34pm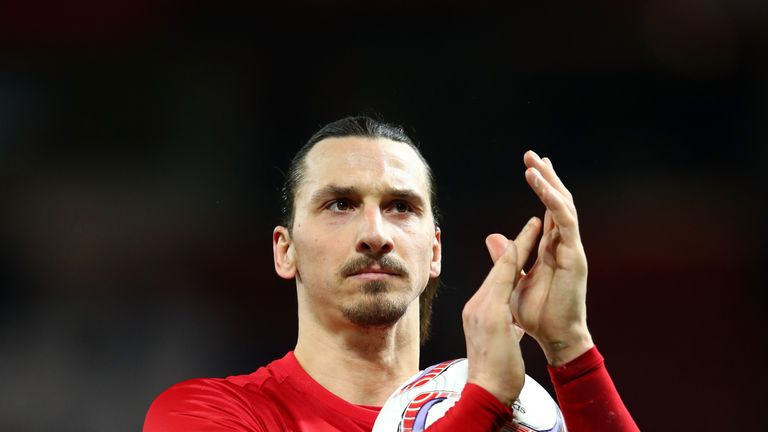 Zlatan Ibrahimovic was Manchester United's hero in the EFL Cup final, his Wembley double seeing off Southampton and securing his first piece of silverware in England.
The Swedish striker's brace at Wembley took his season's total to 26 goals in all competitions, making him the top scorer on these shores.
But how does he compare to Europe's elite attackers? Here, with the help of WhoScored.com, we put Ibrahimovic's stats up against other in-form forwards…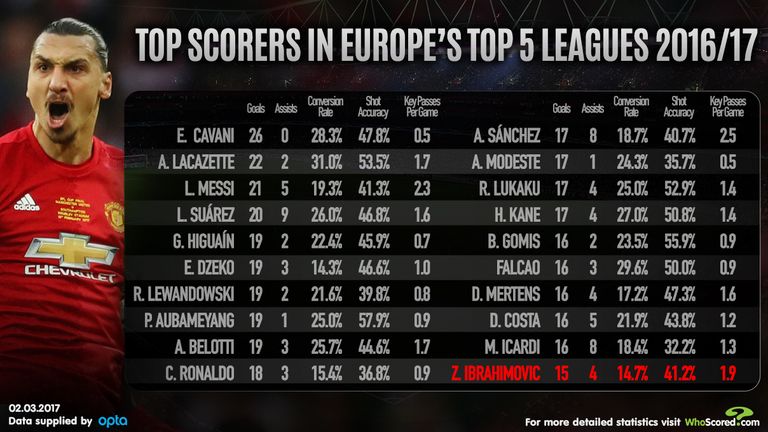 Of the 20 players in Europe's top five leagues to have matched or bettered Ibrahimovic's tally of 15 league goals, only three have had more shots than the veteran (4.3). It's little surprise that two of those are Cristiano Ronaldo (5.9) and Lionel Messi (5), with Roma striker Edin Dzeko sandwiched between the pair (5.1).
What this high shot frequency means is that in terms of the ruthlessness of his finishing, Ibrahimovic is actually nowhere near the very best this season. Indeed, of the same 20 goalscorers a modest conversion rate of 14.7 per cent is ahead of only Dzeko and Ronaldo.
To put that into perspective Alexandre Lacazette of Lyon, who ranks first, and former United flop Radamel Falcao have scored at more than twice the rate in relation to their shot tallies. In fact, had Lacazette had the same number of shots and maintained a sensational 31 per cent conversion rate he'd have bagged 30 league goals by now.
Ibrahimovic's former PSG team-mate Edison Cavani (28.3 per cent), who had to play in the talismanic striker's shadow during their time together, ranks third while Harry Kane (27 per cent) is fourth and the best in the Premier League ahead of Lukaku (25 per cent) and Costa (21.9 per cent).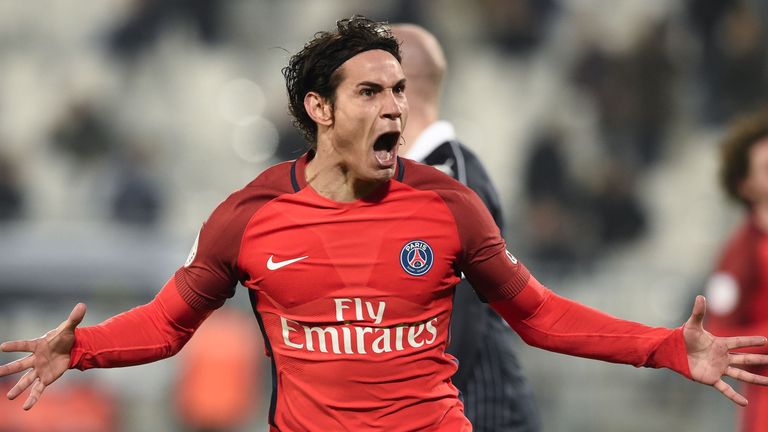 It's little surprise then that Ibrahimovic's shot accuracy is also not among the elite here, with a figure of 41.2 per cent enough to rank 15th of the same group of players. That's ahead of Alexis Sanchez, for comparison, but way down on Pierre-Emerick Aubameyang (57.9 per cent) at the top of the leaderboard, with Lukaku (52.9 per cent) and Kane (50.8 per cent) again ranking highly.
It's clear, then, that in terms of finishing Ibrahimovic isn't among the very best in Europe, having missed at least five more clear-cut chances than other Premier League player (13).
However, where the frontman excels and is so crucial to Jose Mourinho's side is his all-round attacking play and influence in their build-up.
The 35-year old can obviously call on his physicality to hold onto the ball but his technique and vision allow for United's wingers and midfield runners to profit, creating a link between the two that was so lacking during Louis van Gaal's tenure. A tally of four league assists may be relatively modest but of the same twenty marksmen Ibrahimovic is certainly among the most creative.
In fact, he ranks third for key passes per game (1.9), and the fact that only Alexis Sanchez and Lionel Messi are ahead of him only serves to highlight just how effective he is at bringing others into play. By contrast, former club-mate Cavani is yet to register a single league assist having created just under 0.5 chances per game.
The understanding he has already forged with a number of United players in the final third, not least Paul Pogba - who has set him up five times in the Premier League - has been the key factor behind what has been a very impressive run of results for the club.
He may not be the most clinical finisher on the continent, but Ibrahimovic has silenced any doubters that he could be a force in England. More than that, he's proving absolutely pivotal to Manchester United's chances of returning to their glory days.