Bournemouth's rise up the football pyramid holds lessons for other clubs and now they are leading the way in goalkeeper training too. Nick Wright finds out about the cutting-edge technology revolutionising the approach of Premier League sides.
It is a bitterly cold morning down on the south coast but Bournemouth's goalkeepers are already working up a sweat. A fast-paced training session has moved from jumps and sprints to short passing and shot-stopping, as Asmir Begovic, Artur Boruc and youngsters Aaron Ramsdale and Patrick O'Flaherty take it in turns to parry diagonal shots from alternate angles.
The exercise, overseen by head of goalkeeping Neil Moss and his assistant Anthony White, who bark instructions between firing shots at goal, does not look dissimilar to what you might see at any other training ground elsewhere in the country. But hidden to the naked eye, there is one area in which they are doing things differently to many of their rivals.


From the first-team down to the U18s, Bournemouth have adopted the Catapult G5 goalkeeper monitoring system, a small GPS unit which sits in a vest between the shoulder blades. Unlike the devices already widely used on outfield players, however, it measures data specific to goalkeeping, allowing Moss and his team to study every movement in minute detail.
"With the first-team scenario, you are talking millimetres between a save and a goal," Moss tells Sky Sports. "So anything we can do to try to close those millimetres to make the save rather than it be a goal, we're going to be all for that. Catapult gives us the opportunity to make sure our goalkeepers are in tip-top shape come Saturday afternoon."
The data, featuring everything from dive intensity to jump height, is analysed in a cramped office overlooking Bournemouth's training pitches, where club philosophies espousing hard-work and togetherness are displayed alongside tactics boards and training schedules. On one desk, a copy of Michael Lewis's Moneyball is another reminder of Bournemouth's constant quest for a competitive edge.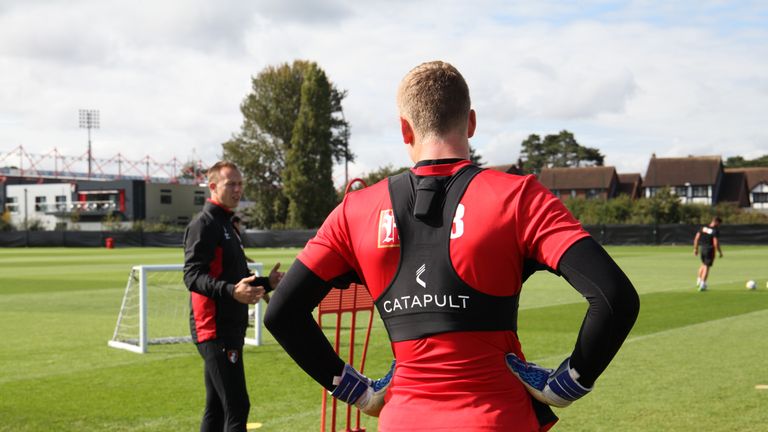 "The data enables us to understand the amount of workload a goalkeeper has got through," White, who doubles up as Bournemouth's goalkeeping sports scientist, tells Sky Sports. "Is it different or is it comparable to previous weeks? Is it going to have a knock-on effect the following day? Are there adjustments we can make in the following sessions?"
With the data to guide them, Bournemouth can tailor training sessions to the specific needs of every goalkeeper. "It has allowed us to look in more detail at how we can improve a goalkeeper's recovery time," says White. "Are we able to adjust his weekly load in order to make him physically ready for the game? And does it coincide with the technical detail he needs?"
Its impact can be seen in Begovic, who has not missed a minute of Premier League action since his £10m arrival from Chelsea in the summer. His sharpened reflexes have helped Bournemouth concede just 20 goals in 17 games compared to 28 at the same stage of last season, with manager Eddie Howe recently praising his "giant" performances in goal.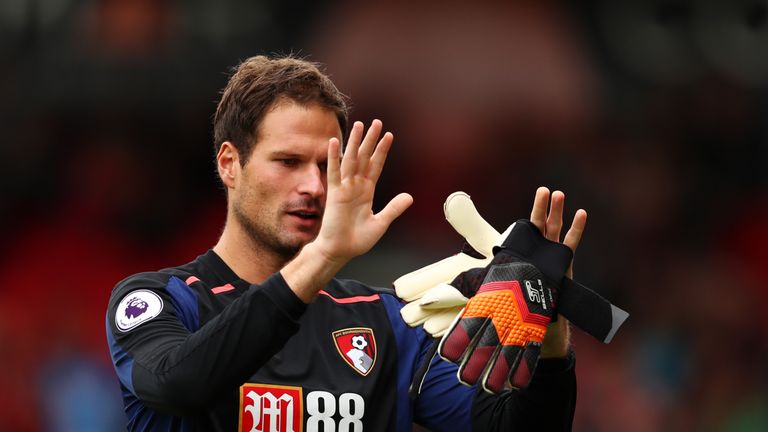 "I've found it really beneficial," Begovic tells Sky Sports. "I think it has shown this year that the technology we use and the information we have on a daily basis helps to make us feel the best we can on a match day. Sometimes you can see strengths and weakness on certain sides that you didn't realise you had. It's good to know. It helps you improve as a player."
The technology has been adopted by seven other Premier League clubs including Tottenham, Chelsea and Leicester since Bournemouth began to implement it 18 months ago, and it has also had a transformative impact on their own goalkeeping department. Moss, previously a one-man band, now leads a five-man coaching team dedicated to developing goalkeepers at all levels of the club.
It reflects the way in which goalkeeper training and preparation have evolved. Begovic, who has been playing at a senior level for over a decade, describes the difference as "night and day".
"Even from 10 years ago to now, it's incredible the amount of information you have and how far technology has gone," he says. "To have these things that you can use and you can rely on to help you is incredible.


"I think players - maybe even myself - picked up injuries that maybe could have been prevented by having the technology and the knowledge that we have now. We all wish we had it before but we're thankful for it now and I think we use it to the best of our capabilities."
Begovic is not the only Bournemouth goalkeeper to have benefitted from the analytical approach. In two others, the intricacies of the technology have allowed Moss, White and the club's team of analysts and sports scientists to correct previously unidentified technical flaws.
"With the number of dives to each side, there was a big discrepancy in one of our goalkeepers," says Moss. "It wasn't a major thing for his goalkeeping, it was just interesting for us to see that he uses a different technique on one side which the device wasn't registering as a movement.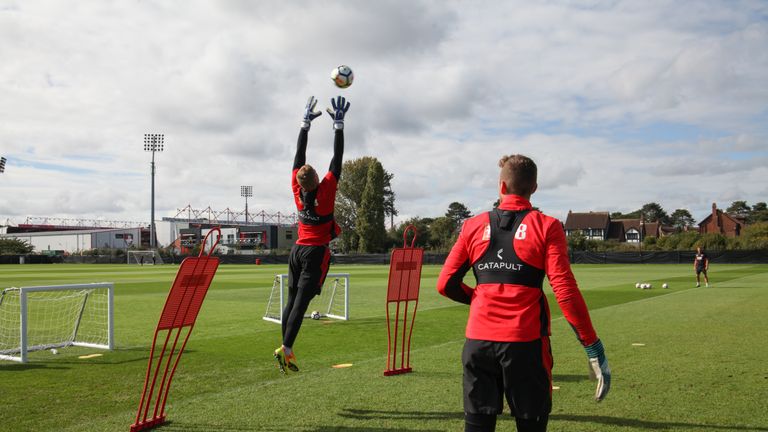 "We tried to change it a little bit - which we did - to make sure he is now diving equally on both sides. It's the sort of thing you probably wouldn't see with the naked eye - I certainly hadn't in all my years working with goalkeepers - but when the facts are there in front of you and you're talking about a big discrepancy in numbers, you can't really argue with it."
"A lot of goalkeepers will have different set positions, different trigger movements and different movements around the goal," adds White. "One that really stood out to us was a goalkeeper who had a really advanced trigger movement which sent him backwards into the goal. His trigger movement was actually during the shot phase rather than before. The G5 picked that up for us.
"When we married the data to the actual video, it showed a massive difference in the amount of jumps in comparison to the other goalkeepers. It allowed us to then look back at the data and compare the shots, the amount of saves and the actual jumps. We found there was a high correlation between goals going in and the amount of jumps."
The ability to scrutinise even the tiniest details enhances the competitive element of day-to-day training. "There are certain metrics like the number of dives they do in a day and the dive to feet return time," says White. "Some of the boys will come in and boast about having the highest numbers. There might be a bit of banter flying around just on those specific aspects."
There are benefits, too, to implementing the technology across age groups. "It's great to be able to compare someone like Asmir or Artur - their speed, their numbers of jumps - with our U18s," says Moss. "It's invaluable for them to see the speed the senior keepers work at. It gives us a blueprint for what we want all of our goalkeepers to be able to achieve."
In keeping with the sense of openness at Bournemouth's training ground, where dog walkers pass through undisturbed and mis-hit balls are returned by local residents, the club's goalkeepers mix freely on and off the pitch. Morning meetings in the coaching office are an opportunity to discuss the day's sessions and share a joke, but they also give young hopefuls the chance to pick the brains of Begovic or Boruc.
The convivial atmosphere is a reminder that the analytical aspect of Bournemouth's goalkeeper training is only a part of the equation. "Technology is changing the game," says White. "It's giving us ideas of how we can improve the goalkeeper - the little one per cents, you might say - but it doesn't distract from the key fundamentals on-field.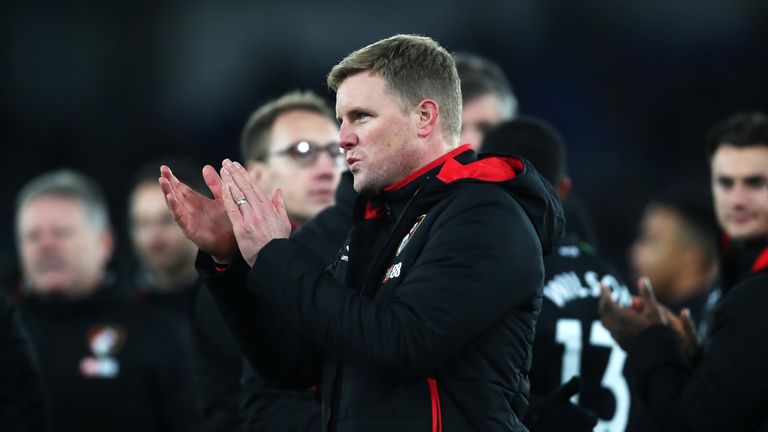 "We can have a piece of technology that gives us information, but how do we then feed that back to the coach and the player? And how do they then interact on that? The coach-player relationship is huge. You can say that a goalkeeper has done 100 dives today, but you also have to determine how it relates to what happens on the pitch."
According to Begovic, it is a question of finding the right balance. "Modern technology is something that can be used to your benefit," he says. "Do I go overboard with it? No. I still think there is a human element to it. I think there is an understanding of the game that you need. But if you can use technology and numbers to your benefit then I'm all for it."
In an evolving game, that willingness to embrace the technology is another important factor for Bournemouth. And from the cold mornings on the training ground to the Premier League fixtures where only millimetres separate success from failure, it seems they are already beginning to feel the benefits.
Watch Bournemouth v Liverpool live on Sky Sports Premier League HD from 4.15pm on Sunday