Simon Cox reflects on the most difficult season of his career
Last Updated: 01/05/18 7:24pm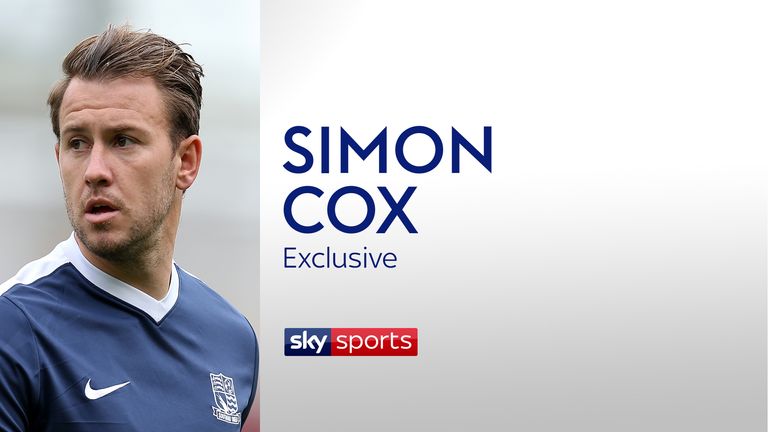 It has been another fine season for Simon Cox at Southend but off the field it has been the most challenging period of his life. Here, in conversation with Adam Bate, he reflects on the loss of a family member and why he will always be grateful for the club's support.
That catch-all phrase 'personal reasons' has been in the spotlight again recently. It is a deliberately vague description that can invite speculation. But when Simon Cox was omitted from the Southend squad for the midweek game at Bury in February there was a tragic explanation for his absence - he was attending the funeral of his long-term partner's father.
Cox, who turned 31 on Saturday, has been with his girlfriend Sam since the pair were teenagers. The unexpected passing of her father Ray was a devastating blow that has hit the family hard. "It has been a tough time for all of us but particularly Sam," Cox tells Sky Sports. "It is her dad and she is the only girl in the family.
"The day it happened I got woken at 3am in the morning. I drove straight down to the family home and stayed there for the next couple of days. We went through some dark times and it has been very difficult so I cannot imagine how hard it has been for her. We have been through all of the emotions, trying to process it, but we will get through this together."
Sam's employers have been supportive. "They gave her the time that she needed and we were very grateful for that," he says. But while his focus is on his partner, and Cox is keen to stress that there can be no comparison to what she is going through, the situation does highlight the fact that footballers can be expected to deal with things differently.
"It is very hard to go through personal stuff when you are a professional footballer because you are seen as this person whose job is to go to work daily and play games at the weekend," he explains. "You don't really have a personal life. People can forget that we are normal people and tragedies happen with us as well. We all have to go through it."
Cox had only one day off - the day of the funeral. Fortunately, however, that was entirely his decision. Southend's League One status was far from guaranteed at the time, but the club were good enough to recognise that those concerns paled into insignificance given the circumstances. They saw the human being as well as the footballer.
"One of the first days that Chris Powell came in it was a case of, 'hello, nice to meet you and, by the way, I have a bit of news for you.' He was very sympathetic and told me that I could take as much time as I needed. The chairman was exactly the same. They have been very good to me and I can only thank them from the bottom of my heart for that.
"People deal with these things in their own way. My way was that I wanted to get back into work. I am not the most outwardly emotional person in the world and if I can work I will do. It was only the day of the funeral that I missed. Every other training day and every other game I was up for selection and trained as normal.
"I felt that for me it was better to put myself around people, where there were smiles and laughter going on irrespective of what was happening in my own personal life. Yes, you are surrounded by people who understand what you are going through and are sympathetic, but you are also there to train hard and do the best job that you can."
Cox's two-year contract at Southend is up at the end of the season but he is hoping his stay at the club will be extended. There have been two spells at Reading, success at Swindon, time in the Premier League with West Brom and a £2m move to Nottingham Forest. But Cox has now played more games for the Shrimpers than he has anywhere else.
"When I left Reading in the summer of 2016, I was thinking that there was bound to be a Championship club that would take me," says the Republic of Ireland international. "But I found a nice place here at Southend and the bottom line is that I have spent too much time in my career sitting on the bench. I needed to come and play as much football as I could.
"Once you have had a taste of the Premier League, international football or even the Championship nowadays, you don't want to give that up lightly. But I was thankful to get a phone call from [then Southend manager] Phil Brown and I love where I am at now. It stood me in good stead that I had been in League One before.
"Admittedly, I did not adjust to it overly well at first. Given that I had played in the Premier League, I was thinking that my team-mates should give me the ball and I would just do the rest. But it does not work that way. You have to work harder than everyone else to show them why you have played at a higher level. I had to adjust to that.
"There was a game at Scunthorpe early on last season where I didn't play too well and got a bit of a dressing down afterwards. Rightly so as well. I found myself on the bench for a few weeks and that really gave me the motivation to show why I had played at a higher level but also to show I deserved to stay at the club because I was worthy of a place in the team."
Cox has certainly done that, his two goals in the recent 3-0 win at Oldham taking him into double figures for the season and also making him Southend's outright top scorer for the second consecutive season. Things have picked up dramatically at Roots Hall since Powell's arrival and victory over Bristol Rovers on the final day will ensure a top-10 finish.
For Cox, there was disappointment that Brown was sacked in January but he has been impressed by Powell's impact. Thirty-one points from 17 games is top-six form and no team in League One won more games in April. "Drastic changes were made and while it was not great to see because Phil Brown was well liked, maybe they were needed too," he explains.
"Chris Powell came in and turned it around in such a short space of time. We had it in us, it was just a case of getting it out and he has brought the fresh pair of eyes and fresh ideas that we needed. He is a lovely fella with a great manner and a nice presence about him. You can always go and talk to him. If you have problems he is always there to help."
Hopefully there are happier times ahead for Cox on and off the pitch. Hopefully they will be at Southend too. But whatever happens next, his perspective has changed. He is looking forward to the six-week break, one that will include a trip abroad and a friend's wedding. "There is a lot more to life than football," he adds. It is a sentiment worth remembering.