Brits abroad - Alan McInally
Continuing our new Brits abroad series in which we speak to players and coaches to get the lowdown on their time overseas, Adam Bate talks to former Bayern Munich forward Alan McInally about his time in Germany.
By Adam Bate - Follow me @GhostGoal
Last Updated: 02/11/12 3:07pm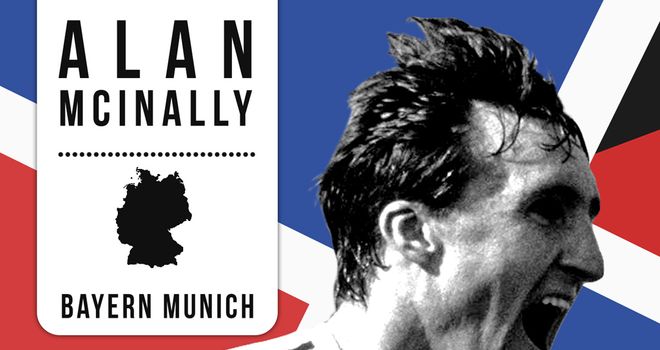 The Scottish forward spent three years with Bavarian giants Bayern Munich, winning the Bundesliga title and falling just short in Europe. Adam Bate caught up with the Sky Sports pundit to find out more about his time in Germany.
How did the move to Bayern Munich come about?
I was obviously at Villa and there was still a year of my contract to go. At the time, I was playing for Scotland. The first time I knew of it was when we beat Chile 2-0 at Hampden. I had an agent at the time but not in the way people are involved now and this guy said to me, 'Bayern Munich are interested in you'. I was genuinely flying at the time with Villa and although the team wasn't brilliant I knew they were going to spend some money the next year under Graham Taylor. And I just kind of left it at that.
I remember the last game of the season I knew they were coming over and we drew 0-0 with Coventry and I thought that's that done - they won't be wanting me after a 0-0 with Coventry! But it was a typical end of season game. I was playing against big Brian Kilcline, whose nickname was Killer at the time, and we'd both said to each other that this is the last game of the season so don't be doing anything silly. And I said, 'Well don't be kicking me because I've got somebody watching me'. And I couldn't even score!
But it was two weeks after that I got contacted and they said they wanted to meet me. So I met them with my father in Glasgow and it wasn't so much, 'We want to sign you' as 'would you be interested?' It was Uli Hoeness, Jupp Heynckes and the president. Although I was obviously still under contract, I said I'd be very interested but it was a big move.
Going abroad wasn't really the thing at the time. When it did happen there were only two moves that year - Chris Waddle went to Marseille and I went to Bayern. It was kind of unheard of back then, even though it had been done before it hadn't been done massively successfully.
By the time Graham Taylor heard about it he threw a massive hissy fit and wasn't speaking to me for two weeks. But eventually the deal hit £1.5million, which was obviously a few quid back then. They flew me to Munich right away and I had a medical.
First impressions?
It was one of those things where they fly you over to see the Olympic Stadium and show you the training facilities. It was mind-bogglingly good and I mean mind-bogglingly good. It was an amazing place. The next thing I knew I was getting a medical which is as full a medical as I've had for anything ever in my life. And I knew right away that if I'm going to take the plunge this is one of the best places in Europe to be going so I decided and that was it.
So you felt it was clearly a step up from Celtic and Aston Villa?
It was a massive step up with the greatest respect to Aston Villa who I love dearly and always will. I kind of wish I'd stayed another year as I think we'd have won the title that year if I'd stayed because they finished second.
But I always remember Gordon Strachan when he took the Celtic job and me being surprised as he had no real affiliation to the club and was always a player the Celtic fans didn't really like that much. But I'll never forget Gordon Strachan saying to me, 'It's a job where if you get asked to do it you can't turn down - it's not even an option to turn it down'.
And I think at the time it wasn't really an option for me with Bayern Munich to think it was a move to turn down. And I'm so glad I didn't. I did the right thing. But it was taking a big step, there's no question of that.
I was going into training and Sepp Maier was doing the goalies and I was working with Gerd Muller! Muller who individually probably put Bayern Munich in the 1970s on the map for ever. Now you've got Franz Beckenbauer, who is the president. You have Karl-Heinz Rummenigge and Uli Hoeness there - if you're not going to listen to them then you're wasting your time as a football player.
I was going to training with players who I was on first-name terms with, laughing and joking. If I look back now, I took it all for granted. I had immersed myself in the situation and I knew everybody - Muller and Maier - it's just crazy when you think about it. I'm trying not to exaggerate but it's hard not to - the place was that good.
There were 200-300 players watching training every day. We had an open day and I thought what's an open day? They said, 'Well, we have a training session'. There was this massive beer tent and 30,000 people turned up! That's when I realised - Oh my god, this is an unbelievable football club.
Playing for Celtic and Villa helped me because they are both big football clubs and when you're at a big club there's no real Saturday when you can take your foot off the gas a little. You might be able to do that at a lesser club. There you need to be at your best in every training session, which builds up to your Saturday. That really helped me because you realise if you take your foot off the pedal then you'll be sitting in Row A in the stand watching the game.
Given that, was it daunting going into that dressing room?
Oh man, with Klaus Augenthaler, Hans Pflugler, Olaf Thon and Stefan Reuter?! They bought Jurgen Kohler too. You've got to remember I was there in 1990 in Italy when Germany won the World Cup. There were six players in our first team who came back with winners' medals! They were that good.
Uli Hoeness said to me, 'We expect to win the title every year' which obviously we did, except for when I got injured. He also said, 'We want to win the European Cup' and unfortunately I got to two semi-finals. AC Milan beat us in the semi-final and we actually beat them in Munich but got beat in the San Siro and they won it that year and we'd have won it easy. And then the following year we got beat by Red Star Belgrade in the semi-final again and they went on to win it.
Everyone talks about that Milan side but you very nearly knocked them out didn't you?
Listen, we should have had a draw in Italy but Marco van Basten scored a penalty. We beat them 2-1 in Munich (McInally scored) and their goal was about 20 feet offside. It was unbelievable. I've got a couple of disappointments in my career but that's the biggest. We should have beaten them - we had a great team.
What about the training. Was that different to life back in Britain?
Compared to what teams do now in terms of medical science, it was just a completely different scenario. Every day we went into training we got weighed. We had two masseuses that went everywhere with us - we had our own chef who used to travel around with us! The stuff that players in this country are doing now I was doing in 1989.
I never had a Sunday off ever. Even when we'd played away on the Saturday night and we didn't get back until the Sunday morning, it wasn't your family that picked you up from the airport it was straight to the training ground so it was really about babysitting everybody constantly.
We had Dr Muller-Wohlfahrt who is probably the foremost sports doctor that you could have. All the players from England eventually went to see him if they had a problem. I was that lucky. Injections, tablets, vitamins - every single thing was done to precision because you are cog in the wheel and the wheel had to be right.
Another massive thing - the players do it now and I never did it at Celtic or Aston Villa - was that when we were given boots all the players took the insoles out immediately. And after two weeks they said you've got to go and see a doctor. I didn't even know why I was going! And they put my feet in plaster casts and made me eight insoles so when I got new boots I used to take out what they sent me and put my own insoles in so that every step I took was my own.
It sounds nothing but if you're a professional athlete that's what you need. That was way ahead of anything we were thinking of doing. Right down to the little things it was massively different and much more professional.
I grew up at a time when you could go to the bookies or go to the races or the snooker hall and have a couple of pints. None of the players did that. They'd all go out together and have an organised thing. They'd still have a few beers and get merry but in general terms nobody was out in the afternoon unless it was a walk around the city.
How about the style of play on the field - was that different too?
I found it different because playing for Bayern Munich everyone is scared of Bayern. So right away there wasn't a lot of space. What a lot of teams used to when they came to Munich was concede possession to you, retreat to the halfway line and try to compress the game as much as they could. I found a lot of the time I was playing on my own up front and it was really difficult.
It was massively frustrating. I used to come off in games absolutely knackered. I might have notched a goal but I'd be thinking that I'd touched the ball 10 times because the amount of times I was trying to make space for others was difficult.
Football is pretty universal but it was different in terms of when they wanted you to be explosive and when they wanted you to conserve energy. That was a big learning curve for me. It was a really good thing knowing when to be clever and when to be aggressive.
Do you think that made you a better player?
Yeah it made me a better player. It made me more aware and it made me more aware of other people's jobs in the team rather than just looking after myself. It might be that the ball is going into you as a forward player and all you're doing is using the midfielders, giving the ball to someone else going beyond - midfield runners.
More like the common formation now with one up front?
Absolutely. That's exactly what it is. If the ball goes long then you're chasing it into the corner and holding it up waiting for support. I suppose it gave me an appreciation of a different attitude towards the game. We had massive confidence in our own ability. If we went a goal down we wouldn't change our formation.
I remember a European Cup game against Rangers and we were 1-0 at Ibrox and the ground was bursting. Nobody panicked and eventually we won the game 3-1 and Augenthaler scored a goal from about 30 yards. They were like, 'What's the problem?'
Jupp Heynckes was your coach then. He's still in charge now too (third spell). How did you get on with him?
Really good. Quite stern and quite by the book. You'd come in and have to do a 2000 metre run and 4000 metre run and a 6000 metre run. You'd be graded and the times would be on the wall. He'd be on his bicycle making sure everyone was doing it so it was quite regimented. But he was really good to me.
The first thing that Heynckes, and Hoeness, said to me was that you've got to learn the language. It's imperative you learn the language. He expected me to immerse myself in the culture and that's exactly what I did. I'm so glad I did that and because I did I think I got more rein from the coach and the club itself.
Even to this day I'm pretty well thought of - I think anyway - to the point where I've still got good contacts there. I'm lucky doing all the Champions League stuff for Sky Sports. I get to do the odd Bayern game and obviously I still go over and do some stuff for the Sky Sports News channel over there in German.
And you're still in touch with people from your time there?
I still speak to Augenthaler quite a lot. I still speak to Thomas Berthold. The guy who is the assistant manager with Joachim Low with the German national team, Hans-Dieter Flick - we played together for two years so yeah I've still got good contacts. And I've still genuinely got affection for a club that's a massive global machine. I've always thought myself fortunate to be involved with it. It was definitely the right thing I did at the right time in my career.
Long-term injury ended your time there. That must have been tough to deal with - especially in a foreign country?
When I got injured at the end, when I hurt my knee and had to stop, that was really tough. But all the time I was playing it was the best football club. If you do well for them they'll look after you every inch of the way. It was a fantastic football club to play for. And as you can see in the 20 years since I've been there, that big machine keeps rolling all the way.
So no regrets whatsoever about making the move?
The only regret I have is about my knee and it wasn't even in a game. It was a silly situation in training with a young boy Allan Neilsen who eventually played at Spurs. Allan was a kid at the time who came over from Denmark and it was a complete accident on his part that could have happened at any time. A silly accident in training but I had to have a few operations and eventually give up. But my only regret is that I couldn't do 10 years in Munich rather than just three.
Do you have any advice for players going abroad?
You need to be able to communicate. That's a massive thing. We're lazy in this country generally. I think our school curriculum should put greater emphasis on languages, I really do. I know at the time you might be thinking that not everybody is going to go work abroad, that's for sure, but the world is smaller now than it was 20 years ago and if you've got a grip of some kind of language then you never know.
I think you've just got to immerse yourself in pretzels and wursts if you're going to do it right! And don't ever think you know everything because I was one of the top players at Aston Villa at the time and as soon as I went to Bayern I was back to learning again. My only regret is that I didn't have the opportunity to keep going because of my injury. But then again I had the opportunity to go out there in the first place...