Suarez solution
Olivier Giroud's promising pre-season form raises the prospect of Luis Suarez succeeding as either a replacement or in tandem with the Arsenal forward if the Liverpool man joins the Gunners, writes Adam Bate.
Last Updated: 30/07/13 2:58pm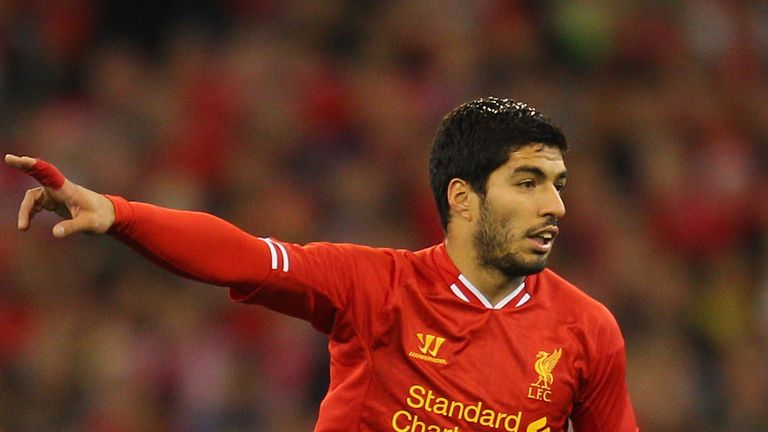 The news that Gonzalo Higuain has completed his move to Napoli might have come as a disappointment to some Arsenal supporters, but Olivier Giroud is likely to see things differently. The France international striker would have been the big loser if a deal for the 6ft tall Argentine forward had been completed - and that would have been a pity given his impressive pre-season.
There have been promising signs for Giroud on Arsenal's tour of Asia with the former Montpellier man netting six goals in just three games. The form of the under-pressure striker has not gone unnoticed by Gunners boss Arsene Wenger. "I like Olivier very much," said Wenger. "He needed to adapt and I'm sure he will respond."
Perhaps it is Wenger who has responded. While Higuain would have surely taken up a centre-forward role at the Emirates Stadium, the decision to bid for Liverpool's wantaway hero Luis Suarez could be interpreted as a desire to fill a slightly different role in the team. In short, the arrival of Suarez need not mean the end for Giroud.
Encouragingly, that is how the man himself appears to see things. "Luis is someone with whom I could form a good understanding on the pitch," said Giroud, quoted in The Sun. "So I am in favour of him coming to Arsenal and I am not afraid of the competition for places his arrival would bring about."
There is good reason to take that view. The 2-2 draw between Arsenal and Liverpool at the Emirates Stadium in January - in which both men scored - highlights the differing roles the two forwards are capable of playing. While Giroud operates as a point of reference for his side, Suarez is the opposite - an elusive figure prepared to go searching for the ball.
Suarez showed enough in his interaction with Daniel Sturridge, who arrived at Anfield in January, to suggest he is able to form a promising partnership with a more advanced forward. As such, it is easy to imagine the Uruguayan turning provider for Giroud. But importantly for Wenger, it is also clear that Suarez is equally capable of thriving as the lone frontman too.
Despite Giroud being a qualified success at Arsenal, there remains the nagging suspicion that the Gunners require a real goalscorer - the 20+ man who can truly replace Robin van Persie. There were plenty who weighed in during the 2012/13 campaign - Theo Walcott netting 14 Premier League goals, while Santi Cazorla scored 12 and both Lukas Podolski and Giroud reached double figures. And yet, too many chances were spurned.
When it comes to the big ones, Giroud was a disappointment. Only Van Persie was presented with more clear opportunities to score than the Frenchman last season. The difference is that the Manchester United striker also netted 17 of his clear-cut openings. Giroud successfully converted just four.
Indeed, of those players who enjoyed the most big chances to score in the Premier League last term, Giroud had by the far worst conversion rate - finishing just 17 per cent of those opportunities. The identity of the man who was the most reliable at converting from those situations is intriguing - it was that man Suarez.
Chance conversion - PL 2012/13
Player
Club
Big chances missed
Big chances scored
Conversion success
Robin van Persie
Man Utd
23
17
43%
Olivier Giroud
Arsenal
19
4
17%
Sergio Aguero
Man City
18
7
28%
Papiss Cisse
Newcastle
18
5
22%
Nikica Jelavic
Everton
18
4
18%
Edin Dzeko
Man City
17
10
37%
Romelu Lukaku
WBA
15
9
38%
Arouna Kone
Wigan
15
7
32%
Luis Suarez
Liverpool
14
16
53%
Michu
Swansea
14
12
46%
This contrast is significant. Effectively, Arsenal have the potential to swap the most wasteful of forwards for the man who is most lethal. And given the service available from Wenger's team, it is tempting to conclude Suarez would thrive. The Liverpool striker has become renowned for his ability to create things for himself, but at Arsenal there would be more support.
Podolski, Cazorla and Walcott all offer creativity in their own way. In fact, the three men created 10+ big chances for team-mates in 2012/13 - with Arsenal being the only team in the Premier League to have three players achieve that feat. Suarez could allow others to go foraging while he focussed on matters inside the area.
He has the credentials in that regard. Despite his roaming role - or perhaps because of that energy - Suarez touched the ball 363 times in the opposition penalty box last season. That's 140 times more than the next man, Van Persie. A dozen years on from the ill-fated purchase of Francis Jeffers, dare we utter the words fox-in-the-box?
What's apparent is that although Luis Suarez is not the out-and-out striker Arsenal supporters might have envisaged as the means by which to improve their attacking options, he could be the answer nonetheless. The fact that this particular solution can come with or without current first-choice frontman Olivier Giroud is key - Arsene Wenger would be getting two players rolled into one... Well worth chucking in an extra pound or two.