Debut Watch
The return of the Premier League should see several new signings make their debuts this weekend. Matt Stanger picks the top six he can't wait to see in action...
By Matt Stanger - Tweet me
Last Updated: 13/09/13 2:11pm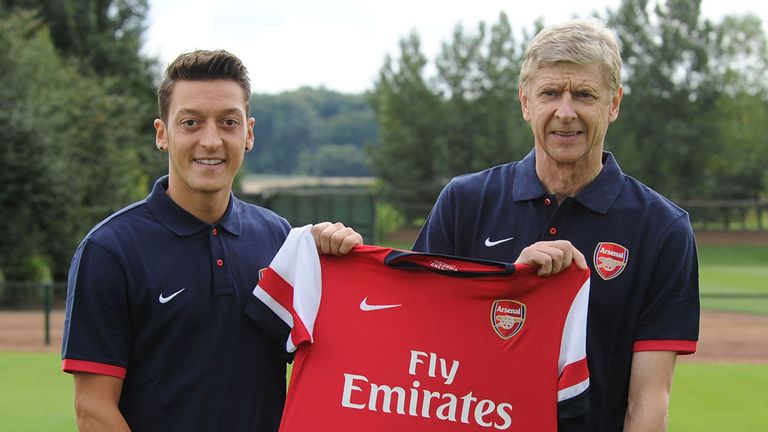 Mesut Ozil
What we're looking forward to: Seeing one of the most exciting creative talents in the game strut his stuff in the Premier League. Ozil was instrumental in Real Madrid's success under Jose Mourinho and racked up an incredible total of 67 assists in three seasons at the Santiago Bernabeu. Olivier Giroud should be as excited as we are.
The big question: Can he help the Gunners mount a title challenge?
Ozil has expressed his belief that Arsenal can fight for trophies this season and since his arrival his new teammates have lined up one by one to talk about the 'boost' it has given the squad. "Our ambitions are clear, as the arrival of Mesut Ozil has proved. To fight for the title and compete in the Champions League," said fellow new signing Mathieu Flamini this week. "We want to win trophies. The club has waited for them for too long." Arsene Wenger has been similarly bullish about Arsenal's quality in pre-season and there seems to be genuine confidence at the Emirates - backed up by a fine end to the previous campaign - that the current group have what it takes to make it an interesting battle at the top this year. Ozil's debut against a Sunderland team who are already struggling should do little to deter that optimism.
Marouane Fellaini
What we're looking forward to: Finding out if he's the answer to Manchester United's long-standing problems in midfield. Oh, and the hair. Always the hair.
The big question: How will Fellaini be deployed by David Moyes?
We've all had a big laugh at United spending £4million more than they needed on Fellaini, but now it's time for serious talk: can he help the champions break down the mighty Crystal Palace on Saturday?
The real question regarding Fellaini's arrival is how Moyes intends to use his big new Belgian at Old Trafford. Will he play in the advanced role he took up at Everton last year? Will he sit deep and screen the defence from the Palace onslaught? Will he be box-to-box-to-box-to-box? It's clear that Fellaini provides the combative presence that United have been missing and it's likely Moyes will move him into a deeper position alongside Michael Carrick, with Wayne Rooney (when he's fit) or Shinji Kagawa (when he's not forgotten) as the point of the midfield triangle.
"I'm not a number 10. David Moyes predicts my future as a defensive midfielder, but due to a lack of offensive power, he plays me up front," said Fellaini after discussions with the manager at the end of last season. "In the future I want to play as a six or an eight. From there, I can create danger and score goals."
The future has arrived.
Samuel Eto'o
What we're looking forward to: Watching one of the greatest strikers of all time line up in front of Chelsea's bountiful attacking midfield options. If anyone can help Eto'o score the goals to fire the Blues to the title, it's Juan Mata. Let's just hope he plays.
The big question: Was he the best alternative to Wayne Rooney?
"Samuel is a very experienced striker as everybody knows and a winner," said Jose Mourinho after Chelsea snapped up the Anzhi forward on a free transfer. "He's a guy who in spite of winning everything, he never lost his desire to win. He comes to England with the same objective with which I went to Spain - he wants to be the first one to win the Spanish, the Italian and the English league as a player."
Despite his obvious disappointment at missing out on Rooney - his 'only' target this summer - Mourinho's praise of Eto'o was a resounding message to those who have claimed the 32-year-old has come to the Premier League for one last pay-day. The worry for Chelsea, however, is that despite Eto'o's desire and experience, he may not have the legs to last the season as the team's first-choice number nine. And you know what that means: Fernando Torres. And you know what that means: no party. If Eto'o recovers from a knock he picked up in Cameroon's win over Libya, Saturday's tough test at Everton could go a long way in telling us whether he's the missing piece of Chelsea's jigsaw.
Mamadou Sakho
What we're looking forward to: Liverpool having the defensive resolve to mount a convincing top-four challenge. The Reds may have had the joint-fifth best defensive record in the Premier League last season, but there were plenty of occasions - usually the fault of Martin Skrtel - when they looked uneasy at the back. Sakho's arrival brings increased competition and less room for complacency.
The big question: Will he play and, if so, where?
Considering Sakho is a left-sided centre-back it would seem he has been brought in as direct competition for Daniel Agger - who Brendan Rodgers appointed vice-captain in the summer - or even as an extra option at left-back. However, despite Martin Skrtel's impressive performance in the victory over Manchester United, there is a strong chance that Sakho will slot in alongside Agger at the heart of the Reds defence for Monday's trip to Swansea. The former PSG captain left the Ligue 1 champions in search of regular football ahead of next summer's World Cup and it's unlikely he would be willing to accept a back-up role. And nor would FSG, after shelling out a reported £18million on the 23-year-old.
Marko Arnautovic
What we're looking forward to: The unknown. Although Arnautovic played three games on loan at Internazionale in 2009/10 and has racked up 27 caps and seven goals for Austria, you'd have to be quite the football hipster to have an in-depth knowledge of his game.
The big question: Is he the new Mario Balotelli?
Stoke's new man has built up a reputation for being something of a s********, as Clarke Carlisle might say, during his short career so far. Similar to Balotelli, Arnautovic struggled to impress Jose Mourinho at Inter and was described by the coach as having "the attitude of a child". This claim was particularly apt when the striker once told a Vienna police officer: "Shut up, I earn so much I can buy your life." As Stoke chairman Peter Coates has conceded, Arnautovic has "got a bit of a chequered history on the personal side", but Stoke's clash with Man City on Saturday is the perfect opportunity for the 24-year-old to prove his worth.
Christian Eriksen
What we're looking forward to: Seeing if he's worth the hype. Eriksen had Liverpool fans giddy with excitement following reports linking him with a move to Anfield earlier in the summer and Spurs supporters were equally chuffed when he eventually arrived at White Hart Lane.
The big question: Can he provide the subtlety Spurs need?
Although Spurs have strengthened well with the money they received for Gareth Bale, Andre Villas-Boas will have concerns over his team's failure to score from open play in their first three Premier League matches. Spurs won't break into the top four on Roberto Soldado penalties alone, and improving the service to the Spaniard is a key priority. Erik Lamela looked promising in his substitute appearance against Arsenal and Saturday's home clash against Norwich affords Villas-Boas the perfect opportunity to ease the Argentinean and Eriksen into his first-team plans. Whether the pair can provide an immediate impact is uncertain, but they will help to the bridge the alarming gap between the midfield and Soldado that was evident at the Emirates.