N'Zonzi is key
The transition from Tony Pulis to Mark Hughes has gone smoothly so far at Stoke City. Adam Bate thinks that owes much to the efforts of Steven N'Zonzi in midfield...
By Adam Bate - Follow @GhostGoal
Last Updated: 27/09/13 4:34pm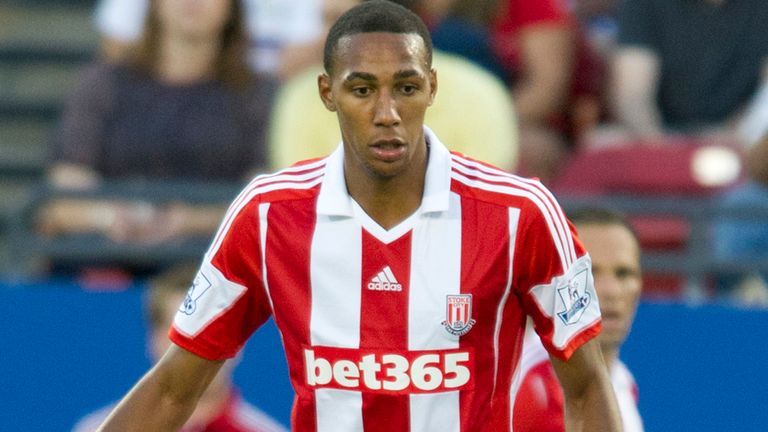 There was a delicious moment in the latter stages of Stoke's draw with Manchester City when Erik Pieters headed the ball forwards to Steven N'Zonzi in a left midfield position. Spotting Yaya Toure out of the corner of his eye and anticipating his advance, N'Zonzi flicked the ball over his illustrious opponent's head and controlled it with the City man well beaten. It was pure Patrick Vieira. As an isolated incident in a goalless draw, it had little significance. As an example of the renewed swagger of Stoke City, it was rather more evocative.
It might not have been that way for N'Zonzi. The centre midfielder handed in a transfer request at the end of last season and looked set for the exit. But the arrival of Mark Hughes has seen him take a pivotal role for the Potters, playing every minute of the team's Premier League campaign so far. Calm and composed in possession, he arguably holds the key to the new approach under Hughes by setting the tempo in the middle of the pitch.
N'Zonzi has the talent to do so. "His technique is fantastic," Steve Kean, his former manager at Blackburn, told Sky Sports adding his admiration for "the way he plays a cross-field pass and the way he can switch the play." Former Stoke boss Tony Pulis appreciated his technical qualities too. "He's got two great feet and strikes the ball fantastically well," said Pulis in May.
Passing
Of course, it is well documented that Pulis placed greater emphasis on less subtle characteristics and the presence of a 6'4" midfielder brought its own benefits under the Welshman's regime. Getting the ball down to play was not the priority. Stoke had the worst passing accuracy of any team in the Premier League last season, with only relegated Reading playing fewer short passes.
But things are changing at the Britannia Stadium. That passing accuracy has gone from a dismal 70 per cent success rate to a creditable 80 per cent so far this season. On average, Stoke are playing more than 100 extra short passes per game. It also seems that it's time to abandon the hoof-ball cliché - only two Premier League teams have hit fewer long balls than Stoke in 2013/14.
"Maybe they were ready," said Hughes, when quizzed on the changes. "If I felt they weren't capable of playing the way I want, I wouldn't even have put it to them because if they haven't got the capabilities as football players to take it on board, then I would have been making more problems for myself. But the group have been excellent from the first day. The players have bought into it. It has to be possession with a purpose. We're trying to work on that."
Steven N'Zonzi - Premier League 2013/14
Discipline
Ranking
Successful passes
8th
Successful passes opp half
7th
Chances created (open play)
6th
Duels won
5th
Tackles
6th
For some, the transition is likely to prove more difficult than others. A more patient approach suits N'Zonzi. Neat and tidy in possession, the 24-year-old is comfortable on the ball and happy to slow the game down - a far cry from the frenetic world of Jonathan Walters. N'Zonzi is now flourishing and ranks among the top 10 passers in the Premier League this season.
Crucially for Stoke's development, these are not the meaningless square balls that Pulis found so deplorable. The graphic (below) from N'Zonzi's man of the match performance in the win at West Ham shows that the vast majority of his passes are forwards. It is progressive passing rather than a stat-boosting exercise. With Marc Wilson holding, N'Zonzi's greater involvement with the ball at his feet appears to have brought out his creative side too.
N'Zonzi has created 10 chances from open play this season. That's twice as many as any other Stoke player and more than all but five footballers in the Premier League. Given that he only managed to create 14 such opportunities in 35 appearances last season, just five matches into the new campaign it is clear that N'Zonzi is enjoying a growing influence under Hughes - his expert floated cross for Marko Arnautovic that led to Geoff Cameron's equaliser at Arsenal being a prime example of his intelligent and ambitious use of the ball.
N'Zonzi remains a physical presence. He can still do the ugly stuff and won more aerial duels than any other player on the pitch in that away win at West Ham, making more combined tackles and interceptions than anyone else too. As such, N'Zonzi is perhaps the perfect hybrid footballer to see Stoke through this period of adjustment.
It's early days for Mark Hughes and Stoke City. There is some way to go before everyone will be convinced of their change in style. And yet, while Steven N'Zonzi has rather further to go before he persuades anyone that he's the new Vieira, there's a Premier League team in north Staffordshire for whom this transition is likely to be that little bit easier thanks to his presence in the midfield.