Weekend review
It was 'Shock Saturday' in the Premier League as Manchester City and Manchester United succumbed to West Midlands opponents. Elsewhere, there were wins for Arsenal and Liverpool, while the pressure continues to build of Martin Jol. All that and more in our review of the weekend...
By Matt Stanger & Adam Bate
Last Updated: 30/09/13 12:25pm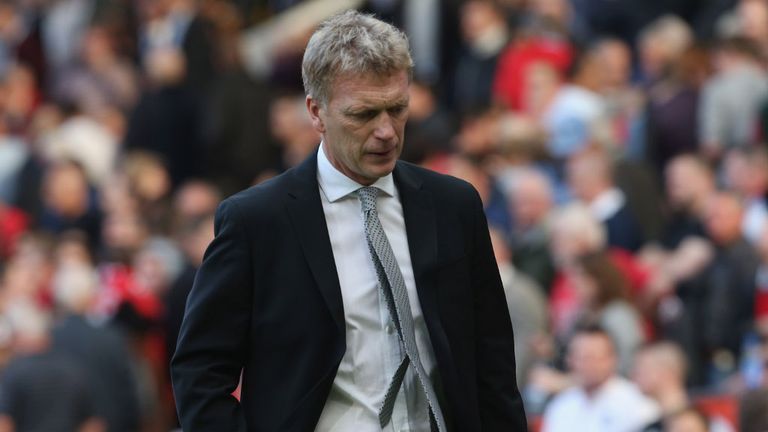 Spotlight on Moyes
Six matches into David Moyes' six-year contract and Manchester United lie 12th in the Premier League, two points behind Aston Villa, for whom the fixture computer fiddled an even harder start. Only Swansea and the bottom three have conceded more goals than the champions, who haven't scored from open play in the top flight since the first match of the season. It's really not going to plan. Perhaps the worst part of United's dreadful form is that Moyes still hasn't got to grips with the increased media exposure. Since his first day in the job on July 1, the manager has looked like a rabbit in the headlights, and that uncertainty has translated to the players' performances.
First came Moyes' wide-eyed admiration of the strength in depth he suddenly had at his disposal. "The squad Manchester United has, without any additions, will be tough opponents for any team this year," said the manager of July 29. "That is the squad that finished 11 points clear in the Premier League. I am confident in that squad." Moyes also added, "I wouldn't be worried if I didn't add to the squad." But then, after only Marouane Fellaini arrived on deadline day and following a 4-1 thrashing by City, doubts began to creep in, with the manager claiming that the reason for United's title victory "was probably the (form) of other teams that were poor".
Now United need "one or two to go right into the team". The squad lacks "five or six world-class players" to win the Champions League and, in what is the most small-time quote for a manager of Manchester United, Moyes insisted after the defeat to West Brom that: "We will just go out and try and win the next one." We will just go out and try and win the next one...
Moyes also hasn't helped himself by haemorrhaging signs of weakness as the questions become more pointed. Why did Moyes claim that United aren't good enough to win the Champions League on the back of a hugely disappointing home defeat to West Brom? That may be true, but with the champions' confidence lower than it has been in a long time, the last thing the squad needed was another kicking. Moyes has already suggested that last year's title victory owes much to the weakness of United's Premier League rivals and undermining his team in this manner is unlikely to engender improved performances. MS
SAS mission
Fitting Luis Suarez back into the team and continuing to get the best out of Daniel Sturridge was always going to be a challenge for Brendan Rodgers at Liverpool. The fact that Suarez scored a brace on his Premier League return with Sturridge setting up both and scoring another has to regarded as an emphatic triumph. Sunderland simply could not cope with the pace and quality of the front pair.
Rodgers has had to change his formation to 3-4-1-2 in order to avoid pushing one of the two star men out to the wing and the switch has proved a qualified success. There will be tougher tests than Sunday ahead, but with Philippe Coutinho seemingly ideally suited to that role in the hole, there could be improvements to be made too. With Crystal Palace at home next up, there is cause for cautious optimism again at Anfield. AB
Read an in-depth match analysis of Liverpool's win at Sunderland by clicking here
Ramsey is the star again
Five successive Premier League victories, nine on the bounce in all competitions (if you count beating West Brom on penalties, which I expect you won't, just to be difficult), plus 20 goals scored and only six conceded in the six weeks since the 3-1 defeat to Aston Villa. After that miserable opening day at the Emirates, who would have thought that Arsenal would recover so quickly and so comprehensively? It's a transformation embodied by the emboldened performances of Aaron Ramsey, who was simply superb at the Liberty Stadium on Saturday evening.
Although the midfielder's goals have grabbed the headlines - he notched his eighth in eight matches on Saturday - the improvement in his all-round contribution is quite astonishing. That no-one has made more tackles than Ramsey in the Premier League this season emphasises his abrupt return to form and the confidence that was previously lacking following the harrowing collision with Ryan Shawcross in 2010. MS
Read an in-depth match analysis of Arsenal's win at Swansea by clicking here
Baggies boinging back
West Brom took the acclaim for beating Manchester United on Saturday, although coming out on top in a mid-table clash perhaps isn't much to boast about. Steve Clarke will be particularly pleased with his team's cutting edge at Old Trafford as the champions were defeated by two excellent goals. Concerns over the Baggies' lack of firepower have dissipated after five strikes in back-to-back victories and with Matej Vydra still to return from injury, Clarke finally appears to have the attacking options that were a long time coming in the transfer window.
It's difficult to decide whether the acquisition of influential duo Morgan Amalfitano and Stephane Sessegnon was by luck or design, with the Frenchman joining on loan from Marseille on September 1 and the Beninese only arriving due to Paolo Di Canio being a bit, well, strange. West Brom were desperate for anyone at that late stage of the window, but it just so happens that the bodies they recruited look like being vital additions. MS
Villa's smash and grab
Aston Villa were another unlikely winner on shock Saturday as they profited from Manchester City's sheer incomprehension of the events that were unfolding around them at Villa Park. "I think today we play well. We deserved another goal, but the score says something different," said a stunned Manuel Pellegrini at full time. "Twice we had the advantage in the score, but in five minutes we did two things that threw away all we did in the rest of the game."
Although Villa's victory was very smashy and grabby, that shouldn't undermine the efforts of Paul Lambert's young side, who were playing the first of four or five matches without Christian Benteke. The hosts showed unerring opportunism to make the most of their chances, with Leandro Bacuna providing a crucial contribution by assisting Karim El Ahmadi's equaliser and then firing in one of his own with a brilliant free-kick. MS
Backward step for City
A big leap forward in the stunning victory over Manchester United, a small step backwards with defeat to Aston Villa. City shouldn't dwell too much on Saturday's loss as they dominated the match before losing concentration in three key minutes. Of course, it is the second time this season that City have slumped in such a fashion, but two games is not yet a pattern, and Pellegrini will drill the need for consistency into his team before Wednesday's big test against Bayern Munich.
While that fixture is important, City must ensure that they don't become a team who performs in the tougher battles but takes the lesser-weights lightly. The Bayern clash will tell us much about the strength of this City side, their focus and their ability to recover. But equally, Everton's trip to the Etihad on Saturday will provide early evidence of whether they are in the title race for the long haul. It's a fixture City have struggled in in recent seasons, but it is now a match they must win after throwing away three points at Villa. Three away wins in the last 11 Premier League away fixtures is an indication of where form must improve. MS
Time up for Jol?
Signing Scott Parker for £4million and handing a player who will be 33 in two weeks a three-year deal could be considered a sackable offence in itself, and Jol appears to be hanging on to his job by his fingernails after Fulham fans again called for him to leave following the 2-1 defeat to Cardiff. In truth, it wouldn't be a surprise if the manager decides to walk after assembling a team that brings nothing but visions of a bleak and slow, very slow, future.
To see Parker and Steve Sidwell bustling aimlessly around the midfield is to see midweek trips to Barnsley and Yeovil, the fading sparkle in the eyes of a loved one, the unforgiving expanse of retirement, and then, at long last, the gentle kiss of sweet, relieving death, as your life passes before your eyes for one last time and you wish you had eaten more pudding. Still, at least the manager can take solace in knowing that he outlasted the Michael Jackson statue. MS
Pressure eases on Hughton
There was little sign of a cutting edge from Norwich in their 1-0 win at Stoke on Sunday but that doesn't mean to say it was anything other than a huge day for Chris Hughton and his team. The Canaries boss had claimed 23 points from the previous 26 Premier League games going into this one - relegation form and no mistake. Hughton could not afford for that run to continue much longer in light of his significant summer spending at Carrow Road.
Perhaps most encouragingly, the Norwich boss changed his system to get the win at the Britannia Stadium - reintroducing Alexander Tettey in the holding role and allowing Jonny Howson and Leroy Fer to push forward more. Howson got the goal and Fer was man of the match so it's fair to say that it paid off. While some have been pushing for the inclusion of Gary Hooper alongside Ricky van Wolfswinkel, it could be that Hughton has stumbled upon an alternative formula for success. AB
Read an in-depth match analysis of Norwich's win at Stoke by clicking here
Cut adrift?
Sunderland certainly seemed lifted by the presence of former hero Kevin Ball in the dug-out on Sunday but the struggling side he inherited still found themselves picked off efficiently by Liverpool's ruthless strike partnership. Ball is charged with rebuilding confidence but with Manchester United and Swansea up next before the visit of rivals Newcastle, the Premier League is no place for fragility.
With just one point and a goal difference of minus 10, Sunderland are already effectively five points from safety. Crystal Palace have also lost five of their first six to find themselves one place off the bottom. The teams above will be hopeful that two of the three teams for the drop this season can already be tentatively pencilled in. AB
Issues for Portuguese pair
There was little resolved either way in the dispute between Andre Villas-Boas and Jose Mourinho at White Hart Lane in the early kick-off on Saturday. It was the proverbial game of two halves with Tottenham dominating before the break with Chelsea coming back at the home side only to have Fernando Torres dubiously sent off. "They were better than us in the first half," said Mourinho after the match. "In the second half, only one team. And the team was very, very strong until the moment the referee made a big mistake. At that moment we were much better. They were in big trouble." MS
Read an in-depth look at the issues that came out of the Spurs v Chelsea game by clicking here