Mixed weekend
Chelsea and Liverpool were the big winners of the weekend with the former going top and the latter beating Arsenal 5-1 at Anfield. The alarm bells are ringing for the Gunners but that's nothing compared to the problems at Old Trafford. Daniel Storey reviews the weekend...
By Daniel Storey
Last Updated: 10/02/14 2:01pm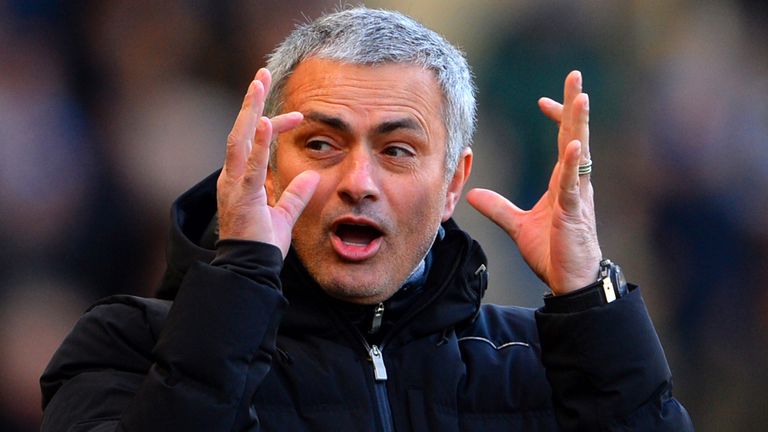 Chelsea are favourites now
A 3-0 home victory against a side currently struggling for form was no more than regulation for Chelsea, but with Arsenal and Manchester City dropping five points between them, this weekend provided a marked change in the title race - these are now your new favourites for the Premier League.
Not that it altered Jose Mourinho's stance, of course. Even after the stroll against Newcastle took the club to the top for the first time this season after a completed round of fixtures, Mourinho stuck to his self-penned script: "We have only one objective, which is to finish top four. I say as I feel it. I don't feel the change. We are top of the league and that's something we can't hide."
Speaking after the game, Jose joked about his 'little horse' analogy in the build up to the Manchester City victory. "You can forget about the horse now," were his first words, knowing that the horse had already served its purpose. Here is the clear master of deflecting attention and using the media for his own means. Many have commented that they don't believe his 'we're not challengers' shtick, but that spectacularly misses the point - the intention is not that you believe it, but that it becomes a discussion point. And when he talks, the press listen.
In a season in which comparisons between Mourinho and David Moyes have become inevitable, the Portuguese's most impressive achievement to date has been to get such a large proportion of his players to improve on their performances of last season. Eden Hazard (more on him next), John Terry, Oscar, Fernando Torres, Cesar Azpilicueta, Gary Cahill and Petr Cech have all progressed, proof of Mourinho's incredible man-management.
It's a simple formula: Make all the news about the manager rather than the players, shielding them from much of the scrutiny. Flatly deny both accusations of crisis or suggestions of glory, and do all in your power to ensure that your squad believes in every team selection, tactical tweak or signing made. Simple, but incredibly effective.
Finally on Sunday, we had the first admission from the Chelsea camp that we have been waiting for. "Top of the league," said Eden Hazard. "I go in my bed, I dream. I hope at the end of the season it will be the same." As if there was any doubt whatsoever.
Click here to read more on how Jose Mourinho's January transfer business has swung the title race in Chelsea's favour
Speaking of Hazard...
New boy Nemanja Matic may have stolen the headlines following Monday's win over Manchester City (and the Serbian was again excellent at Stamford Bridge on Saturday), but this was further evidence that in Eden Hazard, Chelsea have the world's most in-form attacking midfielder.
Hazard is the heartbeat of Chelsea's attacking impetus, and never has that been more evident than against Newcastle. More shots on target than all of his teammates combined and only the fifth Premier League hat-trick of the season, this is still a player that has created almost double the amount of chances as any other Chelsea player this season.
There is a look of the Thierry Henry to Hazard at the moment. The way in which it appears that time is running slower for him than the opposition when he has the ball at feet. The manner in which players are ghosted past in the blink of an eye through the introduction of a burst of pace or quick feet, and the finishing technique of starting the ball just outside the far post and letting your body shape and natural curl bring it back into the corner, leaving the goalkeeper with little no chance of making the save. And, to top it all off, that nonchalance in brilliance as if to say 'well yes, of course I just did that. I'm Eden Hazard, that's what I do'.
His manager is equally impressed. Mourinho is a coach who continuously extols the virtue of the team over individual, but the Portuguese reserved special praise for Hazard's current excellence. "I think a team is made of 11 guys, but obviously he is special. I think in this moment he's the best young player in the world." The most frightening aspect of it all is that Hazard only turned 23 last month. He'll still be eligible for the PFA Young Player of the Year next season.
Liverpool light up the weekend
Liverpool's 5-1 thrashing of Arsenal was discussed at length by Nick Miller at the weekend, and whilst he was correct in his suggestion that Liverpool are not (yet) genuine title challengers, that should not take away from what was a performance of incredible intensity and positivity.
That first 20 minutes was as good as anything a team have produced this season, and it was achieved against the league leaders. The harrying of the (high-quality) opposition during the opening stages was a deliberately initiated strategy that paid off perfectly - huge credit must go to Brendan Rodgers for that.
Judgement on Liverpool must be reserved slightly to see how they move on from such a performance and result. Rodgers' side are still to answer their away critics with an equally impressive statement. 16 points from 12 away games (and two victories in their last nine) provides an unstable platform for success.
But, for now, such talk seems cheap. To repeat, just watch that opening 20 minutes over and over again. Footballing majesty of the very highest order.
Sterling for England
There seems to be an odd trend at the moment whereby Liverpool's English players are being largely overlooked and underrated. Daniel Sturridge has eight in his last seven games (more than any other player in Europe in that period?) and Jon Flanagan currently looks like England's new full-back elect. Sterling, meanwhile, appears to have started to combine the lightning pace of Aaron Lennon, Theo Walcott and Andros Townsend with the eternal mythical enemy of the English winger, end product. Against Arsenal, Sterling came of age.
In an interview with the Telegraph last week, the winger revealed how he has suffered at times from playing in such vaulted company. "I realised I need to stop being shy among the senior boys. I had to be more confident. I wasn't confident enough to have a shot myself and instead I'd pass it to someone like [Luis] Suarez. I just said to myself that I had to step up and start running at defenders again; taking responsibility."
With 43 Premier League appearances since the beginning of last season, it's often easy to forget just how young Sterling is - Adnan Januzaj and Serge Gnabry are the only players younger with PL goals this season. In the last two years he has burst onto the scene, drifted away slightly and then regained his place once more.
Now seemingly firing on all cylinders, there seem to be genuine reasons to believe that Sterling has honed his game in order to come back stronger, both physically and mentally. If the winger can maintain his current form (and particularly the effective link-up with Sturridge), a place on the plane to Brazil should be regarded as a certainty. He could be an incredibly useful asset for England.
Meanwhile on the naughty step...
It's only one defeat. It's only one defeat. It's only one defeat. There will be plenty of Arsenal fans using that mantra over the next two days, rocking back and forth, desperately trying to persuade themselves that their season is not beginning to unravel in front of their very eyes. Again.
In fact, there is very little need to panic too much just yet. After defeats to Bayern and Spurs early last year, Arsenal went on an 11-game unbeaten run until the end of the season. After they were humbled by Aston Villa on the opening day, their response was to win 10 games in a row. Defeat at home to Dortmund in October was followed by a backs-to-the-wall victory in the Westfalenstadion a fortnight later, and after the 6-3 thrashing at the hands of Manchester City in December, Arsenal again went unbeaten for ten games. Adversity is inevitable, but Arsenal's responses following heavy defeats have been their reason for remaining in the title race until now.
Out of adversity comes opportunity, as Benjamin Franklin once said, and presumably The First American was aware that Arsenal faced Manchester United just four days later. This is the opportunity to remove the demons of Anfield against an opposition that have provided their fair share of devilment down the years.
Lose (or even draw) against United on Wednesday and this column may begin making sweeping prophecies of doom. Until then, the benefit of the doubt still stays with a side that have proved their resilience on multiple occasions already.
Click here to read more on how Saturday's drubbing will have the alarm bells ringing at Arsenal
And then there's United
Another week and another crisis at Manchester United. The draw at home to Fulham made it four points in their last four Premier League matches - only the three teams currently in the relegation zone have taken fewer. When you consider that those four games actually included fixtures against the current bottom two, that's pretty alarming stuff.
Sunday was supposed to be the catalyst for improvement. Fulham were the sitting duck, having lost their last three fixtures to Swansea, Southampton and Sheffield United without registering a goal, bottom of the league and with 17 defeats in 24 matches this season. Instead, United found another new way to shoot themselves in the foot and implode into utter mediocrity.
Before the game, David Moyes used his programme notes to bemoan his luck with injuries, referring specifically to the absence of Robin van Persie and Wayne Rooney for large periods of the season, but such words should fall on deaf ears. Whilst Rooney and RVP have 34 PL appearances between them, Luis Suarez and Daniel Sturridge have just three more, and the Liverpool strike pair have started nine matches as a partnership compared to ten for United's front two. City too have been forced to deal with the absence of Sergio Aguero at a time when they need him most. It all feels like empty words.
In fact, offering excuses for underperformance is becoming the hallmark of Moyes' tenure at Old Trafford, with injuries simply the latest in a long line. Before the season began the fixtures were blamed, with the manager's bizarre "I find it hard to believe that's the way the balls came out of the bag" rant.
Then Alex Ferguson received the flak. Moyes had been left with a shell of a squad, a car with no engine, a roast dinner with no meat, and other such weak analogies. The defence was ageing, the midfield was aged and the wingers were inconsistent. The only reason that United won the title last season was because their rivals were so poor, we were told, completely ignoring the fact that Manchester City have actually only picked up one point more than at this stage last year, whilst United have 21 fewer. "Fortunately, he's left me a really strong team, which I think gives me a great chance of retaining the title," were Moyes' words last August.
Blame game
Finally came the referees. Speaking after the Capital One Cup semi-final first leg defeat to Sunderland, Manchester United's third consecutive defeat for the first time since 2001, Moyes branded Andre Marriner and his officials "terrible". "We're having to play them as well as the opposition at the moment. We're actually beginning to laugh at them, that's the thing." It landed him an FA charge.
Well David, here are some home truths. Even accounting for all of your reasons, you're doing a rotten job of managing Manchester United, the Premier League champions. You have been in the job for only eight months and yet have already equalled Manchester United's record number of losses in a Premier League season. Your team, which was good enough to win the title last year, is now nine points off a Champions League place, and nearer to Crystal Palace than Chelsea.
The truth is that, on almost every level, Moyes is failing to get the team to perform to the required level. In the broadest terms, the remit of a football manager is to get as many players as possible playing to the height of their potential. The greatest (and that evidently includes Ferguson) take this further, actually making the team greater than the sum of its parts.
Moyes is a long way from the former, simpler goal. It could be argued that Rooney is the only one performing at a higher level than last season, and even he is far from his peak form. Almost every other player without exception is performing at a lower level than they did even 10 months previously. Rafael may have last month issued the stock quote expected of a player in such a situation ("I don't know why everyone is looking at the manager. It is the players who have to do the job on the pitch"), but this falls on deaf ears. The regression of individual players may be seen as an anomaly, but when 12 or 14 professional footballers suddenly begin to struggle almost en masse, the buck stops with the manager.
The nagging question is whether Moyes is the man to overhaul the squad and turn things around. Currently, the answer to that looms startlingly clear to all but a loyal band of Moyes supporters, a large proportion of whom are presumably simply refusing to believe that things can get any worse. But worse they are getting. A comfortable defeat against Arsenal on Wednesday and the case for the prosecution is coming close to resting its case.
Click here to read more on how David Moyes' commitment to crossing is proving problematic for Manchester United