Mauricio Pochettino: Stick with Tottenham or join Manchester United?
Tottenham face Manchester United on Sunday, live on Sky Sports
Last Updated: 13/01/19 10:36pm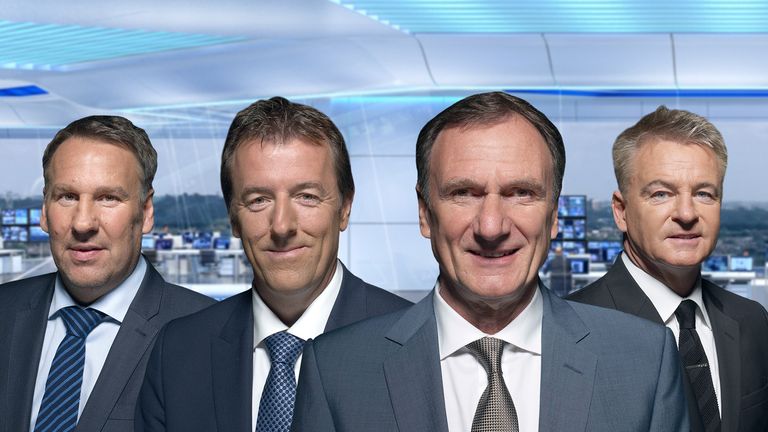 Mauricio Pochettino is favourite to be the next permanent Manchester United manager, but if you were in his position, and received an offer for United, would you stick with Spurs or go to Old Trafford?
That's the question we posed to the Soccer Saturday pundits ahead of Tottenham's clash with United on Sunday, live on Sky Sports.
Here's how Paul Merson, Charlie Nicholas, Matt Le Tissier and Phil Thompson answered…
Paul Merson
"If I was Pochettino I would take the Manchester United job if it was offered to him. Manchester United have more chance of winning the league in the next five years than Tottenham.
"Manchester United is the biggest club in the world. It's like the England manager's job being offered to an Englishman. It comes along once in a blue moon and it may never happen again.
It's like the England manager's job being offered to an Englishman. It comes along once in a blue moon and it may never happen again.
Paul Merson
"I probably could understand if he didn't because Manchester United are a million miles away from challenging at the moment and they are a million miles behind Manchester City. I understand why that would put him off, but so are Tottenham. They may only be four points behind City at the moment but they are a long way off being champions.
"You got to weigh it all up. Spurs have almost moved into their new stadium but Christian Eriksen looks like he could be on his way, that would be a massive loss. Danny Rose has not signed a contract, it would be a loss if he goes. And then there's Toby Alderweireld, who has signed an extension but that only means his transfer fee is worth more.
"If they all go the squad looks thin. Real Madrid are in crisis - fifth in the league and miles behind Barcelona - something is going to change there and who are they going to come and look for? Who is one of the best centre forwards in the world? Harry Kane.
"If Pochettino doesn't go to Manchester United, could he go to Real Madrid? It's worrying times."
Charlie Nicholas
"It is probably hard for them to take my words on board, but Tottenham have turned into what Arsenal were with Arsene Wenger. It is an exciting team with youth in it and Pochettino is not afraid to put youth in it. The way Spurs do business has worked in their benefit.
"Loyalty is a difficult thing to understand. Poch has been loyal so far. If it is a case of where the team is at then he stays at Spurs. He has built it and they have been very strong over the last three years. They have been building a stadium so have no funds, similar to Arsenal. They are handling the situation well.
"Poch has an obligation to himself that says 'well I am really happy with team I have built and the position I am in but Manchester United is a global giant as a team', and that is a big difference to take on board. Nobody can answer for Poch but when Fergie met him a year or so ago, Fergie wanted to speak to Poch and ask him many questions. If it about the financial muscle and global strength of Man Utd then he moves.
"We will see what develops under Ole Gunnar Solskjaer as fans seem to like it so far. Poch can look at United and say he may get rid of seven or eight players. He is set to sell Mousa Dembele at Spurs but he does not need to sell anyone else to balance the books. He is sitting tight at the moment and is on a watching brief. If he does not win the Carabao Cup then Man Utd become favourites to get him.
If he does not win the Carabao Cup then Man Utd become favourites to get him.
Charlie Nicholas
"Poch may hold off to get a season in the new stadium but he keeps his cards close to his chest. He would have a big budget but would be able to clear out what you do not want and you can start to rebuild with a youth system in place too.
"Man Utd are not in a dramatic rush to write Solskjaer off just yet as he has got the fans on board. There is no way of telling until the end of the summer. He is an honest, appealing guy, almost like a young Wenger.
"Is it a risk to him or does he believe in his ability? Poch does not work in time-scales, it is all about the now. The stage he is at in his career, this will not frighten him. If Fergie could get Poch to come, he would be saying that he could get him something similar to what he had with David Gill, and that he would get the right man to support Poch."
Matt Le Tissier
"Given the two decisions I made in my career, I would stick with Spurs. In terms of job security, he is better off staying at Spurs. He will get away with having a poor spell and getting the sack at Tottenham whereas at Man Utd he would not. It is also a harder job getting them back to where they should be. With what they have done in the past, everyone expects them to win the Premier League, but that is a far bigger task seeing what City have done over the last few years. His job is far easier at Spurs.
Given the two decisions I made in my career, I would stick with Spurs.
Matt Le Tissier
"I am sure he would have a bigger transfer budget but with that comes a lot more pressure as well as the quicker people expect you to be successful. You have much less time in the job if you do not get it right straight away. In terms of long-term job security he is better off at Spurs no doubt.
"It appears as though he wants to build a squad at Tottenham and he already has a pretty good team there. If he can keep it together he only has to add a couple to it but I think they are in a pretty good position.
"Once the new stadium is finished and the purse strings become looser, it gives him another reason for him to stay. I am sure he would want to win a trophy before moving on and I would like to think that he feels what he has done there deserves a trophy. He will have a good crack at that."
Phil Thompson
"I would probably be doing exactly what he is doing at the moment. A club like Manchester United doesn't come round too often in a manager's career and I really think it will be difficult to turn down that club.
"Pochettino has handled it very well at the moment. We talk about box-ticking, this guy does it all. He's respectful to the club and its standing in world football, to the fans and knowing what they want as well as the club and sponsors, all major parts of a team. I think that was a lot of things that Mourinho failed to tick so see why Poch's style and quality, alongside giving young players a chance would fit in at Manchester United.
Timing is everything in football and the time is right for him to go.
Phil Thompson
"If he does get that offer, and a different manager comes in, his chance might have gone. Timing is everything in football and the time is right for him to go. No disrespect to Spurs as they are a quality club, but it is financially hard for them to compete in transfer fees and salaries. He would not have that problem at Old Trafford, so he could test himself against the best managers in the world. He cannot do that at Spurs and it has been proven that he cannot. I am full of admiration at how he has done what he has at Spurs on far less of a budget.
"He would be leaving a better team than what he is going to, but it is about having a vision which matches the club to a particular manager, and allowing them the projects they desire. It is like at Spurs where he made the statement regarding how the transfer policy has not changed in the last five years and the 'that'll do', but it will not do."