Joe Hart's brand took the biggest hit of all Premier League players following the opening weekend of the season, according to brand analytics experts Brandtix.
The Manchester City goalkeeper, who was dropped by Pep Guardiola for the 2-1 victory over Sunderland, saw his 'brand value' drop nine per cent to an index score of 380 after the game, with 55 per cent of social media discussion about Hart negative.
Brandtix reviews performances of professional athletes and teams both on and off the pitch in order to discover their true brand value, using a combination of Opta's on-pitch statistics and social media reach through Twitter, Facebook and Instagram.
Other big losers from the first weekend of action include Paddy McNair, who scored an own goal on his Sunderland debut and saw an 8.5 per cent decrease in his brand value to 340, and Petr Cech (brand value score 518), who shipped four goals against Liverpool and took plenty of stick on social media, with 69 per cent of chatter negative.
Cech's new team-mate Rob Holding (339, down 4 per cent), Leicester duo Wes Morgan (377, down 4 per cent) and Jamie Vardy (490, down 3.4 per cent), Watford's Ben Watson (184, down 4 per cent), Tottenham forward Harry Kane (408, down 3 per cent), Man City's John Stones (369, down 3 per cent) and Liverpool defender Alberto Moreno (363, down 3 per cent) also saw big falls in their brand value.
How Brandtix create the index
On-pitch football club and player statistics from Opta
Fan sentiment, drawn from Lexalytics, a social sentiment analysis tool.
Social media reach through Twitter, Facebook and Instagram
Monitoring the official social media accounts, fan channels and any interaction with fans, and analysing quality and quantity of discussion
As well as official player and team accounts, the Brandtix platform also monitors relevant fan channels, the official pages of associated brands and any interaction between players/teams and their fans.
By looking at on-pitch and off-pitch performance, they come up with a score (Sports Value Index) that charts the relative rises and falls of Premier League players over the season.
Live Friday Night Football


So what about the big winners?
Hull City striker Abel Hernandez was the biggest beneficiary, seeing his score rise by 11 per cent, up to 215. He helped the Tigers beat champions Leicester at the KCOM Stadium, and has picked up 3,000 extra fans on social media since.
Liverpool's two-goal hero Philippe Coutinho has 40,000 new fans following his side's 4-3 win over Arsenal on Super Sunday, with his brand index jumping 7.3 per cent to 424.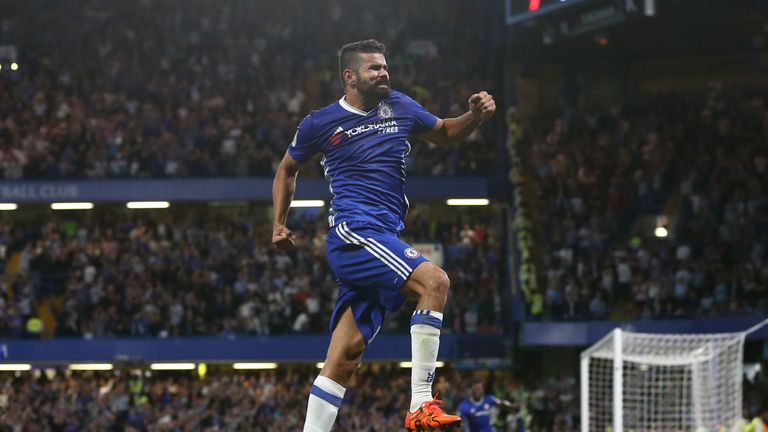 A goal each for Eden Hazard (497) and Diego Costa (415) secured a win for Chelsea on Monday Night Football, with resulting bumps of 6.9 per cent and nine per cent respectively.
Middlesbrough fans have clearly taken to their new signing Alvaro Negredo, with 94 per cent of social media conversations mentioning the Spaniard positive. His brand index has risen by five per cent, up to 425.


Other winners include Michy Batshuayi (409, up six per cent), James Collins (385, up seven per cent), Sadio Mane (408, up seven per cent), Eric Bailly (400, up five per cent) and Kyle Naughton (356, up two per cent).
And the top 10 players from the Premier League as it stands?
Top 10 Premier League players after Week 1
| | | | |
| --- | --- | --- | --- |
| 1. | Zlatan Ibrahimovic | 669 | 48m |
| 2. | Mesut Ozil | 584 | 51.9m |
| 3. | Wayne Rooney | 556 | 46.6m |
| 4. | Riyad Mahrez | 537 | 3m |
| 5. | Paul Pogba | 530 | 14.9m |
| 6. | Petr Cech | 518 | 7.9m |
| 7. | Alexis Sanchez | 515 | 10.7m |
| 8. | Sergio Aguero | 507 | 26.6m |
| 9. | Eden Hazard | 497 | 19.3m |
| 10. | Jamie Vardy | 490 | 1.2m |
It comes as no surprise to see Zlatan Ibrahimovic at the top of the pile. The new Man Utd striker boasts a huge social media following and was one of the biggest stories of the weekend after his Premier League debut goal against Bournemouth on Saturday.
He's one of three United players in the top 10, alongside Wayne Rooney (third) and world-record signing Paul Pogba (fifth), who makes the list despite not having played a game for the club yet.
Three Arsenal players feature - Cech and Alexis Sanchez occupy the sixth and seventh spots - but Mesut Ozil is their social star. He has more than 50m followers and sits second to Ibrahimovic after the first week.
Leicester duo Riyad Mahrez (fourth) and Vardy (10th) represent the champions, with the top 10 rounded out by Man City's Sergio Aguero (eighth) and Chelsea's Hazard (ninth).