Ref Watch is back to debate another selection of controversial decisions from some of the weekend's Premier League matches.
Former top-flight official Dermot Gallagher came into the Sky Sports News HQ studio on Monday morning to analyse the big refereeing decisions from another packed weekend of football.
From debatable handball decisions to red cards, Gallagher has it all covered....
MATCH: Burnley v Arsenal, Premier League, Sunday
INCIDENT No 1: Laurent Koscielny scores winning goal
SCENARIO: With Arsenal chasing a winning goal from the final attack of the game, the ball gets crossed in from the right and a combination of Alex Oxlade-Chamberlain and Koscielny force it home. Replays showed the final touch came off the Arsenal defender's hand. 
DERMOT'S VERDICT: Correct decision
DERMOT SAYS: First thing to say is he's not offside from the cross and flick-on. I think it's Walcott with the flick-on, so it's not offside. Handball has to be deliberate, but I don't think it's handball.
It struck him and we are stuck with the rule where it has to be deliberate. People said his arms were up but that's because he used his arms for elevation. He has actually mis-kicked it, it has flown up and hit him, so it's not hand to ball, it's ball to hand. There is nothing wrong in the law with what happened.
INCIDENT No 2: Shkodran Mustafi remonstrates with the referee
SCENARIO: Mustafi was pulled up for a foul on Sam Vokes, remonstrates with the referee and even uses him to simulate his innocence by backing into him. 
DERMOT'S VERDICT: Incorrect decision to avoid a booking
DERMOT SAYS: I think under current climate he was very lucky not to get a yellow card. He thought Vokes had fouled him, but as he said afterwards on Twitter he should not have done it and hopefully that will send out a message that he won't do it again and it won't happen again.
MATCH: Manchester United v Stoke, Premier League, Sunday
INCIDENT No 3: Ander Herrera catches Joe Allen in midfield with a high boot
SCENARIO: Herrera went in with his studs up and caught Allen high up the leg, but the Spaniard only received a yellow card.
DERMOT'S VERDICT: Incorrect decision
DERMOT SAYS: I think if the referee had seen the view we have got it would have been red. It's high, dangerous and the ball has gone. Unfortunately the referee has a square-on view behind Allen and hasn't seen the impact and severity of the challenge.
INCIDENT No 4: Paul Pogba tussles with Allen on the edge of the box
SCENARIO: Pogba appears to bring down Allen off the ball, in front of the referee, and does not get booked.
DERMOT'S VERDICT: Correct decision
DERMOT SAYS: I think the referee has done well. It happened right in front of him and he has stopped it and sent out a message that it's not allowed.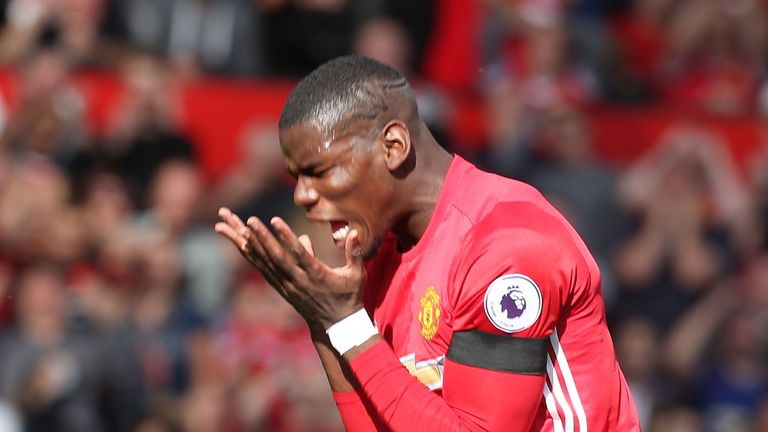 MATCH: Everton v Crystal Palace, Premier League, Friday
INCIDENT No 5: Damien Delaney gives away foul which leads to Everton goal
SCENARIO: Delaney is penalised for raising his boot too high towards Jagielka. The ball hits Jagielka's hands as he lifts them to protect himself.
DERMOT'S VERDICT: Correct decision
DERMOT SAYS: It's definitely a foul by Delaney, you can't raise your foot that high. Jagielka handles the ball afterwards but the referee has whistled for the first foul by Delaney.
INCIDENT No 6: Delaney has the ball in the net but it's disallowed for offside
SCENARIO: Delaney heads home from a cross but the flag goes up for offside, seemingly against James McArthur, who was making a run in the middle of the box and may have distracted the keeper.
DERMOT'S VERDICT: Correct decision
DERMOT SAYS: I think they have got this correct and it was good what they did. The assistant, Simon Bennett, has seen McArthur in an offside position but is not aware of where he is and how he is impacting anybody. Referee Jon Moss has a different view, so they discuss it and then make the decision.
It's the fact McArthur goes for the ball and the keeper can't make his mind what to do until that happens. The referee has to decide whether he has made enough of an attempt to play the ball and the answer is yes.
MATCH: Hull v Chelsea, Premier League, Saturday
INCIDENT No 7: Victor Moses goes down in the penalty area
SCENARIO: Moses dribbles into the area and Adama Diomande dangles a leg in his direction. Moses goes down and appeals for a penalty but nothing is given. Has the way he's gone down counted against him?
DERMOT'S VERDICT: Correct decision
DERMOT SAYS: I don't think it's a penalty. I think Diomande played the ball, that's why it changes direction, and Moses goes over his leg.
INCIDENT No 8: Willian hits the deck after a tackle by Curtis Davies
SCENARIO: The Brazilian bursts into the area and Davies makes a last-ditch tackle from an awkward angle. He wins the ball with his right foot but on his follow through takes out Willian. No foul is awarded. 
DERMOT'S VERDICT: Correct decision
DERMOT SAYS: No penalty. He gets the ball again. He has enough of it and the play continues. The referee saw the ball played and I don't think it's a foul.
MATCH: Swansea City v Liverpool, Premier League, Saturday
INCIDENT No 9: Daniel Sturridge gets booked for simulation 
SCENARIO: After coming on as a substitute, Sturridge was shown a yellow card by referee Michael Oliver for going down under a challenge from Wayne Routledge inside the area.
DERMOT'S VERDICT: Correct decision
DERMOT SAYS: I think it's the right decision. He made the contact himself and cannoned off the defender. The referee has done well there. As a referee you have to be right. There is nothing worse for a referee than booking someone for simulation and then you see it later and it's a foul. If you are going to give a yellow card for simulation you have to be right.