Premier League's best playmaker: Kevin De Bruyne, Christian Eriksen or Cesc Fabregas?
By Tim Clement
Last Updated: 11/05/17 8:02pm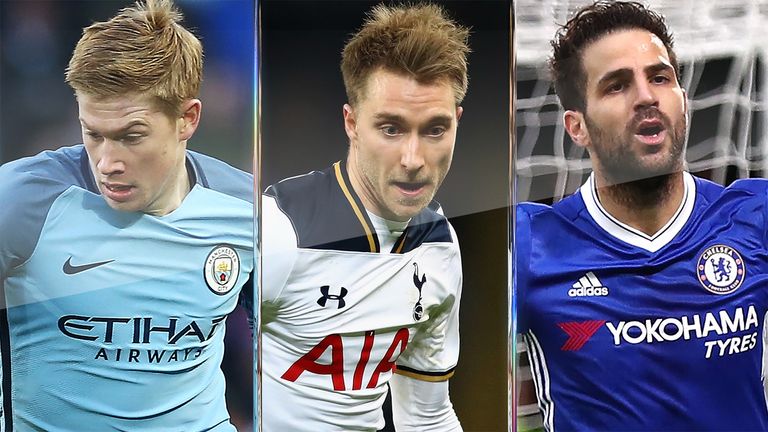 We consult the stats and the Soccer Saturday pundits to work out who is the Premier League's best playmaker.
The Opta stats behind Sky Sports Fantasy Six-a-Side suggest that Tottenham's Christian Eriksen is the number one creator of opportunities this season, creating more chances for team-mates than any other player.
Kevin De Bruyne has the most assists with 15 to his name after setting up two of Manchester City's five goals against Crystal Palace last weekend, but the Belgian has actually created five fewer chances than Eriksen.
However, Cesc Fabregas trumps both in terms of contribution economy, having averaged an assist every 103 minutes after setting up two goals himself on Monday against Middlesbrough.
Top Premier League creators
| | Assists | Chances created |
| --- | --- | --- |
| Kevin de Bruyne | 15 | 97 |
| Christian Eriksen | 12 | 102 |
| Gylfi Sigurdsson | 12 | 73 |
| Cesc Fabregas | 11 | 48 |
That puts him fourth in the assists charts despite starting just 11 Premier League games for Chelsea, although he has created less than half as many chances as Eriksen.
Gylfi Sigurdsson perhaps deserves the most credit, though, having provided 12 assists and 73 chances despite playing in a Swansea team battling relegation.
David Silva and Mesut Ozil have previously topped the assist charts but have only provided seven each this season, fewer than West Brom's Matt Phillips, who has eight.
To help settle the debate, we asked the Soccer Saturday pundits for their verdict on the best Premier League playmaker...
Charlie Nicholas: "I'm not surprised by the stats but it does depend what you class a playmaker as, whether it's a deep-lying midfielder like Michael Carrick or a more advanced player behind the striker.
"In terms of that more advanced role I would have to say it has been Eriksen this season. Mesut Ozil and Paul Pogba haven't even been close and David Silva would be up there but I don't think he's had his best season.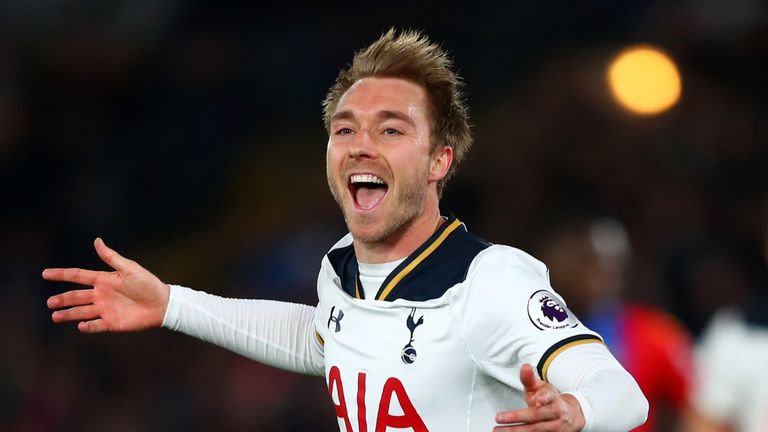 "Fabregas is my personal favourite in that role and he plays it as well as anybody, but he hardly played at the start of the season so it's not really fair to compare him, especially when he's tended to start more against weaker sides."
Paul Merson: "I'd have to go with Fabregas. He hasn't been playing as much, but when he does he very rarely has a bad game.
"He hasn't got the running of Eriksen, who I'm also a big fan of. He is a player who could go and play for Barcelona and wouldn't look out of place.
"He also just gets on with it, works hard and takes brilliant set-plays. As a playmaker, though, you're only as good as the players you provide for, and with Harry Kane, Dele Alli and Heung-min Son he's got three great options.
"Mesut Ozil is another great playmaker but he doesn't have the options at Arsenal that Eriksen has at Spurs. I think he's a top-drawer player but he needs runners. If you put him in the Spurs team he'd make things happen all day long with the players they've got."
Matt Le Tissier: "I'm going for David Silva. I know the stats don't back it up but he's still one of my favourite players and he's just a joy to watch.
"The others are having terrific seasons but if I had to pick one the play in my team every week then I think I'd go for Silva. He just makes the game look so easy and is often underappreciated."
Phil Thompson: "We forget Eriksen had a difficult start to the season and he's really come on since Christmas. He's been the hub of Tottenham's good form with the quality of his final ball.
"However, Fabregas is still the best playmaker for me. He's got a few years on the others and he can either drop deep and play like a quarter-back or sit behind the strikers. Some of the passes he was picking out against Middlesbrough were just brilliant.
"He's still got a few good seasons in him and he must want to play more than he has done this season. You can see Antonio Conte doesn't like playing him against the top seven and, as much as that is great tactical thought, he'll want to be playing in those big games. I'd certainly have him at Liverpool.
"These sort of players are worth their weight in gold. Sigurdsson's assists and set-plays have been priceless for Swansea, who would've have been long gone otherwise."