Pep Guardiola: Eddie Howe good enough to manage top Premier League club
Last Updated: 25/08/17 9:51pm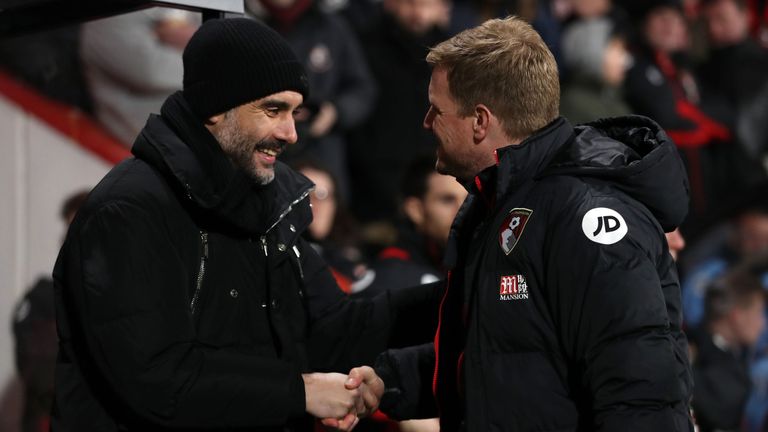 Pep Guardiola feels Eddie Howe can coach the Premier League's top clubs, adding he is not here to "take English guys' jobs".
The top eight teams in the Premier League last season were coached by foreign managers and Guardiola, whose City side face Howe's Bournemouth live on Sky Sports Premier League on Saturday, believes Howe will get one of those positions in the future.
Guardiola took charge of Barcelona's senior side at the age of 37 while Howe was the youngest manager in the Football League when he succeeded Jimmy Quinn at Bournemouth aged 31.
"Of course he is able to work in the top teams," said Guardiola. "He is young and that is going to happen. It will be good for English managers like him and Mark Hughes and others.
"I had an opportunity when I was young that is true. It is a good question for the sporting directors and the guys who run the clubs.
"It's not my fault when someone calls me at my home one day and says 'would you like to come to the Premier League?'"
"They called me and I decided to come but of course they (English managers) are able to coach well."
Guardiola's side travel to Bournemouth after the 1-1 draw to Everton on Monday Night Football, and he has defended his players after failing to convert possession into goals.
"We create enough, enough, enough to win the game (against Everton) with only 10 players," he said.
"It is going to be like last season, we are going to try to fight and be confident and then one day (click) and we are going to score goals."