Pep Guardiola warns rivals Manchester City have 'made step forward' and are still improving
By Stephen Turner
Last Updated: 17/09/17 11:20pm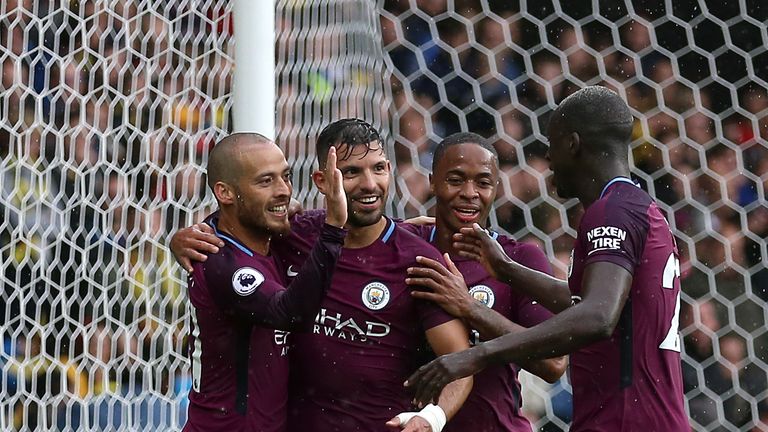 Pep Guardiola says Manchester City are better equipped than a year ago to maintain their good start to the season.
City won their first 10 games under Guardiola last term only to end the season without a trophy and 15 points behind Premier League title-winners Chelsea.
The Catalan's side are again setting the early pace: a 1-1 home draw with Everton is the only blip on their record, and Kyle Walker's red card in that game meant they played more than a half of it with 10 men.
Guardiola continues to demand improvement even after Saturday's 6-0 win at Watford, but the City boss is hopeful a summer of recruitment has left his squad in better shape to stay the course.
"We will see," he said. "But I think we've made a step forward in terms of last season.
"My feeling now is that everybody knows what we have to do, the players know what they have to do, with, without the ball in transition. And that's so important.
"We weren't good enough last season, Chelsea and Tottenham were better. You have to accept it. You have to accept sometimes the opposition is better. Then you analyse why to improve for the future."
Guardiola spent well over £100m on three full-backs as Walker, Benjamin Mendy and Danilo came in to replace out-of-contract trio Gael Clichy, Bacary Sagna and Pablo Zabaleta.
"Even if it looks like we cannot improve, of course we can improve," he said. "There's still movement, there are still actions we can improve.
"The full-backs are so important. They offer energy to go up and down so that means we can put more players in the middle, to play, to pass the sort passes.
"I like it when we play short passes through the middle, five, six metres, that gives us continuity. We create the spaces behind the press. To do that you need more players in one position.
"And Kyle, Danilo and Mendy help us a lot to be able to do that. Without that it would be even more complicated."