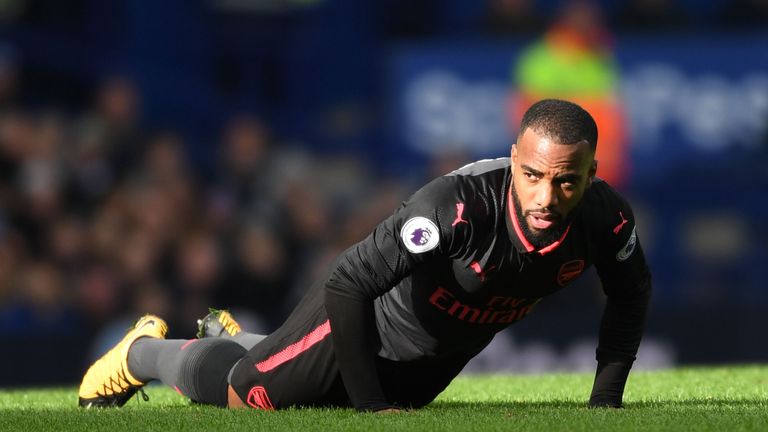 Alexandre Lacazette could have been subjected to retrospective action had Ashley Williams been shown a second yellow for his rash challenge which failed to connect with the Arsenal striker, Dermot Gallagher said on Ref Watch.
Also up for discussion were Pedro's controversial opener in Chelsea's win over Watford, Harry Kane's first goal against Liverpool and Yohan Cabaye's lunge on DeAndre Yedlin.
Read on to see Dermot's verdict on the weekend's biggest incidents and if they were handled properly by the officials...
INCIDENT: Alexandre Lacazette goes to ground after appearing to be caught by a high challenge from Ashley Williams. Referee Craig Pawson opts not to issue the defender with a second yellow card.
DERMOT'S VERDICT: Correct call.
DERMOT SAYS: "This is a great talking point. I watched this live and my immediate reaction after the incident was that Williams, who was on a yellow card, was in trouble. Then I saw the replay and thought 'wow, that is not a foul'. It raises a question that if Williams had been sent off, would Lacazette be facing a two-match ban for deceiving the referee to get a player sent off? Of course, Williams' suspension for the dismissal would have been erased and transferred to Lacazette, as you cannot have two players banned for the same offence."
INCIDENT: Bernardo Silva goes down under a challenge from goalkeeper Nick Pope. Referee Roger East points straight to the spot but the decision splits opinion, with Clarets boss Sean Dyche accusing the Portuguese of going down too easily. Sergio Aguero converts the resulting penalty.
DERMOT'S VERDICT: Correct call, but not at first sight.
DERMOT SAYS: "I didn't think it was a penalty at the time. I can understand why the referee gave it but the thing that swung it for me was when you see such minimal contact, as a referee I would have wondered why he went through the air so far. But when you see the replay, Pope's knee catches the top of Silva's foot so the referee will say he caught him, it's a penalty. On another day it might not be. If you put 20 people in a room you would never get a majority decision on this, it would be split down the middle. That is the kind of decision it was."
INCIDENT: Kieran Trippier's lofted pass releases Harry Kane in behind the Liverpool defence. The Reds appeal vehemently for offside but the flag stays down as Kane rounds Simon Mignolet and fires Spurs into the lead at Wembley.
DERMOT'S VERDICT: Correct call.
DERMOT SAYS: "Linesman Scott Ledger is very alert. As the ball goes in he's in the perfect position, absolutely bang in line with the last defender and Kane, who is just onside, is allowed to play on correctly."
INCIDENT: Chelsea win a corner right in front of the assistant referee, despite the ball appearing to come off Eden Hazard last. From the resulting set piece, Pedro opens the scoring.
DERMOT'S VERDICT: Incorrect call.
DERMOT SAYS: "It should have been a goal kick. We're not talking about a decision here, we're talking about consequences of decisions. It was a momentary lapse in concentration, the linesman doesn't see the ball strike Hazard, it should have been a goal kick."
INCIDENT: Yohan Cabaye lunges into the back of DeAndre Yedlin with a late, forceful challenge. After a lengthy stoppage, referee Stuart Atwell issues a yellow card despite initially appearing to reach for his red card.
DERMOT'S VERDICT: Incorrect call.
DERMOT SAYS: "My first reaction was that this warranted a red card. Ironically, I thought the referee's reaction was the same, seeing as he's run over so fast, put his hand to his top pocket and given the impression he's going to brandish a red. However, after the tackle there was a long delay, and I wonder if the referee ran the incident through his mind, noted that Cabaye didn't go whizzing through the air or go in two-footed so gave him the benefit of the doubt. My gut reaction was that it was a red card and Cabaye was very lucky to stay on the field."
INCIDENT: Riyad Mahrez drifts in behind the Swansea defence, avoids straying offside and squares the ball for Shinji Okazaki, who doubles Leicester's lead at the Liberty Stadium.
DERMOT'S VERDICT: Correct call.
DERMOT SAYS: "I don't think Mahrez is offside. This is an absolute top-drawer decision. The assistant's starting position is so good that he is perfectly placed to see that Mahrez is level, and he knocks the ball back to Okazaki who cannot be offside because he is behind the ball."
INCIDENT: After Ryan Shawcross gives away a penalty for his challenge on Benik Afobe, referee Lee Probert decides not to award Stoke a penalty of their own after Jese Rodriguez is brought to ground by Adam Smith.
DERMOT'S VERDICT: Incorrect call.
DERMOT SAYS: "This is a penalty like Bournemouth's one. The thing that convinces the referee not to give it is the theatrics from Jese. I'm not saying he shouldn't go to ground, or that he wasn't touched, but the way he went down sold it to the referee that Smith got the ball and not the man. You can clearly see Smith doesn't play the ball and it's a penalty."
INCIDENT: Alan Browne leaves the field of play for a second bookable offence before referee Stephen Martin has the chance to show him a red card. The Preston midfielder re-emerges from the tunnel to be shown the red before making a second exit.
DERMOT'S VERDICT: Unnecessary call.
DERMOT SAYS: "The referee chose to make it public that he had given him a second yellow card. I wonder if he has to really, the cards are a communication system to show everyone who has been cautioned or sent off. It's a second yellow, he started walking off, everyone in the ground knew he was going and it was a red card, so the referee should have just let him go."
INCIDENT: Lucas Digne's low cross sets up Gerard Deulofeu for Barca's opener but the ball appeared to go out of play beforehand. The officials failed to spot it and the goal was allowed to stand.
DERMOT'S VERDICT: Incorrect decision.
DERMOT SAYS: "This simply should not have stood. This raises a good argument for goal-line technology being extended across the dead-ball line. It's the wrong side for the assistant to spot, he's got all the players the look through and, with Digne hooking it back quick, he doesn't see it."