Jose Mourinho says Liverpool have weaknesses Manchester United can exploit
By Michael Kelleher
Last Updated: 10/03/18 11:16am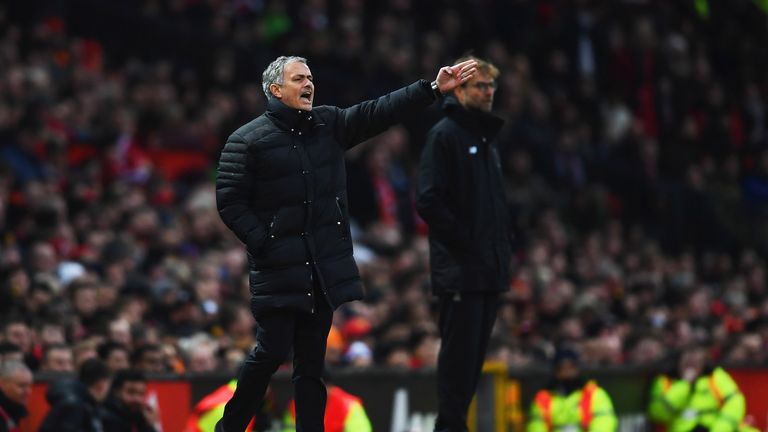 Jose Mourinho believes Liverpool have weaknesses Manchester United can exploit on Saturday but admits his team also have their own vulnerabilities.
Liverpool travel to Old Trafford on Saturday looking to leapfrog United, who sit two points above them, in the race for second behind champions-elect Manchester City, in a game which will be live on Sky Sports Premier League.
Mourinho and Jurgen Klopp have faced each other on three occasions since the Portuguese took over at Old Trafford with all three games ending in draws, including a 0-0 stalemate at Anfield in October.
Liverpool boast the league's second best attack with 67 goals scored, which is 11 more than United's 56. United on the other hand boast the league's second-best defence with 22 goals conceded, which is ten fewer than Liverpool's 32.
"They are a very good team but they are a very good team with some weaknesses," Mourinho said. "Weaknesses I don't think is a very strong word because I also use that word in relation to my own team.
"They are not the perfect team. I think they are a very good team and that is why they are where they are in the Premier League, which is difficult.
"They have qualities and they have weaknesses. We have qualities and we have weaknesses.
"One of my good qualities as a coach was always to know very well my team's weaknesses. Sometimes I try to hide them and sometimes I have to try to compensate for them with other things.
"We are very similar in terms of points in the Premier League. Liverpool have already qualified for the Champions League quarter-finals and we still have 90 minutes of a big fight to try to be there.
"So in the Champions League they are clearly ahead of us but in the FA Cup we have a chance they don't have so we are having quite similar seasons."