As part of Support The Ref week, we asked you to vote on your preferred rule changes in football. Now, we bring you the experts' verdict.
From sin-bins to celebrating as you wish, limited VAR referrals to post-match interviews for referees, you've been voting in your droves for which rules you believe would improve the game.
The current standings are at the bottom of this page, but we got the thoughts of former ref Dermot Gallagher, FA's head of refs Neale Barry and PGMOL general manager Mike Riley.
Suggestion: Mic up the referees
Referee wears a microphone or body camera so discussions with players are recorded and made public
Experts: Never gonna happen!
Gallagher: I'm not keen on this, because I think each referee interacts differently. Every Premier League ref has a slightly different personality, dealing with things slightly different, but looking to get the same result. The way they deal with it is in their own personal way, and it should be kept private. I know in rugby it works, but I don't like comparing apples with oranges, this is football that is rugby, it's a different game and different culture. In football, I am not sure at this moment in time it would be right. If I was a referee I wouldn't want it.
Barry: I am not a believer in that. I think at the end of the day, it really depends on the referees themselves. I'm not sure it would help, even at Premier League level, when you're in the heat of battle, with players around you, to be recorded, I wouldn't be in favour of that.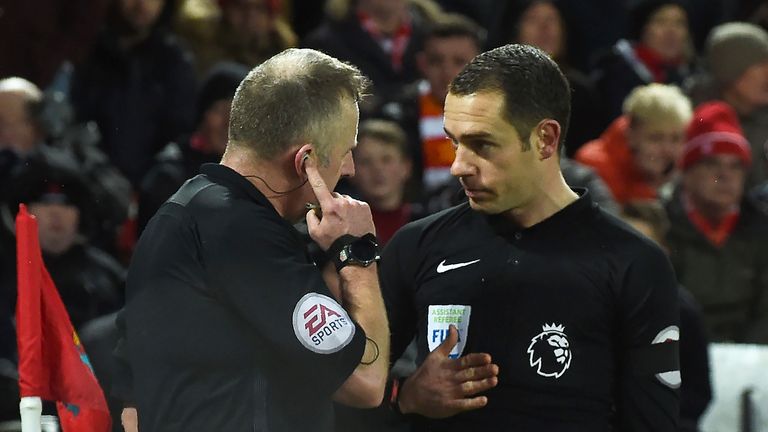 Riley: I'm not too keen, and the reason being is there are many conversations on the football field that are actually really constructive in terms of helping the players engage with referees and vice versa. Were you to make those conversations public, it might impact that relationship on the pitch.
Suggestion: Only captains approach the referee
Only the captain can speak to the referee to contest a decision
Experts: It could happen
Gallagher: At the moment the captain is the main focal point; they come in to speak to refs pre-match and they are the first point of contact on the field. That isn't too distant to what they do in rugby anyhow.
Barry: One of the experiments we are working on at the moment at IFAB is giving more responsibility to the captain, so that if there is a question to ask, it is just the skipper and not a group of players asking. For that to happen the captain needs to have a fairly good disciplinary record themselves and they need to have the respect of the rest of their team.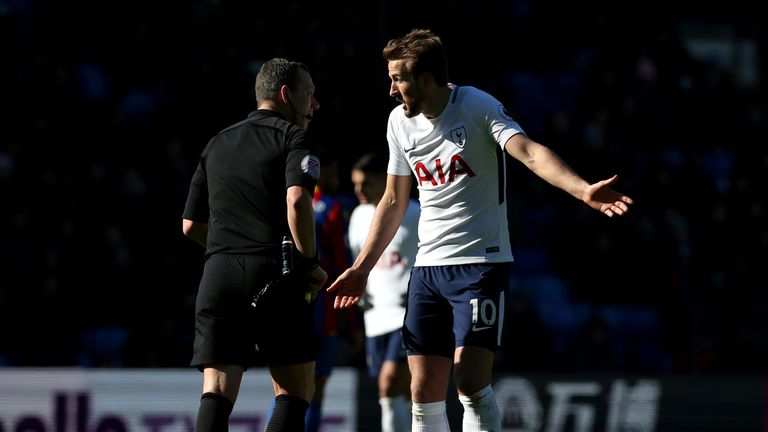 Suggestion: Celebrate as you wish
No more bookings for a player taking his shirt off or going into the crowd while celebrating
Experts: It's harsh, but it won't change
Gallagher: The laws are there for a reason, stipulated by FIFA right through world football. This proves that referees sometimes may not like the laws, but they have to uphold them. It's never a problem giving a player a yellow card for celebrating in the crowd, unless it's their second yellow! Then it is a problem, because you really are a pantomime villain.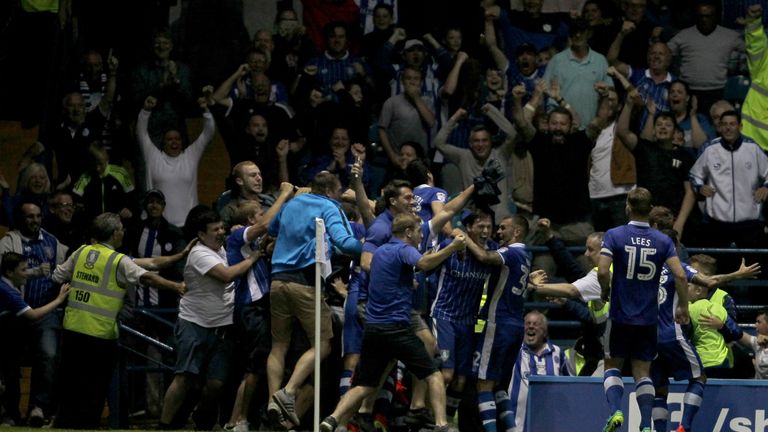 Suggestion: Ref does post-match interview
The referee is interviewed post-match and asked about decisions made
Experts: Never gonna happen!
Gallagher: It's 100 per cent no for me. I get asked this all of the time. For two reasons; 1) You would never have me up post-match to ask me to explain how brilliant I was, you'd be dragging up things that I would have to defend. 2) Some of my decisions may be subject to FA disciplinary action further down the line, so I couldn't talk about them anyhow.
Suggestion: Sin-bins for yellow cards
Players who receive a booking to spend 10 minutes off the pitch
Experts: It will happen, at least at grassroots
Gallagher: Local parks in Nottinghamshire are already experimenting with sin-bins, taking 10 minutes out. Some referees think it works, some don't. It's very hard to police, because if I give somebody a 10-minute sin bin, then give another player a 10-minute sin-bin, you have no fourth officials at those levels, so they're policing themselves. It's quite difficult with what else they have to deal with on the field. It's a good idea, I think, but I'm not sure it's quite right at the moment.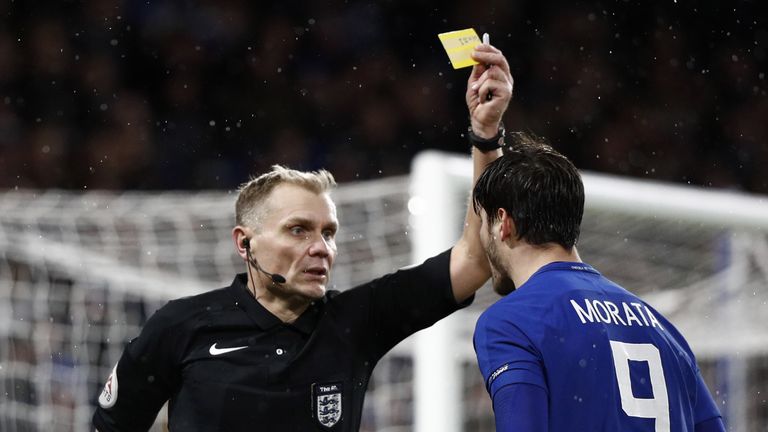 Barry: I think it almost certainly something that could work, and almost certainly something that we will, as a football association, introduce in the future. The IFAB two years ago gave national associations permission to use temporary dismissals, or what we call sin-bins, at grassroots level. So last year we had 32 leagues experimenting the sin-bin phase, and it's been positive. There has been a 38 per cent reduction in dissent, and I think a lot of that comes with peer pressure. If I'm in the sin-bin having had a go at the referee, and I'm in there for 10 minutes, then my team-mates are not very happy with that. So I think it does reduce the dissent.
We're extending the number of leagues in the experiment next year, and then looking to extend it again in 2019/20. The discussion we're having is how far up the leagues do you go with the sin-bins. It's been a very, very positive start, and people understand that it can work, we just need to make sure we bring it in slowly. Undoubtedly, though, it will be rolled out across grassroots football in the coming years. Anything that we can bring in to make the referee's job easier, and helps people take responsibility for their own actions, then hopefully the image of the game can improve.
Suggestion: Three VAR challenges
Managers have three chances per game to send a decision to a video referral
Experts: Slim chances
Gallagher: Can you imagine, it's 0-0 in the FA Cup semi-final, and the referee gives a penalty, the defending team will 100 per cent challenge it in an attempt to delay. If you give somebody three challenges, it would become a tactical issue rather than a factual issue.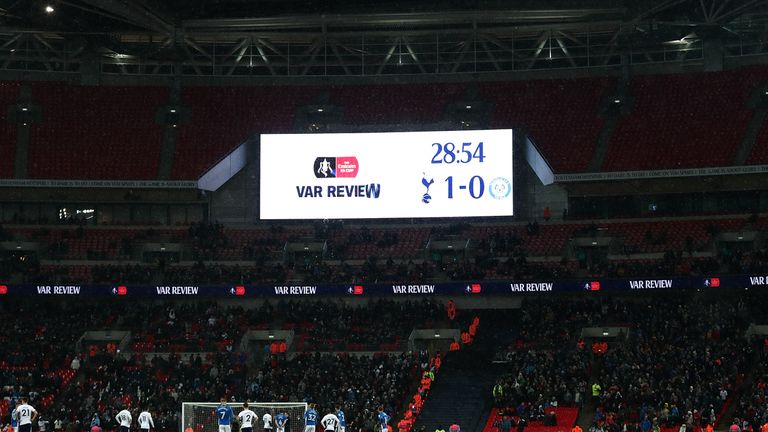 Riley: At the moment, it is an experiment. Initially, three challenges was debated at IFAB, and at that stage, it didn't seem beneficial to the game. But over time, three or four years, VAR will evolve, we all know that. Where will it get to? I don't know. Will three challenges be a part of that? I don't know.