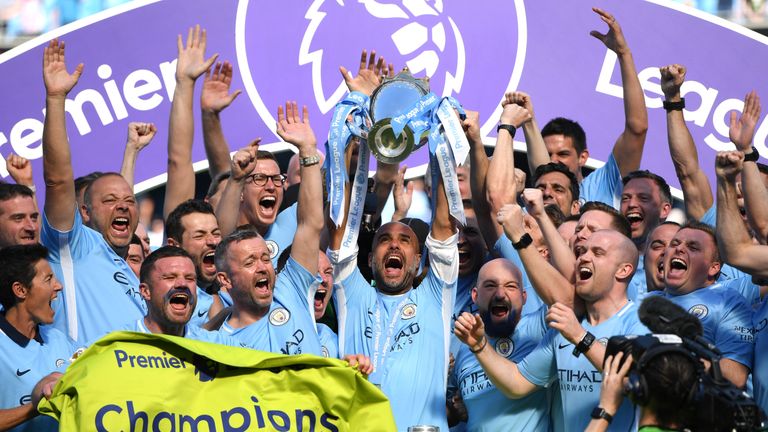 The 2017/18 Premier League season is at an end but the stats keep coming.
Here, courtesy of Opta, we have a bumper edition with which to regale your friends.
Choose your favourite from the 60 stats below…
MAGNIFICENT MAN CITY
Manchester City won their third Premier League title (also 2011-12 and 2013-14), with only Chelsea (5) and Manchester United (13) winning it more often in the competition's history.
Manchester City won 32 matches, the most in a single Premier League season, breaking the record which had been held by Chelsea, who won 30 in 2016-17 - it is also a record in top-flight history.
Even including when points totals are altered to three for a win, Manchester City became the first team to win 100 points in a top-flight season.
Manchester City won 16 away league matches, a joint top-flight record in a single season along with Spurs in 1960-61.
Manchester City won the title with five games remaining, equalling the top-flight record set by Manchester United in 1907-08 and 2000-01 and Everton in 1984-85.
Manchester City trailed for just 153 minutes in Premier League matches this season - the fewest by a side in a single campaign.
Manchester City scored 106 goals in the Premier League this season; a record in a single Premier League season. The last top-flight side to score more in a single season were Tottenham (111) in 1962-63.
Between August and December 2017, Manchester City broke the record for most consecutive top-flight wins, winning 18 in a row and eclipsing the record set by Arsenal between February and August 2002 (14 wins in a row).
Manchester City ended this season having spent 240 days at the top of the Premier League table - the sixth most by a Premier League champion. In their previous two Premier League title-winning campaigns combined, Manchester City only topped the table for 184 days overall (15 days in 2013-14 and 169 days in 2011-12).
Manchester City's 240-day total at the top of the league in 2017-18 is just one day fewer than Manchester United have spent at the top of the Premier League since Sergio Aguero's goal won the title in May 2012 (241).
FIRST TIME FOR EVERYTHING
Chelsea were the first reigning Premier League champion to concede three goals in their opening league match of the season (Chelsea 2-3 Burnley) and the first reigning top-flight champions to lose at home on the opening day of the season since Aston Villa in August 1981. It was the first time that Chelsea have been three goals behind at half-time in the Premier League at Stamford Bridge.
Both Man City and Man United defeated all 19 Premier League clubs they faced this season - the first time more than one team had done so in a single top-flight season.
Huddersfield became the first side to top the Premier League table after their first ever game in the competition since Norwich City - who ended the day top after the first ever round of games on August 15 1992. As a result, Huddersfield have ended more days top of the Premier League (1) than Tottenham Hotspur (0) since September 1st 2014.
Crystal Palace lost their first seven league games of the season without scoring, an English league record. The Eagles went on to become the first top-flight team since Liverpool in 1899-1900 to lose their first seven league matches in a season and avoid relegation.
Arsenal became the first team in Premier League history to score 100 goals against a single opponent, when they beat Everton in October 2017.
In October 2017, Watford became the first team in Premier League history to score a result-altering last-minute goal in three successive matches.
Liverpool became the first team to beat a Pep Guardiola managed side three times in a single season, thanks to a victory in the Premier League and two in the Champions League.
Liverpool won four consecutive away top-flight matches by four or more goals between November and December 2017, becoming the first team in top-flight history to achieve this feat.
Spurs finished above Arsenal in consecutive seasons for the first time since doing so in 1981-82 and 1982-83. Spurs also finished as the highest placed London team in the top-flight for the first time since the 1994-95 season, when they finished seventh and above six other London sides.
Arsenal won against Burnley with a 90th minute winner for the third consecutive meeting in November - the first time a Premier League fixture had ever been won with a goal in the 90th minute in three consecutive games.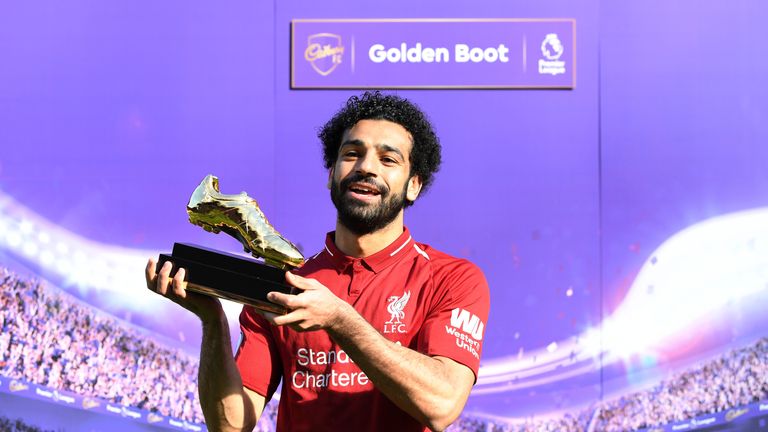 THE STORY OF SALAH
Mohamed Salah scored more goals in his debut season for Liverpool than any other player in their entire history (44). He became the first Premier League player to score 40+ goals in all competitions since Cristiano Ronaldo in 2007-08.
Salah scored 32 goals in the Premier League, the most in a 38-game season.
Salah also broke the record for most left-footed goals in a Premier League season, netting 25 goals.
Salah scored against 17 different Premier League opponents this season - no player has ever scored against more in a single campaign.
Against Watford in March, Salah scored four goals from four shots - since 2003-04, he is only the second player to achieve this in a Premier League match after Andrey Arshavin against Liverpool in April 2009.
MANAGERS IN STATS
Pep Guardiola became the first Spaniard to win the English top flight - he has won the league in seven of his nine seasons as a manager, failing only in 2011-12 at Barcelona and last season with Man City.
Guardiola has won 2.63 points per game at Manchester City in the Premier League this season; his second-best average in a top-flight league season as a manager, behind his first season at Bayern Munich in 2013-14.
Guardiola secured his best points tally in a single league season as a manager (100); surpassing 99 points with Barcelona in 2009-10.
Arsene Wenger broke the record for most Premier League games managed, eclipsing Sir Alex Ferguson's haul of 810 games on New Year's Eve against Crystal Palace (currently on 828).
Wenger has now beaten 46 different opponents in the Premier League, more than any other manager (Alex Ferguson, 44). Wenger's victory at the John Smith's Stadium was the 48th different ground he had won at in the Premier League, more than any other manager.
Frank de Boer became the first permanent manager in Premier League history to not see his team score a single goal during his reign (four games, zero goals). De Boer's tenure as Crystal Palace manager was the shortest in terms of matches managed in the Premier League by a permanent appointment (four games).
It took Darren Moore just two Premier League games to equal Alan Pardew's total of wins (1) for West Brom in his 18 games, when he won 1-0 at Old Trafford against Manchester United. Moore won more points in his six league games in charge of West Brom this season (11) than both Pardew did in his 18 (8) and Tony Pulis did in his 12 (10) for the Baggies.
Sam Allardyce became the first manager to take charge of seven Premier League clubs (Bolton, Newcastle, Blackburn, West Ham, Sunderland, Crystal Palace and Everton). Allardyce became just the second manager to lose 200 Premier League games, following Harry Redknapp (238 defeats).
Leon Britton - who took charge of two Premier League games in December and made four appearances - became the first person to both play for and manage a team in a Premier League season since Ryan Giggs at Manchester United in 2013-14.
Mark Hughes was eliminated from the FA Cup as boss of two different Premier League teams this season (Stoke and Southampton), only the second time this has happened in the Premier League era (Glenn Hoddle with Southampton and Spurs in 2000-01).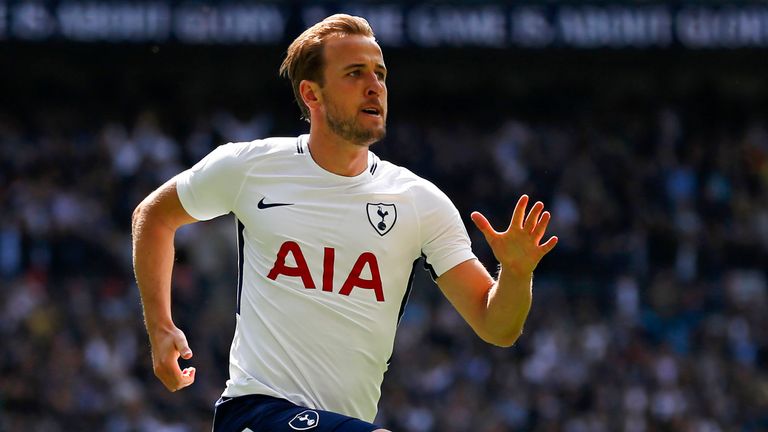 BITS AND PIECES
For the third consecutive season, West Brom had the oldest average starting XI age in the Premier League (29y 185d). Liverpool had the youngest average starting XI (25y 351d) in a Premier League season for the first time since the 2002-03 campaign.
Wayne Rooney set a new Premier League record for the longest gap between goals for a single team in the competition (4869 days) when he scored for Everton on the opening day of the season against Stoke City.
Harry Kane's record of not scoring a single Premier League goal in the month of August continued in 2017. His record in the month is now 13 games, 898 minutes and 44 shots without a single goal. However, Kane scored 13 goals in September 2017 for club and country in all competitions - his best ever month as a professional footballer. This also equalled the tally of goals that both Lionel Messi (13 in March 2012) and Cristiano Ronaldo (13 in October 2010) have scored in a single month during their career.
Alexandre Lacazette was the first player to score in his first three home league appearances for Arsenal since Brian Marwood in September 1988.
Marcus Rashford has now scored on his Premier League, Europa League, Champions League & EFL Cup debut for Manchester United, as well as his England debut.
It took Kevin De Bruyne 76 Premier League appearances to reach 50 Premier League goal involvements (16 goals, 34 assists) which is the quickest by any out-and-out midfielder in the history of the competition.
Gareth Barry overtook Ryan Giggs (632) to become the highest appearance maker in the Premier League, with the Englishman currently on 653 appearances.
Petr Cech saved Troy Deeney's penalty in March; the first he had saved in the Premier League since February 2011 (for Chelsea against Fulham). He hadn't saved any of his previous 21 penalties faced in the competition prior to this.
Henrikh Mkhitaryan registered five assists in his first three Premier League appearances of 2017-18, equalling the record for most assists in the first three appearances of a season set by Ruel Fox in 1994-95. Mkhitaryan also became the first player to score for and against Manchester United in a Premier League season when he scored against them for Arsenal in April, having scored for them in September against Everton.
Jamie Vardy scored against Arsenal, Chelsea, Liverpool, Manchester City, Manchester United and Tottenham Hotspur in the Premier League in 2017-18, becoming the first player to score against all six in a single Premier League season.
Vardy ended on the losing side in nine matches he scored in this season - a new Premier League record in a season.
Brighton defender Lewis Dunk scored four own-goals, the joint-most by a player in a Premier League campaign (also four by Martin Skrtel in 2013-14).
With an assist against Watford in March, Mesut Ozil became the quickest player to record 50 Premier League assists (141 games), breaking Eric Cantona's record of 143.
Kasper Schmeichel saved Romelu Lukaku's penalty at Old Trafford in September - this meant he had saved more penalties in the Premier League at Old Trafford than his father Peter did (0).
Against Chelsea in March, Ilkay Gundogan completed 167 passes - the most a player has ever completed in a Premier League match since 2003-04.
Olivier Giroud scored six goals as a substitute in 2017-18, with only Adam Le Fondre in 2012-13 scoring more in a single Premier League season (8). Giroud overtook Ole Gunnar Solskjaer and Kanu (17 goals) into second place for players with the most substitute goals in Premier League games - the Frenchman has now scored 19 goals off the bench.
Gabriel Jesus remained unbeaten in his first 32 Premier League appearances for Manchester City until coming on as a substitute in City's 3-2 defeat to Manchester United in April - only Jens Lehmann (47), Arjen Robben and Didier Drogba (both 37) have had longer unbeaten starts to their Premier League careers than Jesus.
Georginio Wijnaldum continued his record of only scoring in Premier League home games - he has now scored 18 home Premier League goals but none away from home, a Premier League record.
Christian Eriksen's strike against Manchester United in January was recorded at just 11 seconds - the fastest goal ever conceded by United in the Premier League.
Alvaro Morata scored seven headed goals for Chelsea in the Premier League - the most any Blues player has scored in a single season in the competition.
Tom Ince's goal against Stoke in December ended his run of 59 shots in a row in the Premier League without scoring - Ince scored with his first shot in the competition in February 2014 for Crystal Palace against West Brom but didn't score with any of his subsequent 59 after that (8 for Palace, 7 for Hull, 44 for Huddersfield).
With his appearance against Man City in August, Brighton full-back Bruno became the Premier League's oldest debutant (36y 315d) since August 2009, when Graham Alexander made his bow aged 37 years and 310 days for Burnley.
Luka Milivojevic scored seven penalties for Crystal Palace this season - more than any of the other 19 Premier League teams scored.
Kevin De Bruyne set a new Premier League record for matches won by a player in a season, ending on the winning side in 31 different games.
Crystal Palace played nine Premier League games without Wilfried Zaha this season and lost all nine matches. Despite only scoring 10 Premier League goals this season, Chris Wood earned his side Burnley 12 points this season - only Mo Salah (16) and Harry Kane (22) won more points via their goals.